The Famous Rock Star Cameo You Forgot About On Two And A Half Men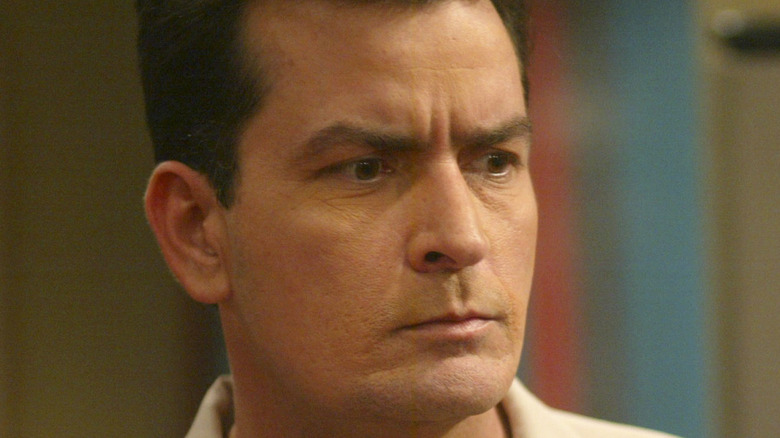 Matthew Simmons/Getty Images
For a jingle writer, Charlie Harper (Charlie Sheen) — one of the lead characters on "Two and a Half Men" — sure had a lot of cool, famous friends. From Elvis Costello to Steven Tyler, Enrique Iglesias to Miley Cyrus — a lot of rock royalty made their way in and out of the lives of the Harper brothers throughout the show's run. Perhaps it helped that Charlie was a man about town who enjoyed the finer things in life, making him a magnet for those looking out for a good time. Charlie's support group alone — comprised of Sean Penn, Harry Dean Stanton, and Costello — featured more talent than your average rock concert.
But there's one rocker whose cameo appearance surprised fans and left them tickled. He wasn't known for acting, but that didn't mean his sudden camaraderie with Charlie didn't add an extra layer of humor to the utterly outlandish proceedings.
Eddie Van Halen made a cameo appearance on Two and a Half Men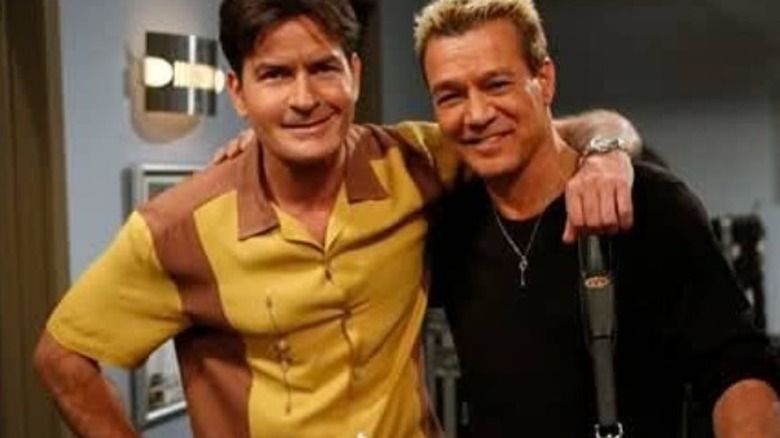 CBS
The rocker in question was none other than Van Halen's Eddie Van Halen, who appeared in the "Two and a Half Men" Season 7 episode "818-jklpuzo." The appearance amounts to nothing more than a brief cameo, but Van Halen's quick, fun appearance involved a little bit of music, and a lot of humor.
In the cameo, Charlie Harper (Charlie Sheen) finally beats an episode-long battle with constipation (don't ask) and bumps into Van Halen as he's exiting the men's room — there is a suggestion he should give it a few minutes. Charlie is incredulous that Eddie brought his guitar into the bathroom with him, but the guitar legend only laughs. "You never know when inspiration might strike," he says, and then plays an impressive riff for Harper. "That's called two burritos and a root beef float," he says, slapping Charlie on the forearm and exiting the scene. Eddie walks off playing as Charlie winces with further gastrointestinal pain. It's a moment made all the more precious in light of Eddie Van Halen's death at the age of 65 on October 6, 2020 of cancer (via The New York Times).