What The Critics Are Saying About Cruella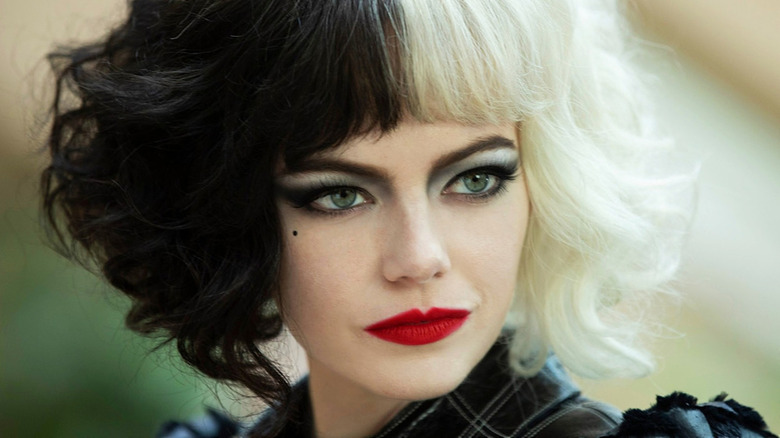 Walt Disney Studios Motion Pictures
For the last few years, Disney has been busy turning its extensive library of beloved animated properties into live-action remakes. Interestingly, the company has also opted to explore some of the more fascinating Disney character backstories out there. The "Maleficent" movies proved that a good Disney villain can absolutely carry a franchise as a lead character, and the wild-haired "101 Dalmatians" villain Cruella de Vil is next in line. Much like "Maleficent" reimagines its evil fairy queen from a genuine villain to a misunderstood antihero played by Angelina Jolie, "Cruella" expands on the titular character's backstory by exploring her past as fashion designer Estella de Vil (Emma Stone).
Judging by what its trailers have shown so far, "Cruella" seems to be a surprisingly fun and dark movie, and its punk-rock-meets-high-fashion aesthetic seems very unlike your typical Disney fare. Most people won't find out whether they like this take on the classic character until the film premieres on May 28, but fortunately, first impressions from critics have already started trickling in. Let's see what the critics are saying about "Cruella."
Critics love the dark and outrageous tone of Cruella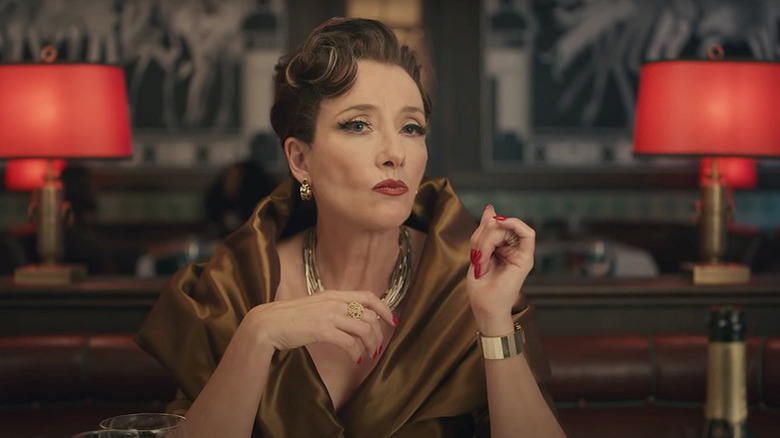 Walt Disney Studios Motion Pictures
By the looks of it, "Cruella" has made a very positive impression on the critics, and the main point of praise seems to be that the movie is unafraid to go all in. 
"#Cruella is absolutely divine," film critic and journalist Courtney Howard of Variety and Fresh Fiction TV shared on Twitter. "Deliciously devilish, wonderfully wicked, undeniably outrageous." 
Daniel Howat of Next Best Picture and The Screeners Podcast agreed, and noted that the movie is very much meant for adults. "This stands alone and isn't for kids, setting it apart from other Disney remakes," he tweeted. 
Rotten Tomatoes Editor-in-Chief Joel Meares had nothing but great things to say about "Cruella," despite openly admitting that he has very little interest in these types of movies. "I generally have 0 interest in live-action remakes and/or villain origin stories but ... have seen #Cruella and it's SO FRIGGIN GOOD," Meares shared on his Twitter account. "Slaps so hard my face is still beet-red a day later. If 'Devil Wears Prada' meets 'The Witches' meets 'Death Becomes Her' sounds like your jam, see it." High praise, indeed!
Cruella is full of great performances and costumes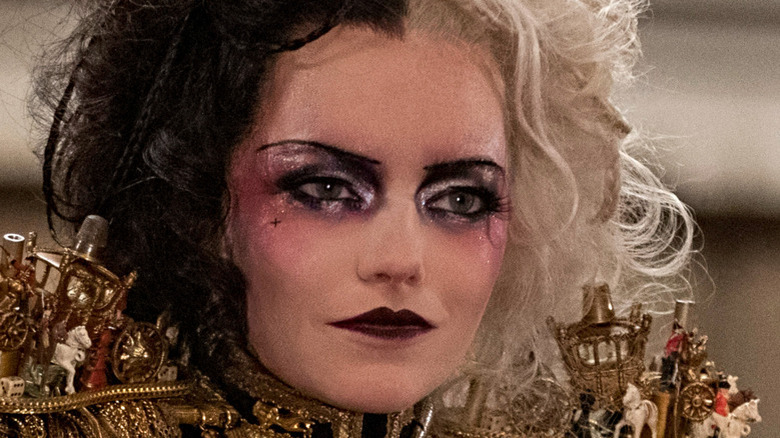 Disney Enterprises, Inc./Walt Disney Studios Motion Pictures
A cast that includes Emma Stone and Emma Thompson (who plays the Baroness) is quite obviously stellar to begin with, and the trailers have made it clear that "Cruella" features some downright fantastic costumes. Many critics have pointed out that the quality of acting and the considerable efforts of the costume department constantly outshine each other. 
"Emma Stone is wildly entertaining in the titular role as she fully commits to the villain persona in a fearless & bold performance," the DiscussingFilm Twitter account posted. "Emma Stone is excellent," Variety's Senior Artisans Editor Jazz Tangcay wrote on Twitter. "#Cruella is a brilliant origin story with lots of heart. You won't be able to get enough of Emma Thompson's Baroness and Stone's #Cruella."
As for the costumes, Daniel Howat opined that despite Stone and Thompson's heroics, the film's fashion still somehow manages to outshine them. "The costumes are next-level stunning and honestly steal the show," he tweeted. "That's saying something when you've got Emma Thompson chewing the scenery as only she can. The cast is stellar all around."
Incidentally, Grace Randolph, creator and host of Beyond the Trailer, revealed that even without the amazing lead actresses and the eye-catching costumes, the movie is about to make cinematic history. "P.S. We have the 1st officially out and proud #Disney character in her gang!" she enthused, later clarifying that she's referring to John McCrea's Artie. 
"Cruella" is set to debut in theaters and on Disney+ with Premier Access on May 28.