Why Dr. Dre From Straight Outta Compton Looks So Familiar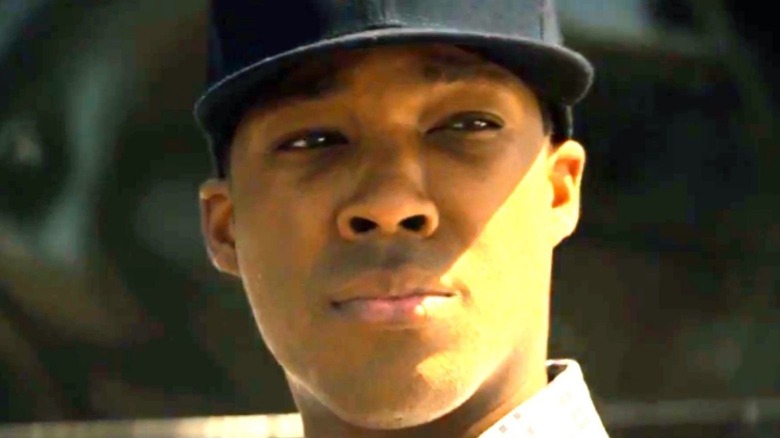 Universal Pictures
"You are now about to witness the strength of street knowledge." This is the in-your-face opening line Dr. Dre spits in the 1988 N.W.A. hit song "Straight Outta Compton." The hip-hop supergroup took that song and many more to platinum success — and in 2015, director F. Gary Gray took audiences on the personal journey of the group through a riveting biopic of the same name. 
Acting alongside Jason Mitchell and O'Shea Jackson Jr. — the son of real-life N.W.A. member Ice Cube — Corey Hawkins stood out as the group's founder, Dr. Dre. Hawkins has been all over screens big and small since his first credited role in 2011, so if you're wondering where you've seen him outside of "Straight Outta Compton," you're certainly not alone. Let's dive into Corey Hawkins' most notable acting projects to reveal why Dr. Dre from "Straight Outta Compton" looks so familiar.
Corey Hawkins played Heath in The Walking Dead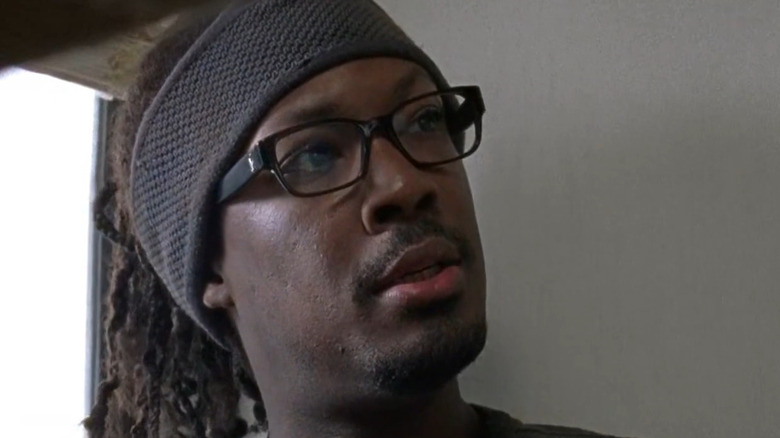 AMC
"The Walking Dead" premiered on AMC on Halloween night in 2010, unraveling the story of sheriff Rick Grimes (Andrew Lincoln), who wakes from a coma to discover a world where zombies have killed off much of the population. His wife and son are missing, so Rick journeys to a deserted Atlanta to find them.
Corey Hawkins appears as Heath in six episodes across "The Walking Dead" Seasons 6 and 7. Though audiences haven't seen the character since he was captured and disappeared, fans have speculated about Heath's return, once believing that he could be the man behind the mask who actually turned out to be Okea Eme-Akwari's Elijah. Before that big reveal, though, executive producer Greg Nicotero put any rumors of a Heath return to rest in a 2018 Fandom interview, saying, "I haven't thought much about Heath because it's been a while since he's been gone." However, alongside fans of the show, Nicotero said that he'd love to see Corey Hawkins return to the role: "Corey's a great actor. I'd love to have him back."
That was many years ago, and there's no telling whether Hawkins' Heath would ever come back to the fold, especially with the 11th and final season of "The Walking Dead" on the horizon.
Corey Hawkins had a role in Kong: Skull Island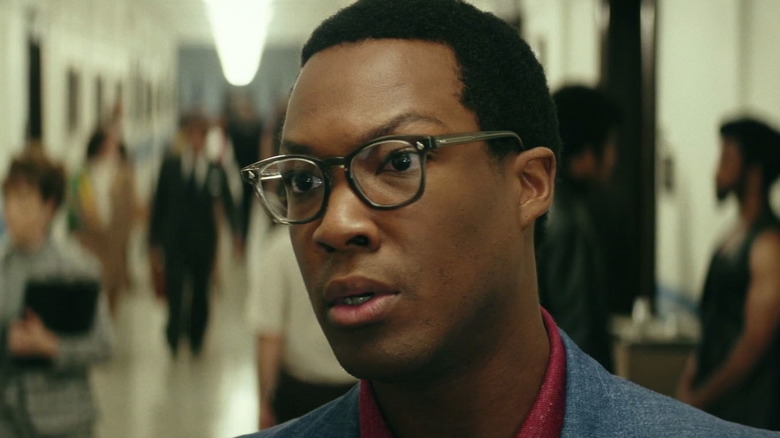 Warner Bros. Pictures
Like the Batman franchise, the King Kong story is constantly being reinvented. In the 1976 version of "King Kong," the tortured gorilla terrorizes New York City atop skyscrapers while he searches for the blond bombshell who has softened his giant heart. By contrast, the 2005 version of "King Kong" is a Great Depression-era tale of a desperate filmmaker who takes his crew and leading lady to Skull Island, only to come face to face with the ferocious Kong.
In "Kong: Skull Island" from 2017, Corey Hawkins plays Houston Brooks, the Ivy League member of a team of scientists who explore a deserted island after the Vietnam War. The movie is full of big stars and bigger explosions, and Hawkins' Houston fights off the island creatures with Samuel L. Jackson's Preston Packard, Brie Larson's Mason Weaver, and Tom Hiddleston's James Conrad. As opposed to other movie iterations of King Kong, this time around, Kong is an ally, often helping the humans battle the island's giant monsters.
Corey Hawkins starred in 24: Legacy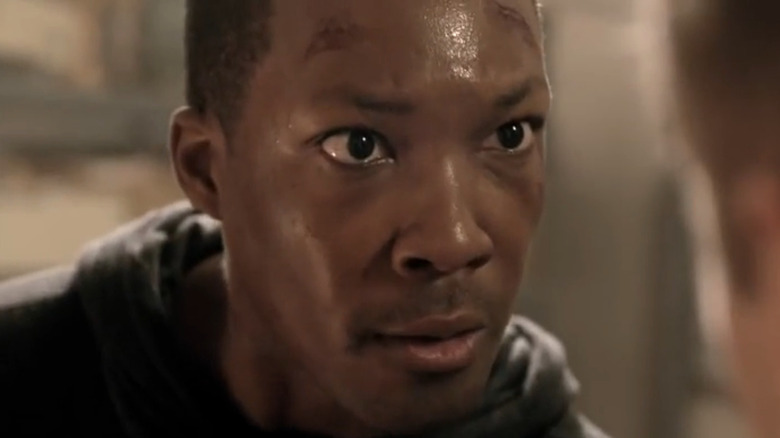 Fox
The TV show "24" was such a big hit for Fox that co-creators Robert Cochran and Joel Surnow revamped it in 2016. The original series ran for eight seasons and starred Kiefer Sutherland as Jack Bauer, the leader of a team of agents for a CIA-like government agency. "24: Legacy" ran for only one season, but the spin-off show had Corey Hawkins starring in a dramatically different role as Eric Carter, a troubled war hero. Like Bauer before him, Carter also has just 24 hours to foil a terrorist attack.
Gearing up for the premiere of the short-lived series, Hawkins spoke with the Hollywood Reporter in February 2017 about the importance of representation on the small screen, saying, "I saw other heroes who didn't necessarily look like me, but I looked up to. Now, hopefully there's a child who's 13 years old and will see my character and say 'Wow. He actually looks like me.'"
Corey Hawkins appeared in BlacKkKlansman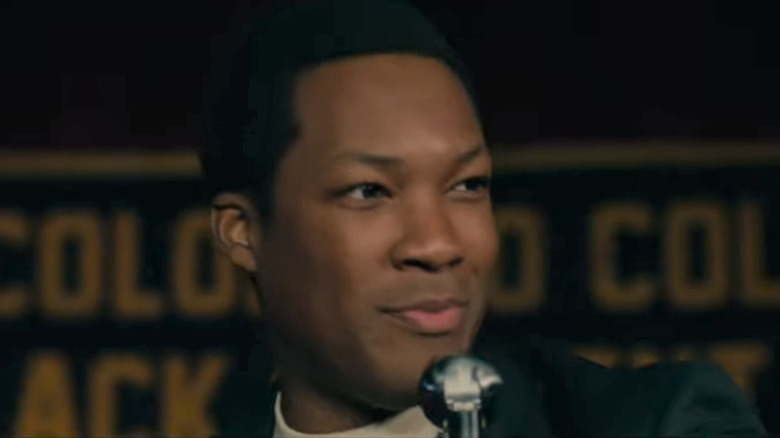 Focus Features
In 2018, Corey Hawkins played Kwame Ture — the civil rights leader formerly known as Stokely Carmichael — in the Spike Lee-directed film "BlacKkKlansman." The movie earned Lee his first official Oscar, and gave Hawkins another opportunity to portray a real-life character.
"BlacKkKlansman" takes place in the 1970s, and details the true story of a Black police officer who uses his white partner to infiltrate the Ku Klux Klan. In one scene, Hawkins delivers one of Ture's powerful speeches to an audience of Black citizens fed up with the unjust system. 
Speaking to LRM Online in 2018, Hawkins opened up about the pressure of playing such an important role. "There is the pressure to get it right. It's a Spike Lee film. You have no other choice but to get it right," he said. "At the same time, the only pressure that you can put on yourself is just to do justice to him."