The Snake Eyes Trailer Is Lighting Up Twitter
Every warrior has a beginning. Are you ready to learn his?
Paramount Pictures has released the official trailer for "Snake Eyes," the forthcoming "G.I. Joe" spin-off film that will unravel the origin story of its notoriously mysterious titular character. Ray Park played a helmeted Snake Eyes in the live-action flicks "G.I. Joe: The Rise of Cobra" and its sequel "G.I. Joe: Retaliation" — but this time around, there's a literal mask-off attitude, as "Crazy Rich Asians" star Henry Golding portrays Snake Eyes sans helmet. The opening sequence of the trailer shows him battling a bunch of baddies on top of a moving vehicle, firing bullets at cars chasing him, and looking pretty darn dashing while doing it. 
From there, the footage shifts to tease the core narrative: Who Snake Eyes is, and how he came to be the skilled warrior "G.I. Joe" fans know him to be. "For six hundred years, our ninja have brought peace to the world," Andrew Koji's Storm Shadow, canonically the ninja bodyguard to Cobra terrorist organization leader Cobra Commander, tells Snake Eyes. "I need warriors like you. Join us."
Snake Eyes asks Storm Shadow what he must do to be accepted into the elite group of warriors, and when he begins his training, the Blind Master (Peter Mensah) tells Snake Eyes that his future from this moment onward is entirely up to him: "The journey from here is yours to decide." The advice comes with a warning — "That is just the beginning" — and is punctuated by a shot of Snake Eyes' famous helmet, shown at the end of the trailer.
Twitter is melting down over the Snake Eyes trailer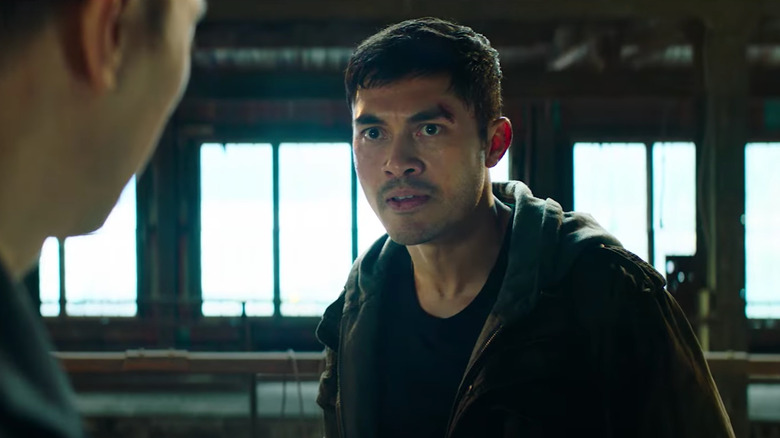 Paramount Pictures
As expected, fans who have been longing to get a glimpse at "Snake Eyes" are freaking out over this official trailer, taking to Twitter to let out all their feelings. 
"SOOOOOOOOO GOOD #SnakeEyes," one Twitter user wrote, echoing the all-caps sentiments of another fan who tweeted, "THIS LOOKS GOOD." Twitterer @supermangeek101 gave props to Henry Golding in their reaction to the trailer, writing, "Henry Golding is such a badass Snake Eyes!" Elsewhere, Twitter user @EdwardIsSoCool was so amped-up about the "Snake Eyes" trailer that they had to use a GIF — of an animated Snake Eyes breakdancing, naturally — to properly express their emotions. 
Though some hoped that the trailer would be longer than a mere 58 seconds (Paramount Pictures did promote it as an official trailer and not a teaser at that clipped length, so the confusion is understandable) and others weren't sure why "Snake Eyes" features a helmet-less, facial-scar-free character (it's an origin story!), it appears that the general consensus on this first in-motion look at "Snake Eyes" is that it totally rules.
"Snake Eyes" will arrive in theaters on July 23.