This Is Where Good Bones Is Filmed
When it comes to realty and renovation, no one does it quite like HGTV. From "Love It Or List It" to "House Hunters" to any of the Property Brothers' many programs, the cable channel has something for everyone. For millions around the world, watching a rundown home rehabbed into a showpiece is the perfect combination of entertainment and innovation. One of the more recent entries in HGTV's expansive line-up sees homes in the worst condition – we're talking fire-damaged, foundation-crumbling, how-is-it-still-standing homes – revitalized into the best houses on the block.
"Good Bones" premiered in 2016 with mother-daughter team Karen Laine and Mina Starsiak Hawk buying derelict properties for pennies and flipping them for modest profits. Unlike HGTV's other house-flippers, who usually seek out homes offering the biggest bang for the buck, the ladies of "Good Bones" and their company Two Chicks and a Hammer are dedicated to revitalizing entire neighborhoods – even if it means losing money on individual properties. In 2019, Starsiak Hawk told IndyStar that they tackle 13 houses a year.
Good Bones keeps the focus on Indianapolis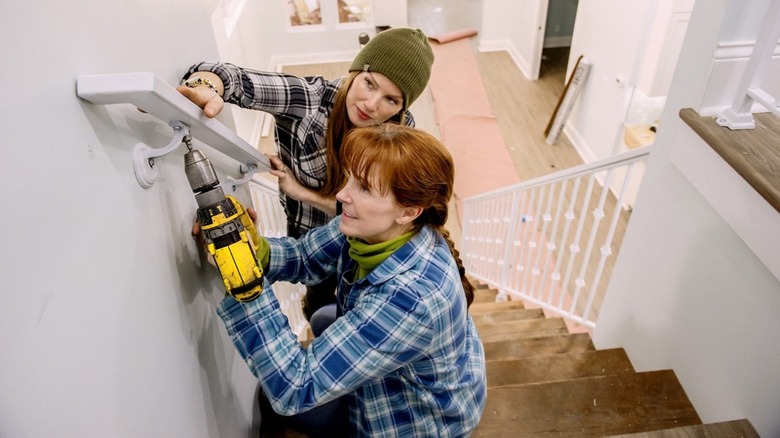 HGTV
The duo primarily focuses on three neighborhoods in Indianapolis: Bates-Hendricks, Fountain Square, and Old Southside. With a combined population of less than 20,000, you're bound to see a "Good Bones" home while exploring the region. In fact, as highlighted in several episodes of the show, Two Chicks and a Hammer have renovated multiple homes on a single block. Why the focus on this region? Well, that's because both Laine and Starsiak Hawk live in Fountain Square – in adjacent homes (via HGTV).
In an interview with Indianapolis Monthly, Laine emphasized their company's mission. "It's important to me to stay in the neighborhood where we live. If you do one house in one ZIP code, and another in another ZIP code, you don't have any effect on the neighborhood," she said. And it seems their efforts are paying off. Since the start of "Good Bones," the value of homes in Fountain Square has risen drastically. Even nightmare homes, like those the duo snatched up at rock-bottom prices early in their career, are now priced beyond what their small-but-growing company can invest.