The Real Reason Rocket Raccoon Wears A Scarf In Avengers: Endgame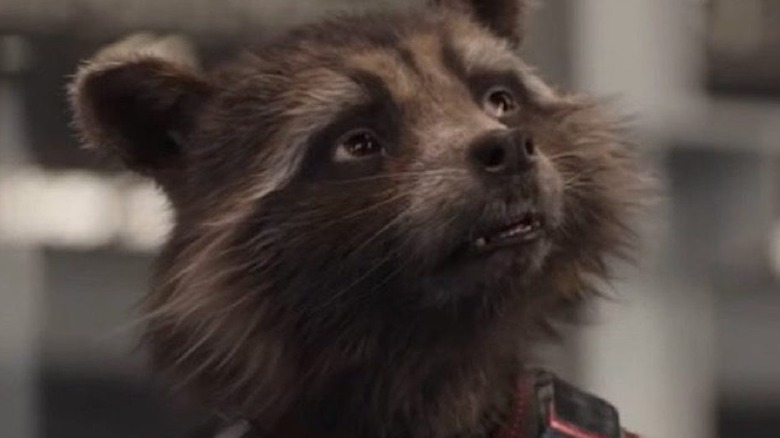 Disney/Marvel Studios
With a three-hour and two-minute runtime packed full of insane action sequences, it was impossible to catch every detail hidden within "Avengers: Endgame." Even upon a rewatch, it was still easy to miss small details, and many a fan has turned to breakdown videos to get a deeper look at the film still making waves years after its debut.
Some small details that might have been missed on the first few watches include Howard the Duck in the portal scene alongside some Ravagers, Hulk (Mark Ruffalo) eating Hulk-A-Hulk-A-Burning-Fudge ice cream while planning the time heist, and Harley Keener's (Ty Simpkins) appearance at Tony Stark's (Robert Downey Jr.) funeral. There were even small details hidden in some of the heroes' wardrobes, including an accessory worn by Rocket Raccoon (Bradley Cooper). In the final battle, as well as back on Asgard during the time heist, Rocket can be seen wearing a red scarf that he has never sported in the MCU before. While "Avengers: Endgame" directors Joe and Anthony Russo have never commented on the scarf, some fans think there was a very specific reason Rocket was wearing it.
Rocket Raccoon's scarf is an homage to a Guardian of the Galaxy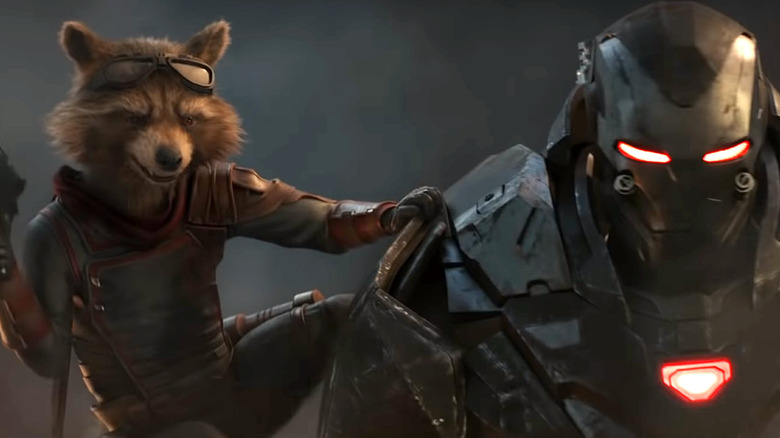 Disney/Marvel Studios
A Marvel Cinematic Universe fan put two and two together when taking a closer look at "Avengers: Endgame" and shared his thoughts on Rocket Raccoon's red scarf. In a vastly popular Reddit thread that has well over 38,000 upvotes, the fan noted that Rocket is wearing the same scarf that Peter Quill (Chris Pratt) wore in "Guardians of the Galaxy Vol. 2." Other than Nebula (Karen Gillan), Rocket lost all of his friends-turned-family in "Avengers: Infinity War," which included Groot (Vin Diesel), Quill, Gamora (Zoe Saldana), Drax (Dave Bautista), and Mantis (Pom Klementieff).
Wearing Quill's scarf is assumed to be an homage to his fellow Guardian who perished after Thanos's (Josh Brolin) snap. Rocket and Quill always had an interesting relationship as they constantly bickered, but there was an unspoken love between the two of them. Rocket's decision to sport his deceased friend's scarf proves that there was more love there than Rocket was ever willing to admit.