The Movie Like Ratatouille That Animation Fans Need To See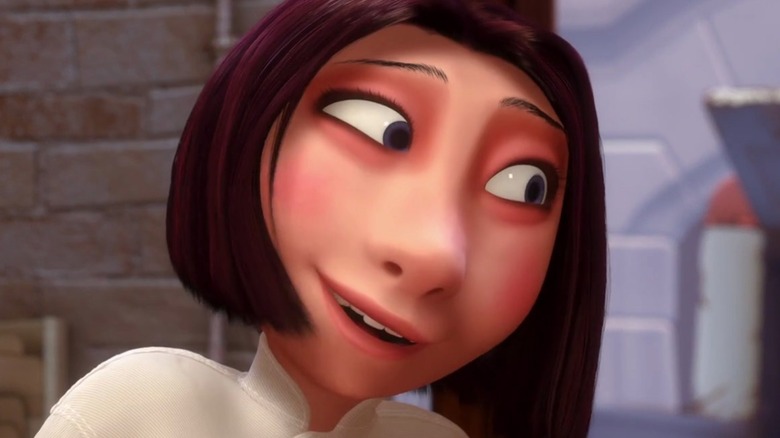 Buena Vista Pictures
Even though Pixar was at the cutting edge of CGI animation since its very beginnings as a studio in the 1980s and immediately curried critical favor with the wit and storytelling strength of early feature films like "Toy Story," there's an argument to be made that the Pixar movie responsible for bringing CGI to the same level of sophistication as the rest of animation was "Ratatouille."
Even more than previous hits "Finding Nemo" and "The Incredibles," the 2007 film about a French rat with a culinary calling showed what could happen when technical resources such as Pixar's were put into service of an expansive cinematic vision, with clear ideas about the mood and tone and rhythm of each moment, and a full understanding of the elastic, boundlessly expressive potential of animation. It's no wonder that while looking at it today, "Ratatouille" feels so different from most focus-tested CGI blockbusters, and so much more reminiscent of old Disney classics, golden-age cartoons, and even live-action silent comedies and screwball farces. For all its impassioned arguments in favor of novelty and invention in art, it is, at heart, a gloriously old-fashioned movie.
As such, if you're looking for another animated film that recaptures the sumptuous metropolitan grain of "Ratatouille," a good bet might be to look to an older forebear like "One Hundred and One Dalmatians" or "Whisper of the Heart." But an even better bet, given the Pixar movie's Parisian setting and deft combination of CGI and traditional animation sensibilities, would be to watch this groundbreaking French animated film, released just four years prior to "Ratatouille."
The Triplets of Belleville is a jazzy, delightful French farce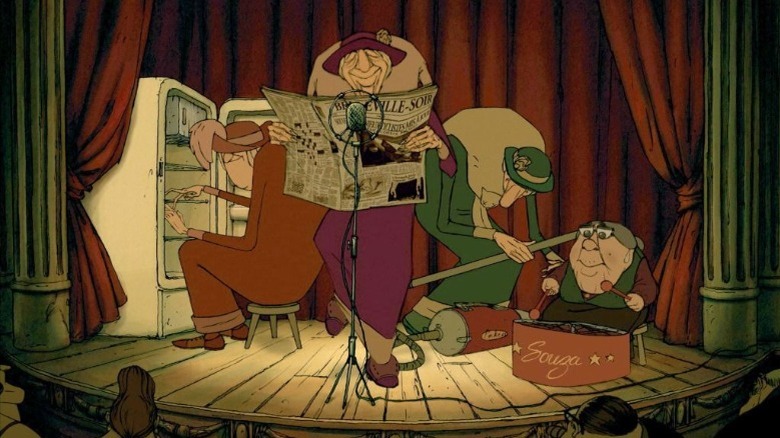 Diaphana Films/Sony Pictures Classics
One of the things that helped animated films get their due and be seen as "serious business" in the U.S. was the creation of the Academy Award for Best Animated Feature, which was first given out in 2001. A major moment in that category came in 2003, when, for the first time, an "adult" animated movie received a nomination. That movie was "The Triplets of Belleville."
Directed by French animation virtuoso Sylvain Chomet, "The Triplets of Belleville" tells the story of Madame Souza, an old French woman who travels to the city of Belleville in North America to rescue her cyclist grandson, who has been kidnapped by mobsters. Once there, she is accompanied by the Triplets of Belleville, a trio of now-elderly 1930s cabaret singers, and they embark on a series of rambunctious urban adventures.
Like "Ratatouille," "The Triplets of Belleville" was acclaimed for its unique Gallophile aesthetic — an amalgam of vintage French and American visual references — and its incredible command of the pleasures of animated comedy, flaunted via a daunting combination of computer-generated frameworks and finely-drawn cels. Also like "Ratatouille," in which protagonist Remy goes wordless for long stretches, "Belleville" commits to expression through animation in a way that harks back to the masters of silent comedy. Finally, both movies are unafraid to lace their comedic stylings with a sense of melancholy and whimsy, aided by musical scoring that draws from French popular traditions such as musette and Gypsy jazz. If you find "Ratatouille" to have a particular "it" factor among Pixar movies, "Belleville" will be right up your alley.