The Snake Eyes Movie Gets An Amazing New Motion Poster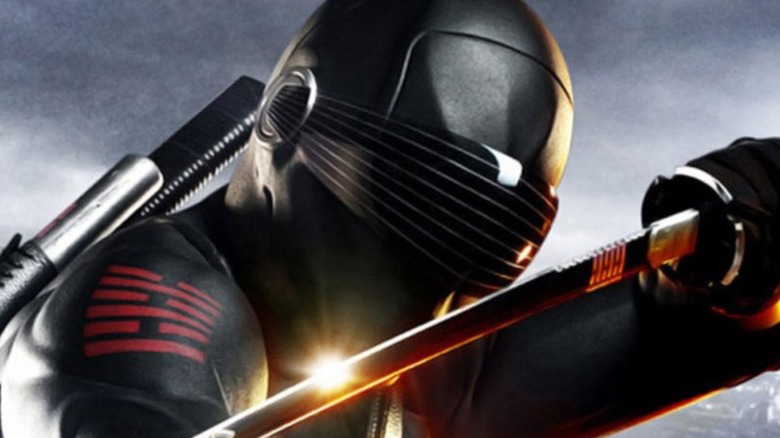 Paramount Pictures
Plenty of kids grew up playing with "G.I. Joe" action figures, pitting U.S. military forces against the terrorist organization known as Cobra. Those kids playing with these iconic characters grew up to be adults playing with the same characters, incorporating them into a litany of animated series as well as a couple of live-action films starring Channing Tatum. The last time the crew hit the big screen was in 2013's "G.I. Joe: Retaliation," and while it seemed for a while like the franchise was dead in the water, it's getting what's looking to be a major update in the form of a spin-off focusing on the iconic Snake Eyes. 
While he's been seen before in live-action form with the first two "G.I. Joe" movies as played by Ray Park, he'll be portrayed by Henry Golding when he takes center stage in his own film. The movie functions as an origin story for the crucial member of the G.I. Joe team, giving him a chance to shine in a way he couldn't with the ensemble cast of the first two movies. And if, like many people, you're waiting to see your favorite action figure get his due, then you'll be very excited for the latest piece of marketing to drop about the upcoming action flick.
Henry Golding has shared a new motion poster for Snake Eyes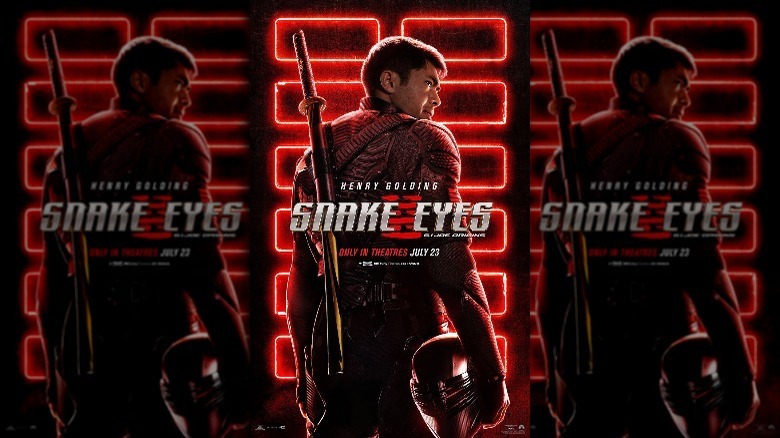 Paramount Pictures
Henry Golding has seen his star rise significantly over the past few years with prominent roles in films like "Crazy Rich Asians" and "Last Christmas." Now, he's taking the limelight as an action star with "Snake Eyes," so it's only appropriate that he's the one who gets to drop the latest piece of marketing. If you follow Golding on Twitter, then you may have already seen him share an engaging motion poster that sees this new version of Snake Eyes appear in front of red neon lights while the film's title smashes in front of him. 
He accompanies the new poster with the following message: "There goes the neighborhood... Your first official poster for @GIJoeMovie Snake Eyes. Can't wait to share the trailer on Sunday at the @MTV Movie and TV awards, tune in at 9pm!" The movie had to be pushed back several times as a result of the COVID-19 pandemic before landing at its current release date of July 23, 2021. With the announcement that we're finally getting a trailer, it seems like it'll stay on that date. 
That's good news for "G.I. Joe" fans, who've been waiting to see this movie for a while and chimed in with comments like "woahhhhh siiiiiiiickkkkkkkkkkkk" and "I'M SOOOOO EXCITED!!!" That enthusiasm's only going to grow exponentially when a trailer finally comes out this Sunday. Golding's also slated to present something that evening (via MTV), so there are a couple of reasons why fans of his work should tune in.