The Star-Studded Sci-Fi Series That's Heating Up On Netflix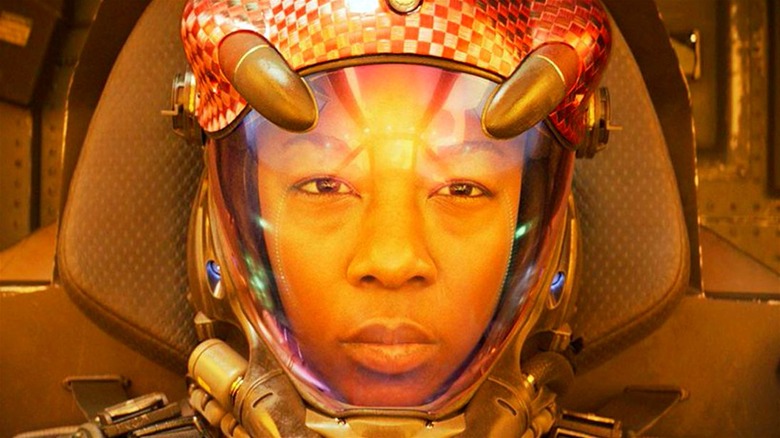 Netflix
Netflix's sci-fi anthology series "Black Mirror" has been one of the most popular shows on the platform, but with the series on an indefinite hiatus, fans are looking for other avenues to get their dose of dystopian prophecies. Fortunately, they got just that and more with "Love, Death and Robots," an adult-oriented animated series that launched in March 2019 to critical acclaim, winning an Emmy award and gaining massive popularity.
Over two years later, the second volume is sure to bring just as much attention and accolades as the first. Although it only features eight episodes versus the original volume's 18, each one has a stellar cast, director(s) and unique animation studio, bringing the same level of variety in tone, animation style and genre.
What isn't different is its dedication to maintaining its three titular themes — love, death, and robots — through its steamy scenes, violent encounters, and use of technology in increasingly disturbing ways. If you haven't discovered "Love, Death and Robots" yet, here's why you should bump it to the top of your list.
The second volume delivers more emotional moments
As an anthology series, each new episode features completely new characters, meaning there are many new actors in each episode. New to the second volume are Michael B. Jordan ("Black Panther," "Creed"), Jennifer Hale ("Mass Effect," "Metal Gear Solid"), Joe Dempsie ("Game of Thrones," "Skins") and more, as well as Nolan North ("Uncharted," "Assassin's Creed") and Emily O'Brien ("The Young and the Restless," "Days of Our Lives") taking up new voice roles.
As for the stories themselves, there's a wide variety. In the episode titled "Ice," directed by Robert Valley, the main character is the only person in an entire town of superheroes. "Pop Squad" by director Jennifer Yuh Nelson portrays a world in which all humans have biological immortality, and so all children are executed to avoid overpopulation. Tim Miller's "The Drowned Giant" sees a scientist study a giant, naked corpse, while Elliot Dear's "All Through the House" has two children discover that Santa Claus is actually, of course, a horrifying insect monster.
All these stories and more are now available exclusively on Netflix, along with the first volume of "Love, Death and Robots."