Dave Bautista's Latest Dune Remarks Will Get You Hyped Beyond Belief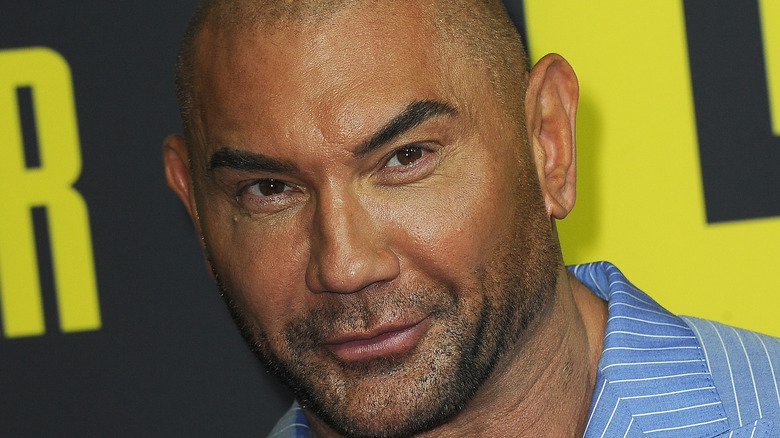 Albert L. Ortega/Getty Images
There are already plenty of reasons to be excited about Denis Villeneuve's long-delayed "Dune" adaptation, starting with Villeneuve himself. The acclaimed director of "Arrival" looks set to bring his trademark combination of striking visuals and storytelling to Frank Herbert's science fiction classic, and the cast he's assembled is nothing to sneeze at — Timothée Chalamet, Oscar Isaac, Zendaya, Jason Mamoa, Stellan Skarsgård, and Dave Bautista round out an all-star ensemble. "Dune" marks the second collaboration between Bautista and Villeneuve, following Bautista's brief but staggering appearance in "Blade Runner 2049" – if you haven't seen it, check it out. We can pretty much guarantee that it's the hardest you'll root for a protein-farming garlic enthusiast at the movies this year. This time around, the 52-year-old former wrestler and noted guardian of at least one galaxy is taking a walk on the wild side, playing the sadistic Glossu Rabban.
And as if "Dune's" creative pedigree, breathtaking trailer, and 10-month delay weren't enough to get fans fired up, Bautista has added more fuel to the fires of anticipation in a new interview with Slashfilm. From the way he describes it, fans are in for a remarkable ride — something "beautiful and different, and a lot of times dark and strange," and "one of the most beautiful films that people have ever seen."
Dune is going to blow some minds
"It's something I never could have imagined," Dave Bautista said about "Dune" (via Slashfilm). "I just don't have that mind. When I think about things, and when I think about directing, it's all very contained, based on simple stories, a lot of times very simple and inspiring stories. And for someone to see something and create a world this big, a galaxy, a universe this big, it's something that doesn't comprehend, doesn't compute in my brain. But it's weird that he can do both," Bautista said of writer-director Denis Villeneuve.
Even more excitingly, Bautista seems convinced that this latest adaptation will finally break the "Dune" franchise's streak of bad luck when it comes to on screen adaptations. "But I think that people who are just die hard fans of 'Dune,' of the novels, they're going to be blown away," he said. "Because they don't have anything, really, to reference in relation to the books. Now they will."
"Dune" was famously adapted for movie theaters back in 1984. The David Lynch-helmed production, with designs on becoming the next "Star Wars," left audiences feeling greasy and uncomfortable, and relegated the "Dune" franchise to made-for-TV miniseries in the decades that followed. If Bautista is to be believed, this latest reimagining of the space epic will succeed where the others failed thanks to its director's deep-dive storytelling style. "He's a special person and a special director," the actor said of Villeneuve, "and at the end of the day, you want to hear him come out from behind that monitor and say, 'I deeply love this.' That's when you know Denis is happy."
"Dune" is currently scheduled for release on October 1, dropping in theaters and on HBO Max simultaneously.