Things Are Looking Up For Money Heist Season 5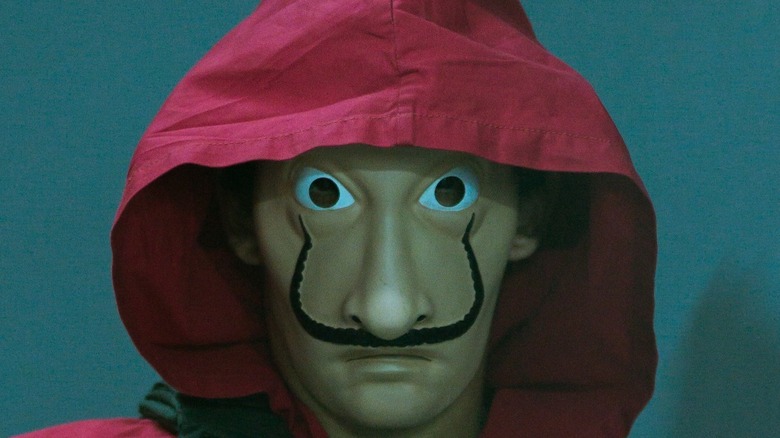 Tamara Arranz
Spanish crime drama "Money Heist" is one of Netflix's biggest shows worldwide. Season 4 was watched by 65 million homes in its first four weeks of release last year (via Variety). It's such a phenomenon that Netflix released a companion documentary alongside Season 4, titled "Money Heist: The Phenomenon," exploring how and why the show got so huge (TLDR: It's thrilling and culturally relevant). According to the documentary (via Decider), it's Netflix's most-watched series in France, Italy, Argentina, Chile, Brazil, and Portugal. People can't get enough of the unpredictable and elaborate robberies the Professor (Álvaro Morte) and his team of Salvador Dalí-masked operatives pull off, or the emotional entanglements that come along with them. It's even inspired a TikTok hair trend.
All of this is why it's a little bittersweet that "Money Heist" – known as "La Casa de Papel" ["The House of Paper"] in Spanish – is coming to an end. Creator Álex Pina's series was renewed for a fifth and final season last summer, and has been in production since August, according to Deadline. Now, Netflix has announced that production has wrapped on Season 5, which means the last heist is imminent.
'Money Heist' is going out strong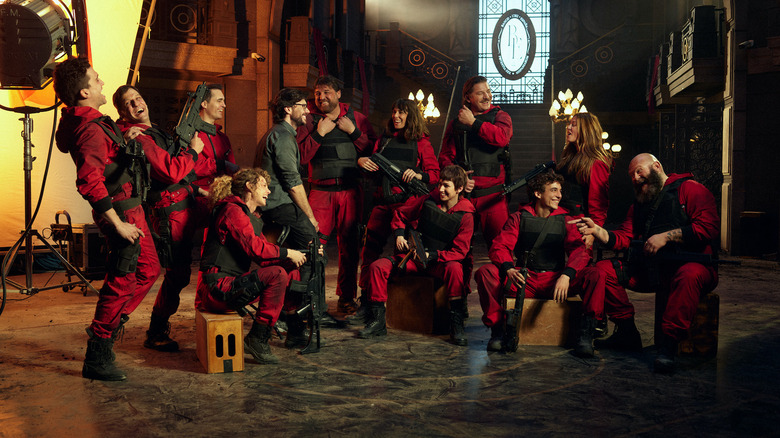 Netflix/Twitter
Netflix shared an on-set cast photo on Twitter with this caption: "What started as a heist, ended as a family."
"It's a wrap on Part 5 of La Casa de Papel / Money Heist," the post continued. "Thank you to all the fans for being part of La Resistencia! We can't wait to show you how this story ends."
Fans replying to the post mostly wanted to know the whereabouts of Alicia Sierra (Najwa Nimri), the lead National Police Corps inspector on the case, because she isn't in the photo. But there were plenty of generally excited replies, too.
"okay, I need to watch this rn, send me the link" @urreashome replied.
"AHHHHHH YAYYY IM SO EXCITED" @tnajah_r said.
While there is no set premiere date for Season 5, it will consist of ten episodes, according to Netflix. Plot details have not been revealed, but creator Álex Pina gave some hints about what was to come when the show was renewed last year.
"We've spent almost a year thinking about how to break up the band," Pina said. "How to put the Professor on the ropes. How to get into situations that are irreversible for many characters. The result is the fifth part of La Casa de Papel. The war reaches its most extreme and savage levels, but it is also the most epic and exciting season." That sounds fitting for such an emotionally resonant show like "Money Heist."