Money Heist Fans Just Got Bittersweet News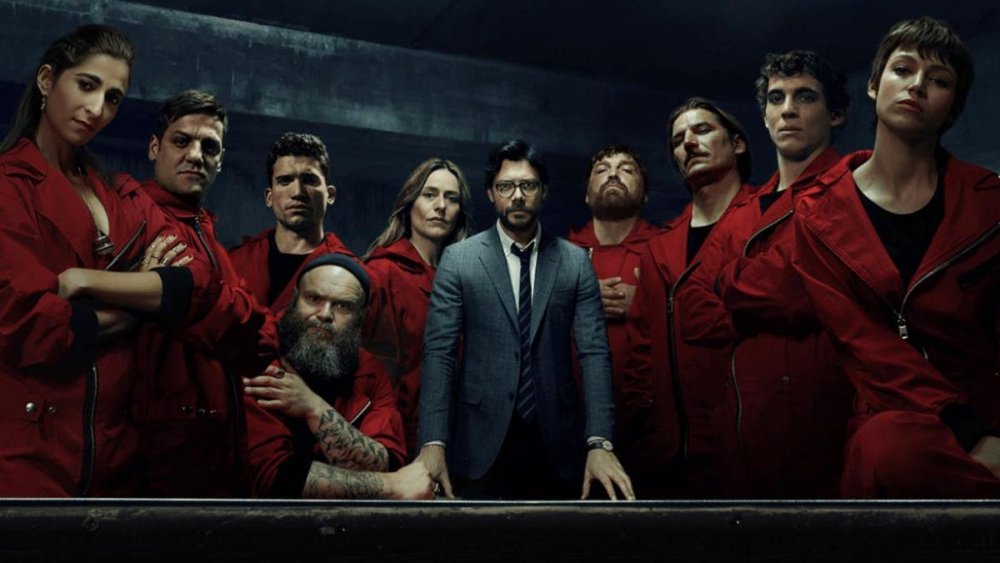 Netflix
The days are officially numbered for one of the biggest hits in Netflix history.
Don't worry, though, because the news is not all bad for Netflix's international sensation Money Heist. In fact, some excellent news has broken for fans of the thrilling crime drama as Entertainment Weekly has confirmed Money Heist will be back for a fifth season of heisting hijinks. Unfortunately, that news is going to be a touch bittersweet for the series' die-hard fans, as EW has also confirmed the upcoming fifth season of Money Heist will indeed be its last.
Disappointing as that news is, it'll hardly come as a shock to those keeping track of Netflix's approach to original programming. Since it began producing original content, the streaming giant has kept a surprisingly short leash on its serialized programs, often pulling the plug on even its most popular shows after just three seasons and sometimes cancelling them even sooner. Certain series have surpassed the unofficial three-season cap, however, with Netflix ventures like Stranger Things, Ozark and The Crown ranking among the most prominent (and popular) of the streamer's current originals to receive a fourth season order or more. 
Of those series, only Stranger Things hasn't yet received the proverbial axe, with The Crown and Ozark recently announcing the impending ends to their lauded Netflix runs. 
Money Heist is officially joining their ranks in spite of the fact that it's one of Netflix's biggest and most unexpected hits, reportedly scoring a staggering 65 million views with the April release of its fourth season. Said season found heist architect The Professor (Álvaro Morte) and his international band of bank robbers delving deeper into their do-gooding-ish acts of derring-do than ever. It also, however, left viewers with a bit of a nail-biting cliffhanger. So, even as Money Heist's cancellation is a bummer, fans can still expect some closure on certain storylines. 
Money Heist is prepping to go out with a serious bang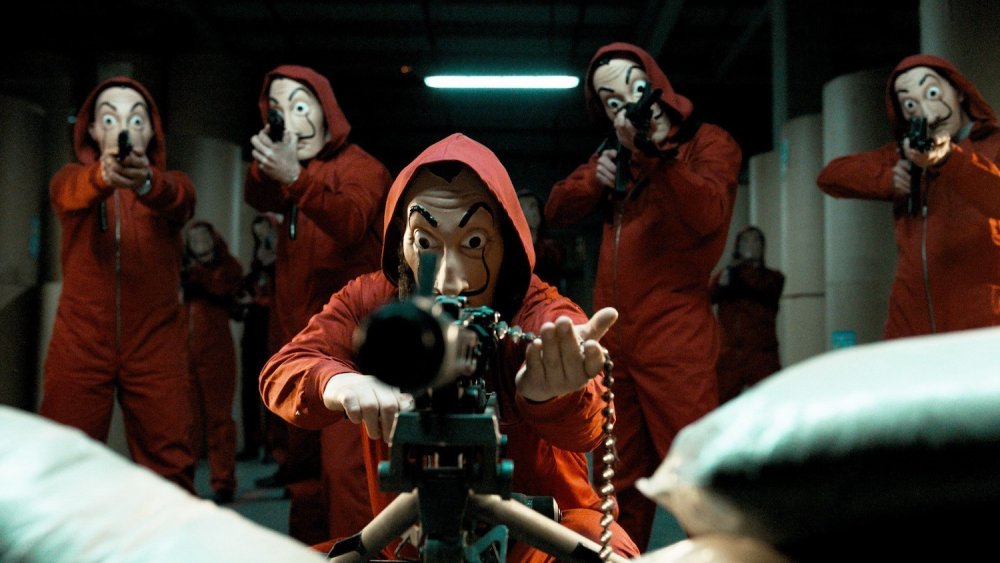 Netflix
In comments to EW, Money Heist creator Álex Pina seems genuinely excited about getting to end the show on his terms. He also wants to assure fans the final season of Money Heist will be unlike anything they've seen before, saying, "We are moving from a chess game — a mere intellectual strategy — to a war strategy: attack and contention." 
Pina goes on to tease that the new narrative approach is designed to feed into the series' already pulse-pounding construct, while building toward something far more thrilling. "Adrenaline is within Money Heist's DNA," he says. "Every thirty seconds things take place and disrupt the characters, a turn of the screw to the action. The adrenaline mixed with feelings arising from absolutely complex, magnetic, unforeseeable characters will continue until the end of the heist to the Bank of Spain. However, the gang will now be pushed into irreversible situations, into a wild war: it is the most epic part of all the parts we've shot."
In promising to end Money Heist with a big-time bang, Pina also teased the arrival of a couple of new characters, to be played by Sense 8 alum Miguel Ángel Silvestre and Spanish TV vet Patrick Criado. While the Money Heist mastermind didn't offer many details about the newcomers, he did make it sound like they'd be facing off against The Professor and his crew instead of joining them: "We always try that our opponents be charismatic, intelligent, shiny. In this case, in pure war film genre, we also look for characters whose intelligence can measure up against The Professor's."
Given the pickle in which The Professor found himself via Money Heist's season 4 finale, it certainly sounds like things are going to get even more complicated moving forward. Even if it is our last turn through the Money Heist madness, we're officially getting psyched to see how things end.