Fans Of Enola Holmes Just Got Some Spectacular News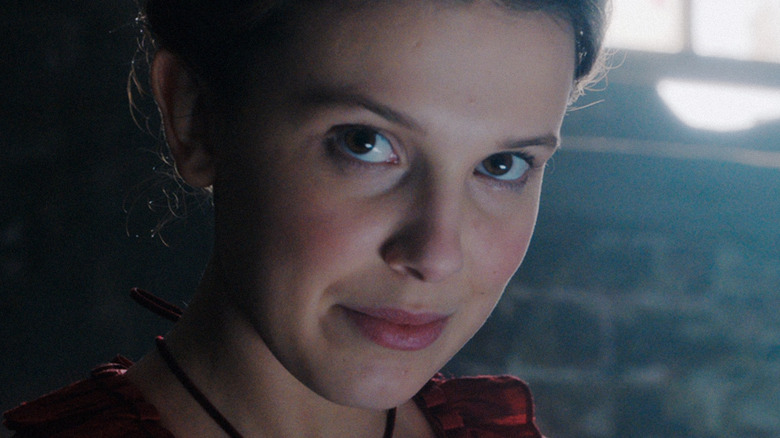 Netflix
The Nancy Springer book series "The Enola Holmes Mysteries" are a no-brainer for adaptation — something Netflix agrees with. The books — and the current film on Netflix — center on Enola Holmes, the younger sister of Sir Arthur Conan Doyle's famous detective Sherlock Holmes. The Netflix film cast "Stranger Things" star Millie Bobby Brown in the title role, with none other than Superman himself, Henry Cavill, acting as Sherlock, and "Hunger Games" alum Sam Claflin portraying their other brother Mycroft.
"Enola Holmes" focuses on the disappearance of Enola's mother Eudoria (Helena Bonham Carter), and sees Enola team up with the young Viscount Tewkesbury (Louis Partridge) as the pair abandon the lives they once knew for potentially greener (although imminently more dangerous) pastures.
In November 2020, Netflix revealed that "Enola Holmes" had been a massive hit, seen by no less than 76 million households in its first four weeks of streaming. Considering that something like "The Kissing Booth 2" attracted 66 million viewers and still managed a third film in its franchise, it seemed likely that Enola would be staring into the camera and talking directly to her audience again before long.
Now, we have good news for everyone who loved the first "Enola Holmes" film: She's officially coming back.
Enola and Sherlock return for another emotional adventure
Netflix
Legendary Entertainment is again teaming up with Netflix for a sequel to "Enola Holmes," as confirmed by the Hollywood Reporter. Both Millie Bobby Brown and Henry Cavill are reprising their roles, but it's unclear as of this writing if Sam Claflin will be back as Mycroft Holmes.
Considering the success of the first film, it should come as no surprising that both original writer Jack Throne and director Harry Bradbeer are returning for the "Enola" sequel. Legendary's producers Mary Parent, Alex Garcia, and Ali Mendes are also back on board, and Paige Brown and Millie Bobby Brown herself return as producers through PCMA Productions.
The first "Enola Holmes" movie is based in part on the first novel in Nancy Springer's series: "The Case of the Missing Marquess." It stands to reason that the sequel may pick up with an adaptation of the second book in the series, "The Case of the Left-Handed Lady," although there are five books still to play with.
One thing neither producers nor performers will have to deal with again are lawsuits from the estate of Sir Arthur Conan Doyle. Due to what was deemed a too-emotional version of Sherlock Holmes, the estate filed suit against author Nancy Springer, Legendary Pictures, PCMA Productions, and Netflix. That lawsuit was ultimately dismissed in December 2020.
With that out of the way, both Enola and Sherlock are free to be as emotional or unemotional as they wish when the sequel to "Enola Holmes" eventually arrives on Netflix. As of now, there's no official release date for the "Enola Holmes" sequel.