What Is The Song In The Rakuten 'Kitchen Choir' Commercial?
There's nothing better than when a commercial takes a classic song and makes it their own to fit perfectly. When this happens, the music is even more likely to get stuck in your head, mainly because you want to figure out who the original is by. That's exactly what Rakuten did for their new "Kitchen Choir" commercial.
At first, you might not recognize the famous song sung by a woman who is online shopping within her kitchen. Then, all of a sudden, a piano pops up from the kitchen table, and the actress drops into an abyss that resembles a floating concert stage. She continues to sing about the deals she found and even points up at her concerned son, saying she will even buy a bike for him. By the time you hear the modified chorus, you know you've heard this song before but just can't put your finger on where.
So what is the song in the Rakuten "Kitchen Choir" commercial?
The Rocket Man is picking up all the deals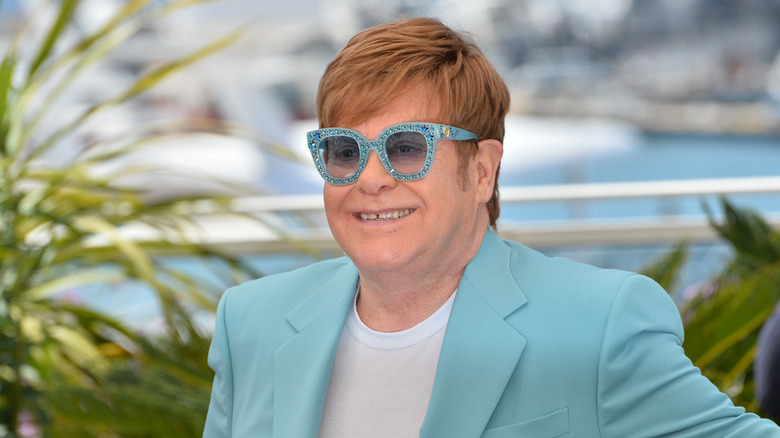 Shutterstock
Even though the lyrics are different, some die-hard fans may have recognized this song almost immediately. That's because it's a remake of Elton John's hit song "Rocket Man." Undoubtedly one of Elton John's most well-known songs (eventually becoming the title of his 2019 biographical film), this classic hit was released as the lead single for his fifth studio album, "Honky Château." The single would make its way up to number 2 on the U.K. Singles Chart and number 3 on the U.S. Billboard Hot 100 in 2019.
This isn't the first time "Rocket Man" has been featured in a commercial, and it probably won't be the last time. AT&T used it in 1997 to advertise their network in what is now an extremely outdated commercial. In 2012, Volkswagen used the song in their Passat commercial and had everyone singing the lyrics wrong. More recently, fans heard the song in a commercial for Samsung's Gear VR in 2017.
Commercials aside, "Rocket Man" has been referenced and covered several times throughout its existence. Most notably, Kate Bush covered the song in 1991, followed by David Fonseca in 2007. Rakuten's version, however, might be the most relevant cover to date. Instead of singing about missing the Earth and Elton John's wife, it focuses on the deals Rakuten can obtain for you. It's more than perfect for the commercial, exemplified even further when the "Rocket Man" chorus is replaced with "Rakuten." Once again, Elton John's classic hit has been used in an excellent marketing fashion.