The Transformation Of Mandip Gill From Childhood To Doctor Who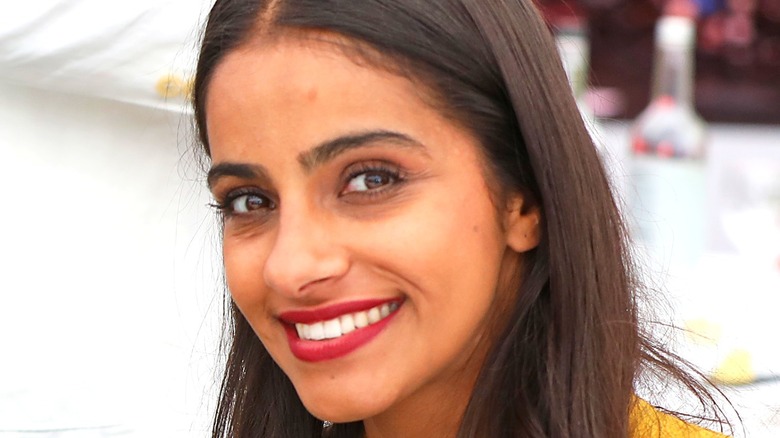 David M. Benett / Dave Benett / Getty Images for Audi UK
As "Doctor Who" enters the 13th season of the modern incarnation of the show which began in 2005, it's only natural to look at the women who are still hopping galaxies and traveling through space and time in the TARDIS. With the recent departure of Ryan Sinclair (Tosin Cole) and Graham O'Brien (Bradley Walsh), the sole, remaining pre-existing human occupant with the Doctor (Jodie Whittaker) is police officer Yasmin Khan (Mandip Gill).
As we look forward to what the Doctor and Yaz will get up to in Season 13 with the new companion Dan (played by stand-up comic John Bishop), it also makes sense to look back at Gill's career so far. As you might imagine, "Doctor Who" is not the first role Gill has had, considering how high-profile it is. The actor only began her TV career in 2012, but, in just shy of a decade, she's already compiled quite an impressive resume.
Let's take a look at how Mandip Gill rose from an aspiring young performer to play one of the most coveted roles in all of Great Britain.
Mandip Gill's family, education, and theater work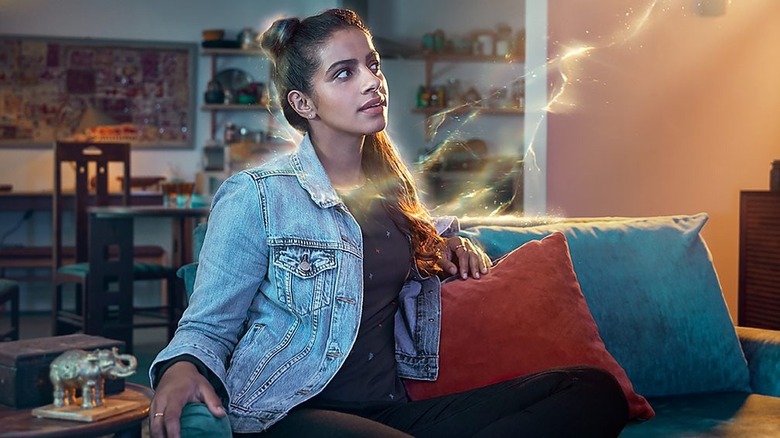 BBC Worldwide
Prior to becoming an actor, Mandip Gill was born on January 5, 1988, in Leeds, West Yorkshire (via Leeds Live), where she lived with her parents and six other siblings until she was 14 when her entire family moved to Allerton Bywater. She attended Brigshaw High School and eventually graduated with a BA in Acting from the University of Central Lancashire in 2009. Additionally, the actor studied performing arts at Park Lane College.
In 2019, Gill wrote about her time in school for Teach Secondary where she discussed the teachers who inspired her. She notably discussed her rocky transition from Cockburn High School to Brigshaw. Gill had already gravitated towards the performing arts, but it wasn't until her drama teacher Miss Woffinden pushed her toward playing leads in plays. Miss Woffinden also "helped [her] prepare for an audition to get into a college on the other side of Leeds to do my BTEC, which in turn opened the door to university," Gill recalled. That theater work eventually moved her toward work in television.
Mandip Gill played Phoebe McQueen on Hollyoaks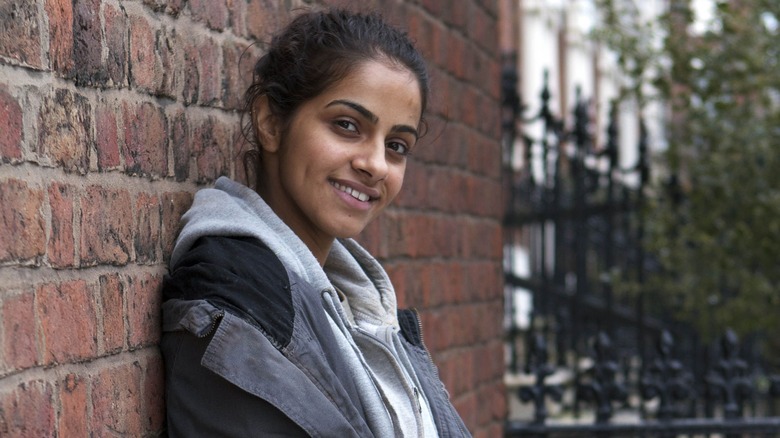 All3Media
Plenty of performers, whether they're British actors or from any other part of the world, get some of their first breaks in the realm of soap operas, and Mandip Gill is no different. In England, the two most famous soaps are EastEnders and Coronation Street. However, there is one that was originally pitched for a young audience back in 1995 and has since gone on to become another mainstay — "Hollyoaks." What sets "Hollyoaks" apart from most other soaps is that it quickly established itself as a series designed to take on more serious issues like abuse and mental health.
In 2012, Gill joined the cast of "Hollyoaks" as Phoebe McQueen. The character of McQueen is introduced as a tough, homeless young person who is squatting with George Smith (Steven Roberts). She is distrustful of most other people, especially people who aren't also homeless. McQueen is more right than she likely guessed as her storyline has her dealing with human trafficking as well as the death of her dog Thunder.
In 2015, Gill exited the show when Phoebe McQueen was given a lethal dose of potassium chloride, causing her to die of cardiac arrest.
Mandip Gill appeared as Shazia Amin on Doctors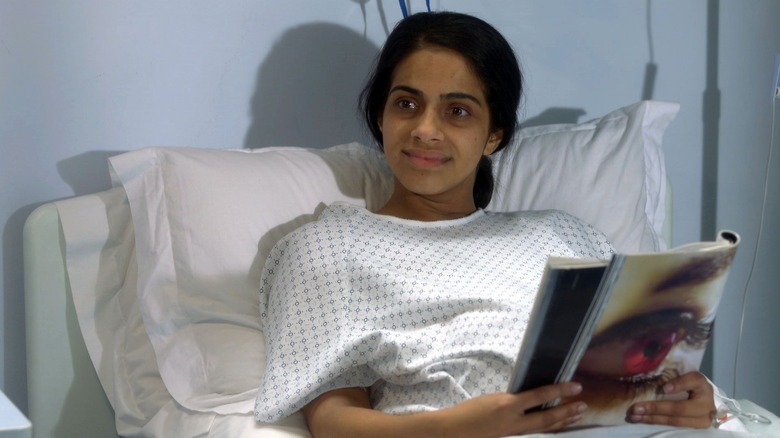 BBC
Not only was Mandip Gill not done with soap operas after her multi-year stint on "Hollyoaks," but she also wasn't done playing characters who deal with issues of homelessness. In 2016, Gill had a five-episode stint on popular British medical soap "Doctors."
The first thing that immediately sets Gill's character, Shazia Amin, on "Doctors" apart from Phoebe McQueen is that she's queer. She's also dealing with another challenge McQueen wasn't — she's pregnant. In an interview with Digital Spy, Gill revealed that she'd gone up for another role for "Doctors" and that character was also gay, which she felt made the show's producer "up to the idea of [her] being able to play that kind of part."
As for why Gill was willing to play yet another homeless character, she admitted it was because of her awareness of the issue thanks to her time on "Hollyoaks." "I was shocked by the figures when I was doing the research for 'Hollyoaks,' but since 2010, there's 50% more homeless people," she told Digital Spy. "We were filming Doctors in Birmingham and they have the highest percentage of homeless people outside of London. You just have to walk down one of their busy streets to see that this issue is massive."
One of the reasons Gill was attracted to the role was because the writing acknowledged the challenge of being a queer person in the Asian community. "Shaz is a very normal teenage girl who happens to be a lesbian, which is a very taboo subject in the Asian community," she explained. "'Doctors' touched upon that quite nicely, as usually it's something that people don't really talk about."
Mandip GIll played Talia on Love, Lies and Records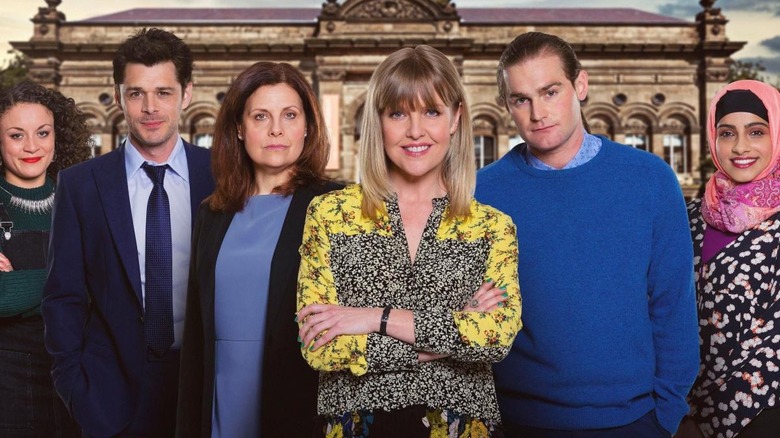 BBC
Gill is originally from Leeds, so it's no surprise that right after her time filming "Doctors" in Birmingham, she took on a role back in her hometown with "Love, Lies and Records." The series is created by popular Leeds show writer and director Kay Mellor.
Unlike "Hollyoaks" or "Doctors," "Love, Lies and Records" is a little more of a serious drama that is set around a registry office in Leeds. The series features "Extras" star Ashley Jensen, as well as a diverse cast of characters including a trans woman named Jamie (Mark Stanley) going through a struggle with her marriage and, of course, Gill as Talia. We'll talk about this again when we get to "Doctor Who," but Talia is a Muslim woman, and, unlike Yaz on "Doctor Who," she dresses more traditionally. In fact, Talia has an arranged marriage as well, which she is completely comfortable with.
In addition to being excited to work in Leeds, Gill told What's on TV that "it doesn't get much better than one of Kay's gritty dramas."
Mandip Gill took on the role of Yasmin Khan on Doctor Who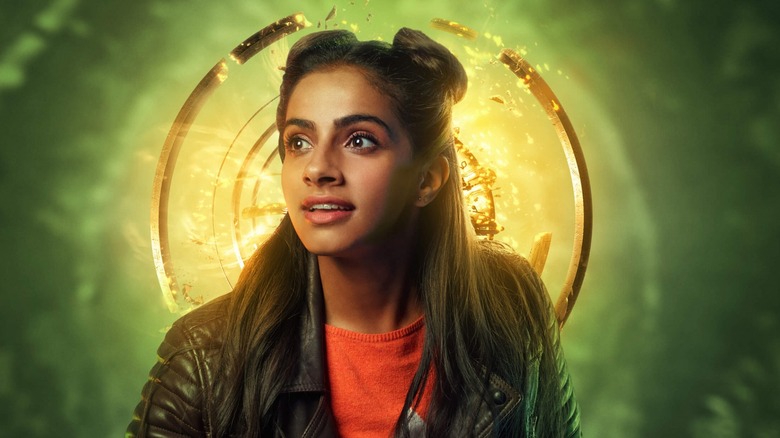 BBC Worldwide
With "Love, Lies and Records" ending its single-season run in 2017, Gill was free to take on her next, and most internationally famous, role — Yasmin Khan on "Doctor Who." If you haven't been watching the sci-fi series since Chris Chibnall took over showrunning duties and Jodie Whittaker became the first woman to play the Doctor, Gill's character Yaz is a police officer who connects with an old school chum named Ryan Sinclair (Tosin Cole) over a strange alien artifact. The two link up with the Doctor and, along with Ryan's adoptive granddad Graham (Bradley Walsh), they knock around in space and time as people on "Doctor Who" are often wont to do.
While both Walsh and Cole exited the series with the 2021 New Year's special, Gill is remaining aboard the TARDIS for now. Yaz as a character has explored the partition of India and mental illness. Since she has played a queer character in the past, there has been some speculation that the Doctor and Yaz could have a romance at some point, although Gill remains mum on the subject. "I'm not saying it happens or it doesn't happen," she said of the potential romance in an interview with The Radio Times in December 2020.
The 13th season of "Doctor Who" is set to debut sometime in 2021.