Aqua Teen Hunger Force Movie Sequel - What We Know So Far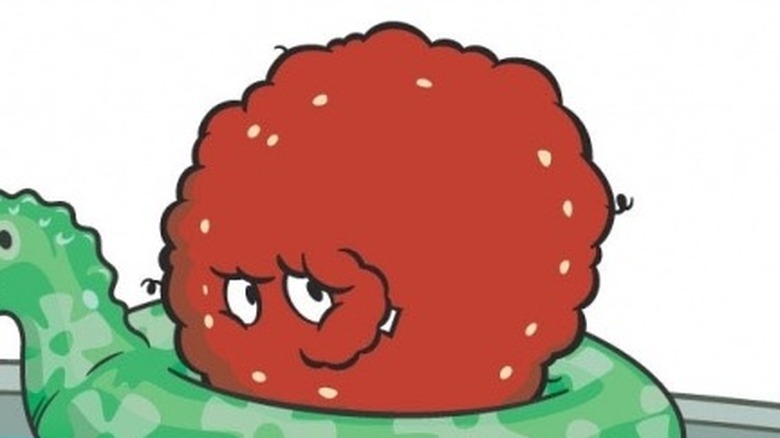 Adult Swim
Cue the Schoolly D theme song, because "Aqua Teen Hunger Force" is coming back for a new movie. Adult Swim announced that the surreal animated comedy series that ended in 2015 is being revived for a one-off original movie, along with movies based on two other completed Adult Swim series: "Metalocalypse" and "The Venture Brothers." "Aqua Teen Hunger Force" is one of Adult Swim's original programs, premiering as part of Adult Swim's official launch in September 2001. It followed the bizarre adventures of three sentient fast-food items — Frylock (a box of fries), Master Shake (a milkshake), and Meatwad (a ball of ground meat) — who live together in a house on the Jersey Shore. Every episode found them dealing with a new, deeply weird problem, such as having to fight a diaper-clad rapping spider from Hell named MC Pee Pants. They were often accompanied and-or thwarted by their cantankerous neighbor Carl Brutananadilewski, a middle-aged man with a thick New Jersey accent and receding hairline.
The series ran for 11 seasons between 2001 and 2015, for a total of 139 episodes. Previously, it got a movie in 2007, "Aqua Teen Hunger Force Colon Movie Film for Theaters," which was the first feature film based on an Adult Swim series. And now, it's coming back.
Here's what we know so far about the "Aqua Teen Hunger Force" movie sequel.
When is the release date for Aqua Teen Hunger Force?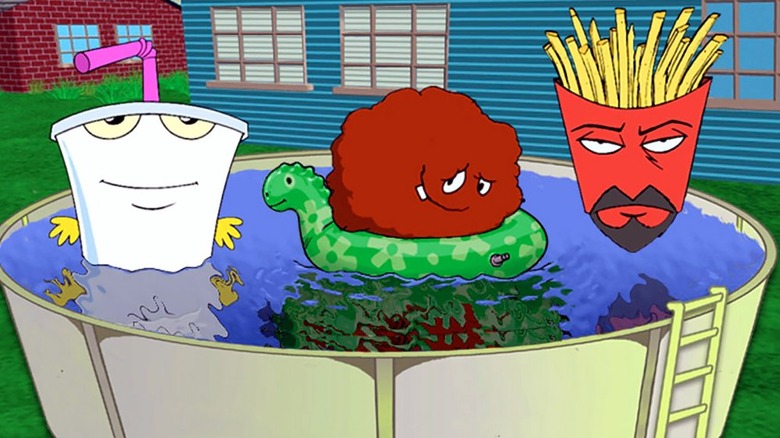 Adult Swim
There's no release date set for the "Aqua Teen Hunger Force" sequel so far, or any of the just-announced Adult Swim sequels. When it is released, it will be available on DVD, Blu-ray, and digital rental or purchase via video on-demand platforms. After 90 days, it will premiere on Adult Swim and the HBO Max streaming service.
If the movie premieres in 2022, it will come out 15 years after the theatrical release of "Aqua Teen Hunger Force Colon Movie Film for Theaters," which is to this day the only movie based on an Adult Swim animated series  — "Tim & Eric's Billion Dollar Movie" was live-action. The film featured voice cameos from Tina Fey, Bruce Campbell, and late Rush drummer Neil Peart, among others. It also featured the original song "Cut You Up With a Linoleum Knife" by the metal band Mastodon, an aggressive parody of the "Let's All Go to the Lobby" movie theater refreshment jingle.
The upcoming sequel will not be released in theaters.
Who's in the Aqua Teen Hunger Force cast?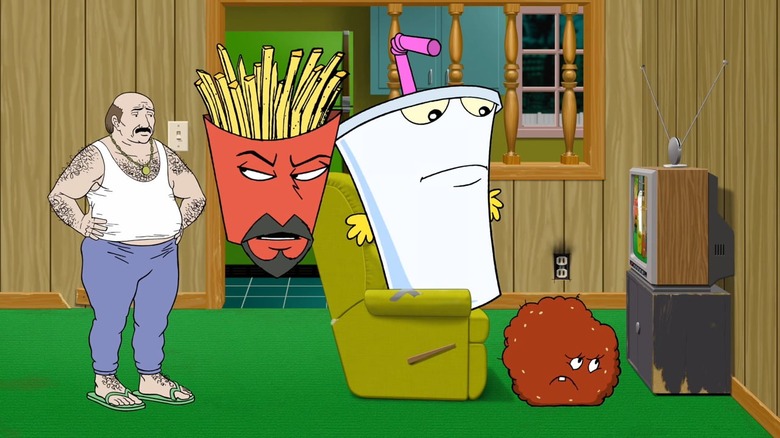 Adult Swim
The series was created by Dave Willis and Matt Maiellaro, who wrote and directed every episode and each voiced numerous characters. Willis voiced regular characters Meatwad and Carl as well as the Mooninite Ignignokt and numerous one-off characters, while Maiellaro voiced recurring characters including Err the Mooninite, the Cybernetic Ghost of Christmas Past From the Future, and many other characters.
Master Shake was voiced by Dana Snyder and Frylock by Casey Means. Presumably, they will all return for the movie, but the cast was not disclosed in the announcement. If the cast of the first "Aqua Teen Hunger Force" is any indication, there will be celebrity guest stars in the sequel, though it remains to be seen who. Voice guests throughout the show's run included Patton Oswalt as the Frat Aliens, Bill Hader as Inflatable Hitler, Lance Reddick as Freedom Cobra, and Chris Kattan as the Aqua Teens' father Walter Melon, any of whom could conceivably return for the new movie.
Recurring voice actors on the show included "Space Ghost" voice actor George Lowe as a fictionalized version of himself, MC Chris as MC Pee Pants, and Tommy Blacha as Wongburger. Sadly, actor and animator C. Martin Croker, who voiced mad scientist Dr. Weird and his assistant Steve as well as many minor characters, died in 2016.
What will the plot of the Aqua Teen Hunger Force sequel be?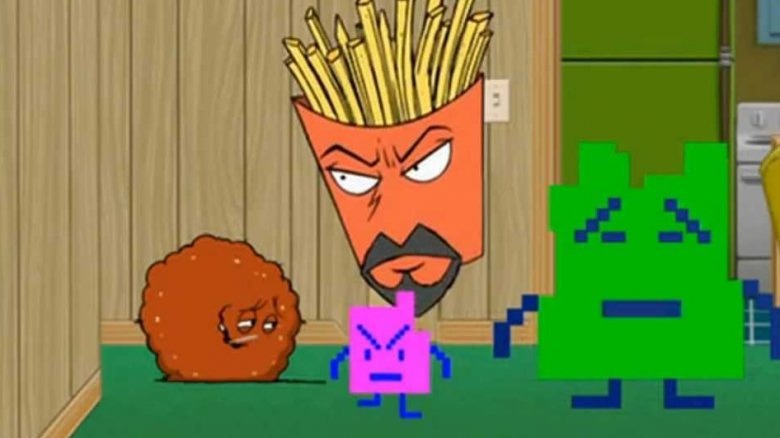 Adult Swim
There's no way to predict what the plot of the new "Aqua Teen Hunger Force" movie will be, because being totally unpredictable and absurd was the show's entire M.O. The only thing we can say for certain is that Frylock, Master Shake, Meatwad, and Carl will have some kind of extremely strange adventure that will probably involve aliens and/or demons. The pixelated, two-dimensional Mooninites, who live on the Moon and frequently appear to try to get Meatwad to participate in some ridiculous scheme, are also likely to show up
Here's Adult Swim's official description: "A continuation of the hit animated series, fans will find out what happens next with Frylock, Meatwad and Master Shake, who consider themselves crime fighters, but the truth is they never fight crime. 'Aqua Teen Hunger Force' is created by Matt Maiellaro and Dave Willis and follows the strange everyday lives of three human-sized food products living in New Jersey."