The Forgotten Keanu Reeves Rom-Com You Can Find On Amazon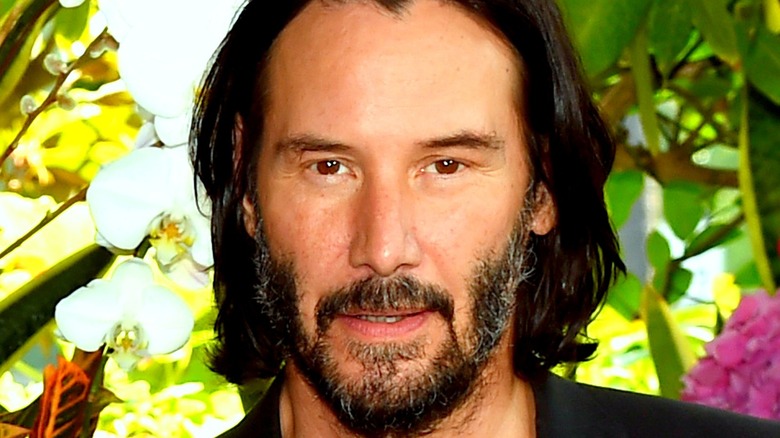 Kevin Winter/Getty Images
Often movies that take place at a wedding focus on the bride or groom or their close friends and all the drama that goes on behind the scenes. But what about the other people? What about the guests who come alone and spend the entire time standing at the back of the venue looking miserable and making snide comments? The Keanu Reeves starring "Destination Wedding," which is currently available for digital rental or purchase on Amazon, is a movie about exactly those people.
Reeves (who has some exciting projects on the horizon) plays Frank, a prickly man on the way to his half-brother's wedding in the quaint California town of Paso Robles. While en route, he meets Lindsay ("Stranger Things" star Winona Ryder), the groom's former fiance, who is equally as unenthusiastic to have made the invite list. The film follows Frank and Lindsay as they trade barbs about their fellow wedding guests and each other over the course of the weekend. However, as the old saying goes, misery loves company, and before the wedding is over, Frank and Lindsay begin to have feelings for one another other than contempt.
The film is an intimate project that keeps the focus squarely on its central characters. That seems like a no-brainer considering it has two beloved industry veterans as its stars. "Destination Wedding" is the fourth collaboration between Reeves and Ryder, who also co-starred in films like "Bram Stoker's Dracula" and "A Scanner Darkly." This reunion between the two was no accident.
Keanu Reeves and Winona Ryder were thrilled to be reunited for Destination Wedding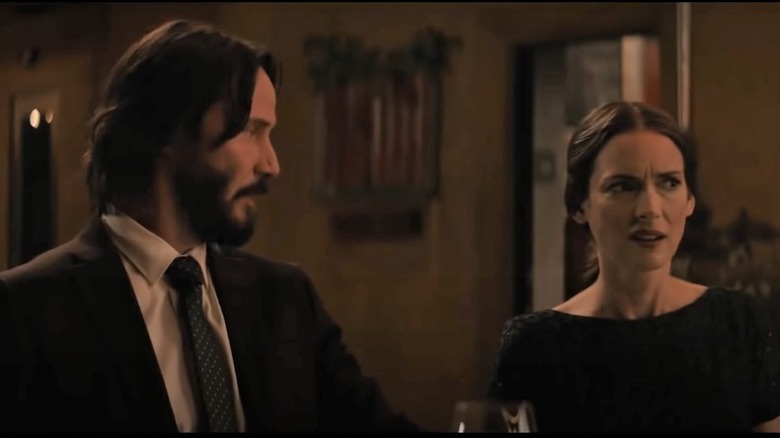 Regatta
While doing press around the time of the film's release, Reeves and Ryder spoke about their decades-long friendship and how "Destination Wedding" ended up being their fourth feature-length outing together.
During an interview with Today, Ryder revealed that she was the first to sign onto the project. When writer-director Victor Levin began a conversation about who her co-star might be, one name instantly sprang to mind. Ryder explained, "[Levin] was like 'Well, it's gotta be someone that you wanna see every day ...' and [Keanu] was like the first thing ..."
Ryder also spoke to how this particular collaboration was different from their others. She told Reeves that after co-starring in ensemble projects together, "It was great ... you know ... to kind of have you to myself."
And Reeves (who has a well-known reputation for being an A+ co-star) wasn't shy about returning the love. He said of joining Ryder in the film, "We enjoy each other's company, we're a fan of each other's work, we work really well together, we have a trust, we have a rapport ..."
In a separate interview with Rotten Tomatoes, he also gave fans some insight into the film's shoot, saying, "But it was still just doing our job even though we woke up in the morning, went to bed at night, called each other all of the time, every spare moment running lines, totally terrified, having fun ..."
You can see how that chemistry translates to the screen by checking out "Destination Wedding," which is currently available on Amazon.