VFX Supervisor Reveals An Exclusive Behind-The-Scenes Story From The Falcon And The Winter Soldier's Finale - Exclusive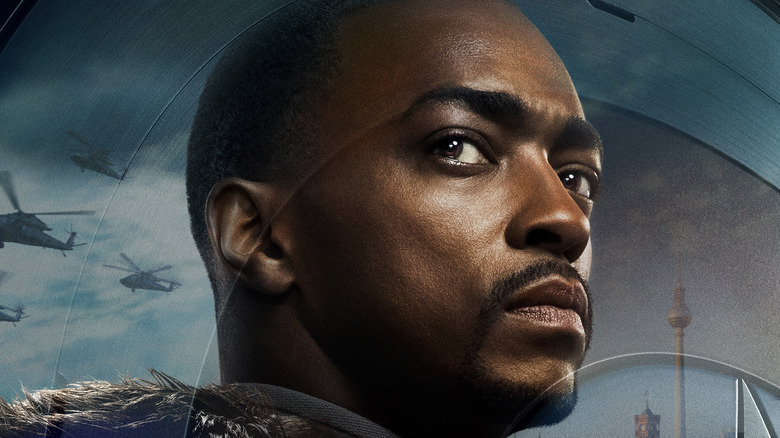 Marvel Studios/Disney+
When you're running VFX for one of the most significant Marvel shows of the year, you're bound to hit a few snags. Yet Eric Leven, VFX supervisor for "The Falcon and the Winter Soldier," faced one particular challenge that had nothing to do with the show's intense battle scenes or Anthony Mackie (Sam Wilson) and his incredible flying sequences. 
Believe it or not, even a massive show like "The Falcon and the Winter Soldier" allowed Leven some free moments while he was on the series' set. But as it turns out, knocking off one notch on his bucket list just so happened to be a bit of a disruption while the cast and crew filmed Sam's epic speech as Captain America. Oops.
During an exclusive interview, Looper spoke to Eric Leven, where he revealed an exclusive behind-the-scenes story from filming "The Falcon and the Winter Soldier." It involves a pesky firetruck and a great escape — intrigued yet?
VFX-supervisor-turned-firefighter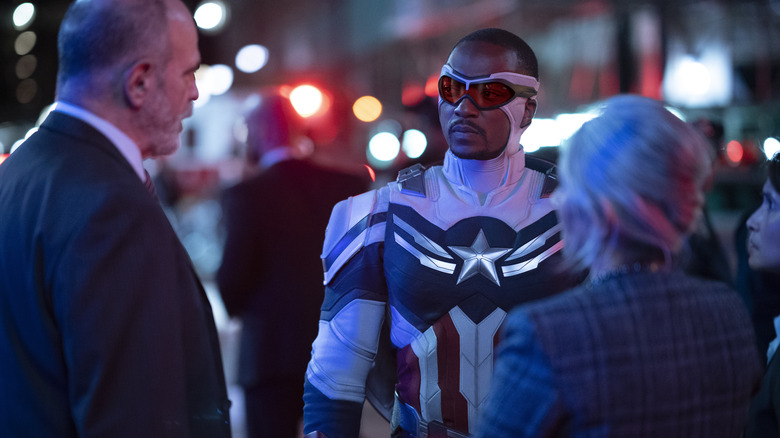 Marvel Studios/Disney+
According to Leven, after filming wraps on a movie or TV show, it's not always easy to remember what all went on. He said, "It's like when you finish a show, it's like you're the victim of a car crash, you sort of can't remember anything." 
Luckily, however, "The Falcon and the Winter Soldier" was still fresh enough to provide a juicy story from the finale. "Boy, I'll tell you, here's a fun story that no one knows about," Leven began. "So we're shooting at the pit, the construction pit, when Anthony Mackie is giving his big speech to all the senators. So there's really not a whole lot for us to do because all we're doing is fixing his costume, putting on his goggles. So between setups, I'm just kind of wandering around, and there was a fire truck there, and I'm like 'I always wanted to hang out in a fire truck.'" 
Of course, like most good stories, that's when things start to get especially interesting. But there's a little-known detail about fire trucks that Leven wasn't aware of.
Alarm bells are ringing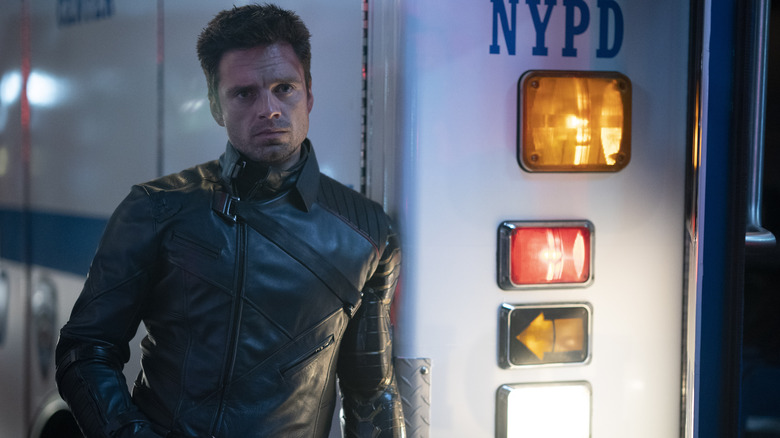 Disney+/Marvel Studios
"So I climbed into the fire truck just to see what it was like, and apparently when you open a firetruck's doors, I guess when you're at the fire, they want to know who's coming and going from the firetruck, so the horn goes 'errr errr' really loud," Leven continued. But things didn't end there.
Leven revealed, "So 200 people suddenly turn around and look like, 'Who's this goofus hanging out in the fire truck?' And I was like, 'Oh, sorry, sorry.'" But he didn't bail out of the fire truck then, trapping himself during the hard-hitting scene. "And then they all go back to work," he added. "But now I'm stuck in this fire truck, and I don't want to open the door because I'm afraid the horn's going to go off again, so I had to roll down the window and climb out the window." 
Welp. Who hasn't shimmied out of a fire truck during one of the most critical MCU scenes to date? Yet Leven made his great escape from the window, risking an injury, to avoid further disrupting the scene. Talk about commitment to your craft.
All episodes of "The Falcon and the Winter Soldier" are streaming on Disney+.