The Surprising Thing You Can Do At The Woodbury House From AHS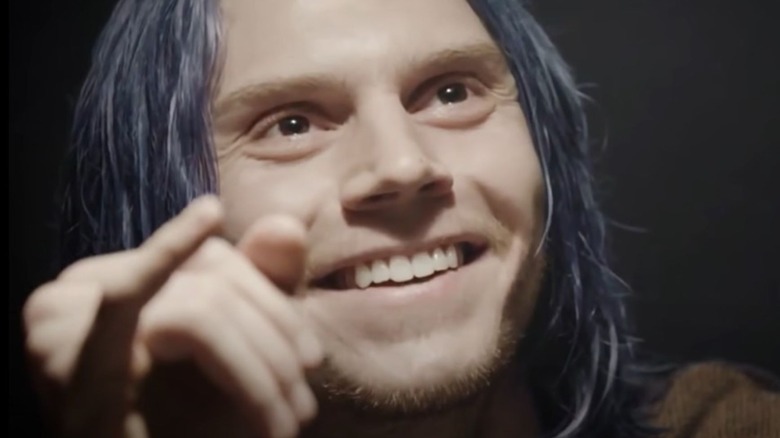 FX
If you've ever seen a season of "American Horror Story" — the spooky anthology series on FX that kills it when it comes to portraying the stuff of modern-day nightmares — you know how much the set and setting contributes to creating the appropriately scary atmosphere for each season. That means many of the homes and buildings featured in FX's hit series are an essential element to the show, and while some seasons rely more heavily on a main structure to help move the story forward (think the haunted mansion in "AHS: Murder House" and the Hotel Cortez in "AHS: Hotel"), there are several other places that have played important roles in the show, too.
One of those places is an old mansion located in Altadena, California, known as the Woodbury-Story house. Built in 1882 and named after some of the town's founders, it's listed in the National Register of Historic Places. If it looks familiar, you may have seen it when it appeared in the "AHS: Cult" Season 7 episode "Winter of Our Discontent" or one of the other many times it's been featured on television (per IMDb). However, its stints on TV aren't the Woodbury House's only claim to fame, as it's pretty famous in its own right.
Wondering what you can do to get up close and personal with the Woodbury House from "AHS: Cult" on your own time? We've done the legwork to find out the surprising thing you can do at the Woodbury House from "AHS."
You can visit the Woodbury House from AHS or rent it out for private events
As Dirt notes, the old "Italianate" building has been in dozens of film projects over the years, and Altadena Now explains how the private residence has also been a sheriff's station, a fire engine house, an office building, a coffee shop, and a tea house.
However, the surprising thing you can do at the Woodbury House from "AHS" now is to rent it out for private events or TV/movie shoots. For instance, people can rent it out the beautiful, 7,000-square-foot historic building on Giggster for a nominal fee by the hour, giving them access to film in the home's 17 rooms (including a formal dining room, a sunroom, a salon, and a ballroom), as well as the property's gardens, courtyard, and veranda. The estate owners tout their experience in productions, holding events, and filming, and note that they can lend a hand to those who want to make their shoot go smoothly.
The fact that anyone can rent out the famously spooky (some even say it's haunted) place is pretty neat, given how it's appeared in shows like "True Blood" and "Ghost Hunters" in addition to showing up in "AHS: Cult." Now that you know you can spend some quality time at the Woodbury House from "AHS," it's time to start planning ways to personalize your visit to the well-known mansion.