The Most Bizarre Thing Anna Kendrick Had To Do For Mike And Dave Need Wedding Dates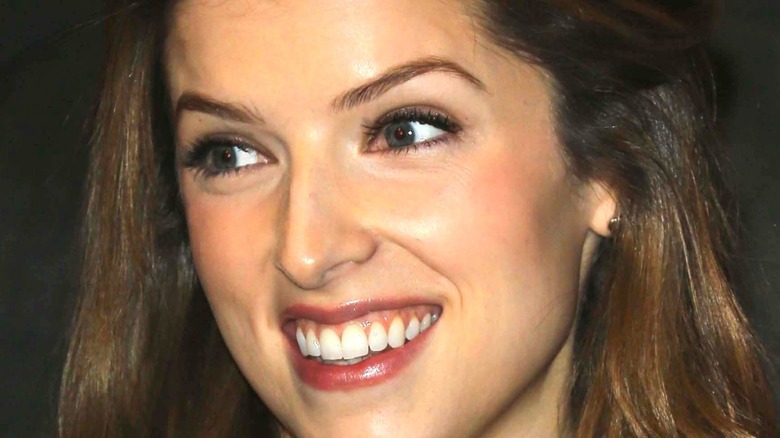 Shutterstock
If you haven't seen 2016's "Mike and Dave Need Wedding Dates" — which is inspired by the real-life story of two brothers who posted an ad on Craigslist for a couple of dates to their sister's wedding — you're missing out on some great laughs as the almost unbelievable story unfolds in surprising fashion.
As IMDb notes, the movie stars Zac Efron and Adam Devine as Dave and Mike Stangle, well-off, troublemaking brothers whose family demands that they find a pair of mild-mannered girls to bring to their sister's wedding in Hawaii, as they think it will help keep the young men under control and out of any hijinks that might ruin their sister's big day. However, things don't go according to plan when the brothers end up being swindled by Tatiana (Aubrey Plaza) and Alice (Anna Kendrick), a couple of party animals who pass themselves off as "nice girls" to get a free trip to the islands.
Needless to say, the four stars end up doing some pretty crazy things over the course of the movie to give the audience a good show. To give you an idea of what they went through, we've got the scoop on the most bizarre thing Anna Kendrick had to do for "Mike and Dave Need Wedding Dates."
Anna Kendrick had to choose a 'butt double' for Mike and Dave Need Wedding Dates
If you need a recap — or haven't seen it yet — there's a particular scene in which Anna Kendrick's character and the bride-to-be, Jeanie (Sugar Lyn Beard), take ecstasy, take off their clothes, and let a bunch of horses free from their stables.
However, while getting naked in front of the camera wasn't a thing for Beard, Kendrick opted to employ a body double for the scene that shows her bare derriere. You might think that deciding to pass off that particular responsibility would have lifted a weight off of the lead actress' shoulders, but that's where you'd be wrong. In fact, Kendrick said that what happened once she decided to have a body double for the scene was one of the craziest things she had to do for the movie. And she didn't even have to get naked.
Speaking with E! News, Kendrick described how surprised she was that she was asked to give input when it came to finding her body double. Kendrick said, "When you choose a butt double they're like, 'Is there anything you want?' As though they were going to scour the nation for the perfect ass you described and then they showed me three pictures and were like, 'This is the only one that could be you. This is the only one that isn't seven feet tall.'"
We can definitely understand how choosing someone else's backside as your own would be a weird experience, but Kendrick should feel good about how funny the scene ultimately turned out to be.