Venom: Let There Be Carnage Director Just Put The Spider-Man Rumors To Rest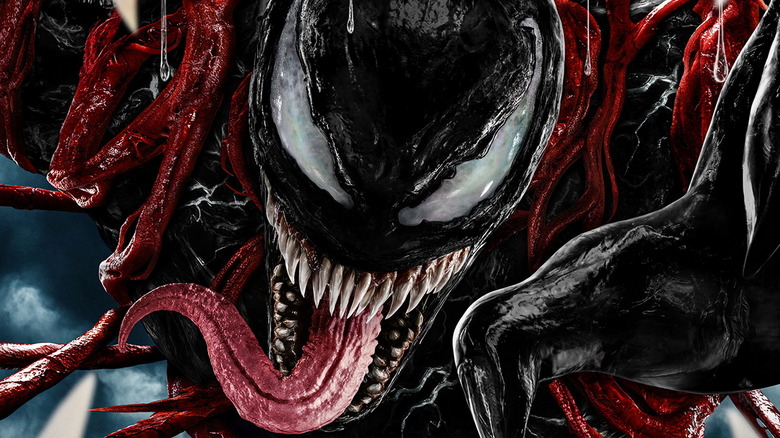 Sony Pictures Entertainment
When "Venom" was released in 2018, the film's titular antihero received a big screen origin story entirely divorced from the existence of a Spider-Man. That was atypical for Venom, who generally appears opposite Spider-Man — in fact, as his dark counterpart — in the Marvel comic books. Venom does, after all, look and act like a dark, monstrous version of the heroic web-slinger. However, Sony's "Venom" was unable to involve Tom Holland's Spider-Man for predominately business-related reasons, meaning that their version of the character stands alone, largely out of necessity.
That said, "Venom" director Ruben Fleishcer has promised a "Spider-Man" crossover sometime in the future of Sony's not-quite-Spider-Man franchise. None other than Marvel Cinematic Universe architect Kevin Feige backed up Fleischer's comment, describing Spider-Man as a character that can "cross cinematic universes."
"Venom" and its upcoming sequel, "Venom: Let There Be Carnage" are not the only planned releases in Sony's interconnected series of films based on Spider-Man villains. A "Morbius" film starring Jared Leto is currently in the works, as well, and a third "Venom" film likely hinges upon the success of the second. Thus, an appearance by Tom Holland's Peter Parker in a new Sony-verse film, if these comments are to be believed, may be more of a matter of "when" rather than "if." 
So then, it's no surprise that the release of the first official trailer for "Venom: Let There Be Carnage" led fans to wonder if the second "Venom" film would mark Spider-Man's introduction — particularly due to one key moment involving a spider getting squashed. However, here's what the film's director has to say on the matter.
Andy Serkis discussed the role of Spider-Man in his Venom sequel
Shutterstock
Prolific mo-cap actor and "Venom: Let There Be Carnage" director Andy Serkis directly addressed the possibility of a Spider-Man appearance in a video released by IGN, breaking down the first trailer for the "Venom" sequel. Serkis explained that the characters in "Venom: Let There Be Carnage" are entirely unaware of the existence of a Spider-Man.
"Obviously there are links between Venom and Spider-Man," Serkis said, "but we're treating this very much as it's his own world. The Venom story is his own world."
Serkis brought up Spider-Man in relation to a scene in the first "Let There Be Carnage" trailer in which a character is reading a copy of the Daily Bugle. The Daily Bugle is, as pointed out by IGN's video, a staple of "Spider-Man" comics. So, while its inclusion may hint at a universe where Spider-Man does or might one day exist, Serkis has — more or less — confirmed in response that Spider-Man will not factor into "Let There Be Carnage," specifically.
That said, Serkis qualifies the lack of awareness of a Spider-Man in his film's world by noting that its characters simply don't know about Spider-Man "at this point." He concludes his carefully-worded statement with an open-ended "we'll wait and see," suggesting that a crossover between Sony's and Marvel's flagship cinematic superhero universes is still very much on the table, even if "Venom: Let There Be Carnage" may not be its realization.