Seth Rogen Says He Has No Plans To Work With James Franco Again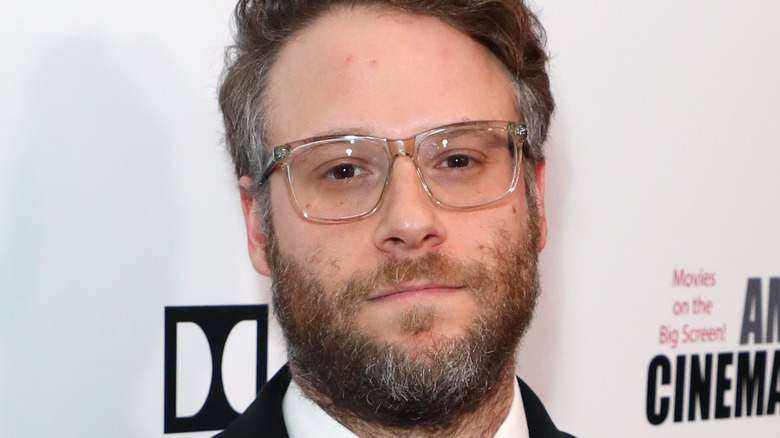 Joe Scarnici/Getty Images
This article contains mention of sexual assault.
Seth Rogen and James Franco go way, way back. The pair starred alongside one another in creator Judd Apatow's short-lived series "Freaks and Geeks," in which Rogen played Ken Miller and Franco portrayed his pal Daniel Desario. "Freaks and Geeks" not only served as Rogen's introduction into Hollywood — it was his first-ever professional acting role — but it also marked the beginning of what would become a long-standing creative partnership of sorts with Franco. 
After "Freaks and Geeks" ended in 2000, Rogen teamed up with Franco to star in the 2008 Apatow-co-produced stoner comedy "Pineapple Express." He then enlisted Franco to star in his feature film directorial debut "This Is the End" in 2013, and tapped Franco to be a part of his and Evan Goldberg's controversial political comedy "The Interview" in 2014. Rogen has also starred in a number of Franco's films: the 2014 drama "The Sound and the Fury," the 2017 movie "The Disaster Artist" (about the making of the Tommy Wiseau-directed trainwreck "The Room"), and the 2019 dramedy "Zeroville." Plus, Rogen and Franco each voiced characters in the raunchy 2016 animated movie "Sausage Party."
This is all to say that Rogen and Franco have been something of a dynamic duo in Hollywood over the last two decades. However, Rogen has now come forward to assert that he's not keen on associating with Franco any longer. Here's why Seth Rogen says he has no plans to work with James Franco again.
Allegations against James Franco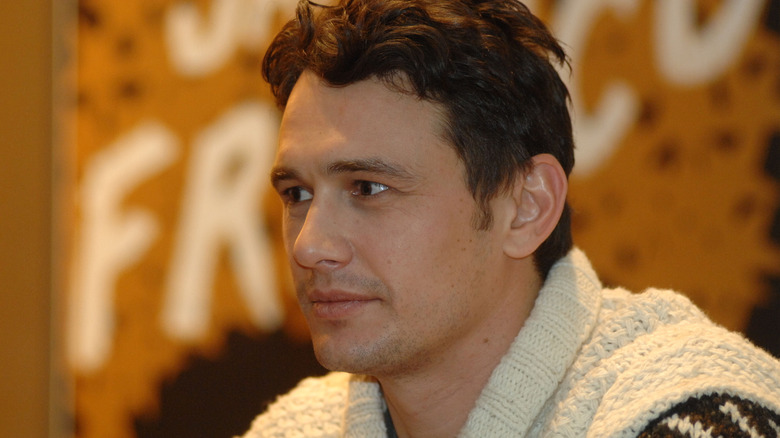 Shutterstock
The shady side of James Franco has surfaced multiple times over the years, and the most damning allegations against the actor have been the accusations of sexual misconduct, lodged by several different women. 
The first incident of what many considered misconduct came to light in April 2014, when screenshots of Instagram direct messages between James Franco and a then-17-year-old girl were posted online to the photo-sharing site Imgur. As Business Insider details, the teenager was visiting New York City, where Franco was performing as George in the Broadway adaptation of "Of Mice and Men," and met the then-35-year-old Franco after seeing the play. They took a photo together, then Franco found her on Instagram after she'd tagged him in the photo and began messaging her. Franco asked the teenager when her 18th birthday was, if she had a boyfriend, and if he could meet her at her hotel. The interaction, which Franco admitted did happen, drew controversy for the fact that Franco was more than twice the girl's age, despite her being of the age of consent in both New York (17) and her home country of Scotland (16).
In January 2018, Violet Paley, an ex-girlfriend of Franco's, came forward with allegations of sexual assault against the actor. Franco denied the allegations. A few days later, the Los Angeles Times reported that five women — all of whom had taken acting classes Franco taught, or were his acting mentees — lodged allegations of sexual misconduct against him as well. Another sexual misconduct lawsuit, filed by two more former students of Franco's, came to light in October 2019 (via the New York Times). In February 2021, Franco reportedly reached a settlement with those two women.
If you or anyone you know has been a victim of sexual assault, help is available. Visit the Rape, Abuse & Incest National Network website or contact RAINN's National Helpline at 1-800-656-HOPE (4673).
Seth Rogen has reconsidered his working relationship with James Franco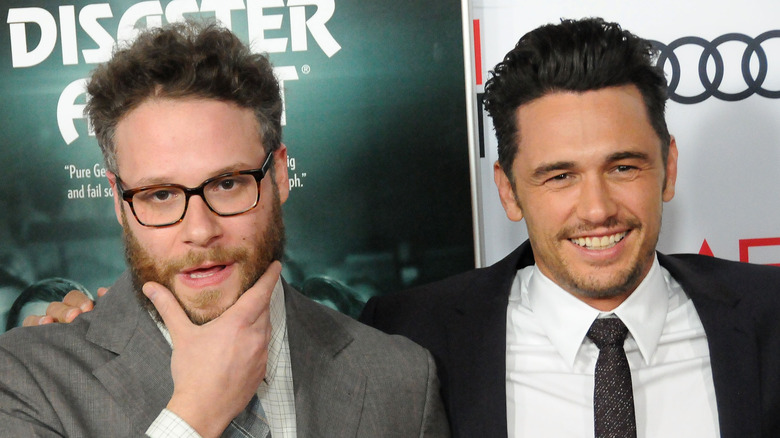 Barry King/Getty Images
In a May 2021 interview with the Sunday Times, Seth Rogen got candid about his relationship with James Franco, particularly upon reflection of the multiple allegations of sexual misconduct that have been filed against Franco. As Rogen explained to the outlet, back in 2018, he told an interviewer that he would continue working with Franco, but that's no longer his intention. Rogen made it very clear that he has no plans to work with Franco in the future.
"What I can say is that I despise abuse and harassment and I would never cover or conceal the actions of someone doing it, or knowingly put someone in a situation where they were around someone like that," Rogen told the Sunday Times. "I also look back to that interview in 2018 where I comment that I would keep working with James, and the truth is that I have not, and I do not plan to right now." 
Rogen also expressed regret about a 2014 "Saturday Night Live" opening monologue, in which he made a joke about the aforementioned real-life event in which Franco was direct-messaging a teenager on Instagram. 
Since the two actors are old friends, this begs the question: Have the allegations against Franco impacted their friendship as well? "I don't know if I can define that right now during this interview," Rogen shared with the Sunday Times. "I can say it, um, you know, it has changed many things in our relationship and our dynamic. Yeah. But not as painful and difficult as it is for a lot of other people involved. I have no pity for myself in this situation."
If you or anyone you know has been a victim of sexual assault, help is available. Visit the Rape, Abuse & Incest National Network website or contact RAINN's National Helpline at 1-800-656-HOPE (4673).