Mystery Science Theater 3000 Season 13 - What We Know So Far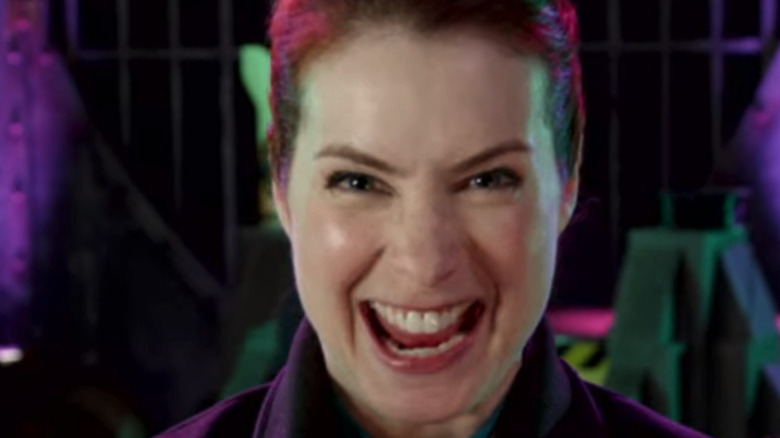 Abominable Pictures/Netflix
Comedian Joel Hodgson made a career out of riffing on B movies. His cult classic comedy sci-fi show "Mystery Science Theater 3000" ("MST3K" for short) debuted back in 1988 and has since seen multiple cancellations and channel moves. The campy show originally featured a janitor named Joel Robinson (Hodgson) who is captured by mad scientists and kept on the Satellite of Love. The unlucky janitor is tortured by being forced to watch hilarious low-budget movies and critique them, and he builds some robot companions to keep him company. Though the cast has seen many changes through the years, the premise has stayed largely the same, with each episode centering on one B movie and the cast's hilarious commentary.
With the help of some crowdfunding, "MST3K" raised more than enough funds — over $6.5 million (via Kickstarter) — to keep the beloved show going for yet another season, and this time it'll be on its own platform. Here's everything we know about the release date, cast, and plot of "MST3K" Season 13.
When is Season 13 of MST3K premiering?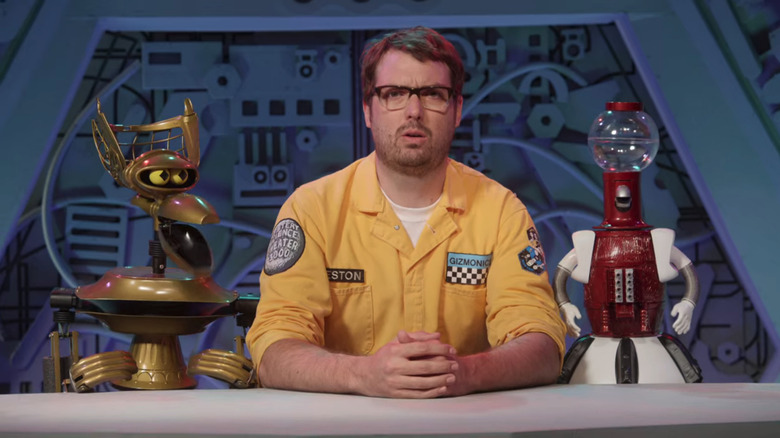 Abominable Pictures/Netflix
"MST3K" originally aired on KTMA-TV before moving to Comedy Central. After its cancellation in 1996, it was picked up by The Sci-Fi Channel where it lived before it was canceled yet again in 1999 (via Time). In 2015, the first crowdfunding effort led to another revival which was released on Netflix, though according to the latest "MST3K" Kickstarter, Netflix decided not to renew the show for a third season.
Which brings us to today and the current fundraising effort. The campaign surpassed its initial goal (via Kickstarter), so another season definitely should happen. As far as a timeline? There hasn't been an official announcement, but there are definitely exciting things in the works. Hodgson and his team are creating The Gizmoplex, a sort of virtual theater where they'll have live showings of new episodes of "MST3K," keep older episodes for members to revisit and plan other fun events. Once the Kickstarter finishes, they're sure to announce a more concrete timeline with official premiere dates, and we're excited to see what all they have planned.
Who's in Season 13 of MST3K?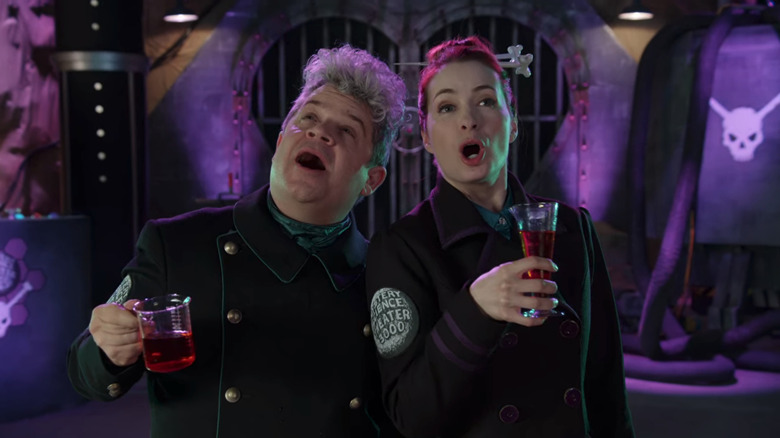 Abominable Pictures/Netlfix
Since there have been so many cast changes through the years, you may be wondering who exactly will return in the newest season. According to the Kickstarter campaign, all of the main cast from the last two seasons are returning. This includes the host Jonah Heston (Jonah Ray), the robots Tom Servo (Baron Vaughn) and Crow T. Robot (Hampton Yount), Gypsy/Synthia (Rebecca Hanson), and the mad scientists also known as Mads, Kinga Forrester (Felicia Day) and Max (Patton Oswalt).
Hodgson also announced he has plans to add new characters and expand the world of "MST3K," which he will give more details about soon. Since many of the original characters have come back in later seasons, including Hodgson himself, it'll be interesting to see what fun cameos will appear in Season 13. With the freedom of their own platform and the amount of funding they've raised, the crew has tons of possibilities to take the show in new directions.
What's the plot of MST3K Season 13?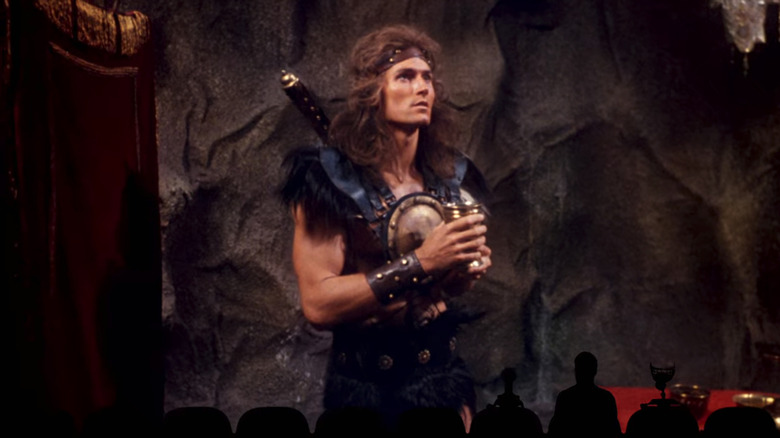 Abominable Pictures/Netflix
The basic premise of "MST3K" is likely to stay the same as it's been over the last 30 years, with each episode revolving around a different B movie. Episodes open with an interaction between the host and the robots and the Mods, before the Mods send the test subjects to watch the movie and give their opinions. Though the captors are in a theater watching the cringe-worthy movies for most of each episode, they take breaks to give short skits that are usually related to the featured movie. As a host, Jonah also exchanges inventions with the Mods each episode, showing off the latest gadgets they've made.
There's not much else as far as plot goes — the point of the show is to both riff and appreciate the campiness of different unpopular movies. Whether they're just a product of the times' bad animation skills or they have completely nonsensical plots, "MST3K" has brought new audiences to dozens of films that otherwise didn't receive much acclaim. And until we hear further news, we'll be on the edge of our seats, preparing to enter the nightmare-fueled world of "MST3K."