1000-Lb Sisters Season 3 Release Date, Cast, And Trailer - What We Know So Far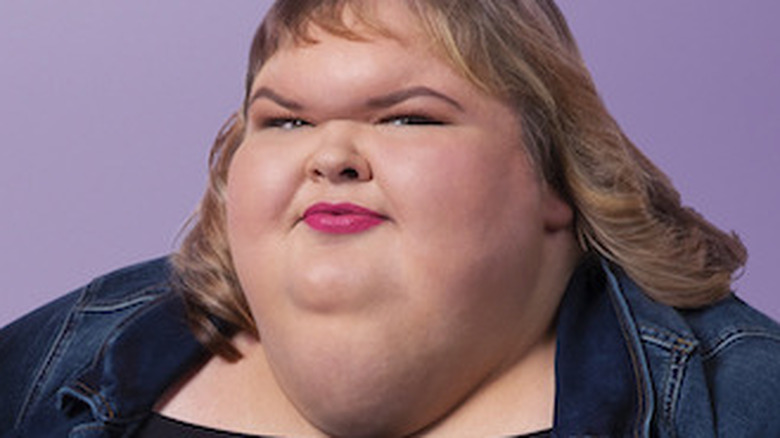 TLC
The Slaton Sisters, Tammy and Amy, have come a long way (and faced a lot of setbacks) since "1,000-lb Sisters" debuted on TLC in 2020. Only Amy qualified for weight loss surgery back in Season 1, while Tammy did not make her weigh-in goal, and ultimately ended up gaining weight. During Season 2, Tammy dealt with another weight gain setback, and lived with the aftereffects of contracting COVID-19, while trying to foster a blooming relationship with her boyfriend, Jerry. Meanwhile, Amy tried to balance her marriage while maintaining her weight loss after becoming pregnant in the wake of her weight loss surgery. In the second-to-last episode of Season 2, she gave birth to her son Gage (via IMDb). You catch all that? It was an eventful couple seasons of TV.
There's sure to be a lot of further twists and turns in the lives of both sisters when the reality show returns for its third season. Here's everything we know so far about Season 3 of "1000-lb Sisters."
When will Season 3 of 1000-lb Sisters be released?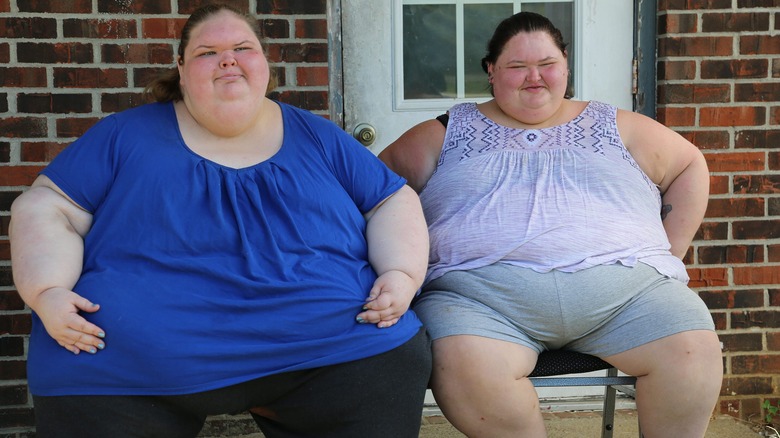 TLC
TLC renewed "1,000-lb Sisters" for a third season on March 15, 2021 (via Deadline). There has apparently been no announced start date for filming, but fans were clamoring so loudly for a new season that there was even a change.org petition, which garnered over 5,000 signatures before the announcement. Clearly, the demand is there.
Judging by TLC's typical schedule for the show, it's likely that a third season will either begin airing in the winter of 2021 or the first quarter of 2022, which may mean the show is about to enter into production (if it hasn't started in secret already). The previous season aired from December of 2020 to March of 2021, so expect a similarly sized batch for Season 3. 
There is one wild card that could keep "1000-lb Sisters" off the air for even longer: The COVID-19 pandemic may delay production to some degree. Tammy is, in fact, recovering from COVID-19, and it's likely that production may have to follow stringent guidelines to protect the crew and cast against the disease.
Who will be back for Season 3 of 1000-lb Sisters?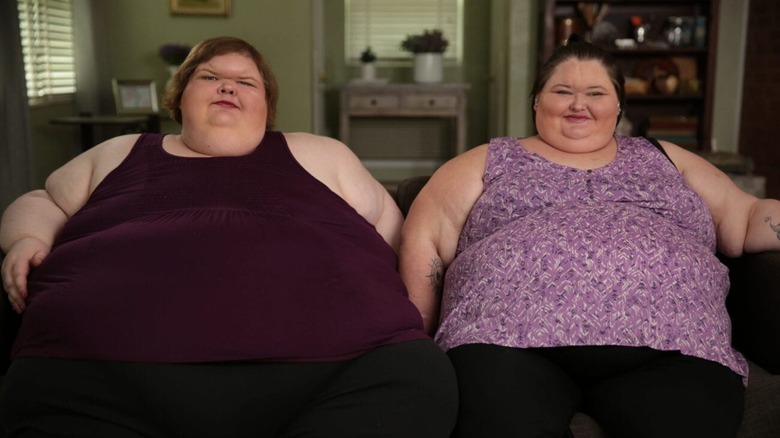 TLC
It's likely that viewers can expect both Amy and Tammy back, as well as Amy's son, Gage. Also likely to return: Amy's husband, Michael; the girls' brother, Chris; and their weight loss surgeon, Dr. Proctor. As to how the sisters are getting along as their journeys take them to different places, that remains to be seen. With Tammy requesting a break at the end of Season 2, it's unknown if her boyfriend Jerry will be featured in Season 3.
With the show finishing at number one in its time slot among Women 25-54, 18-49, and 18-34 (according to Deadline), the show has clearly struck a chord and is likely a big earner for TLC. Chances are, the cabler's as eager to get the show back on the air as the fans are to watch it. Will the girls meet new friends or make new enemies? Will they find new highs and lows in their weight loss journey? In their relationships? And how will all of these factors come into play as the girls make a final push for their health goals? It all remains to be seen.
With no trailer yet to share, what will the sisters be up to in Season 3?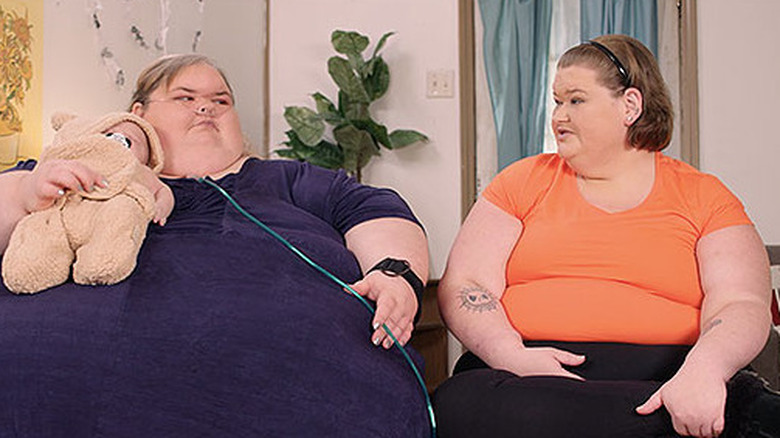 TLC
It's perhaps unsurprising that the show, which just finished airing it second season in March of 2021, has not yet yielded up a Season 3 trailer. 
When that trailer is released, it's likely that it will chronicle the show's usual topics. Naturally, the season is likely to continue to focus on the sister's weight loss journeys, and that of their brother Chris, who joined the show in Season 2. But with Amy being a new mom, it's also likely Gage will be a regular presence in Season 3, as well as her husband, Michael. It's easy enough for the show to mill out some interesting tension between new motherhood and the maintenance of Amy's weight loss goals.
Meanwhile, Tammy's life as a COVID survivor will likely also factor into the season, as it did in the final episode of Season 2 (she remains on oxygen, via pictures posted to her Instagram, though she has indicated that the amount of oxygen she needs has greatly decreased [via a YouTube]). In February, Tammy came out as pansexual on her Instagram as well as in a statement to TMZ, real-life changes that might well see screen time in the next season.
More news as it becomes available.