New Lego Ninjago Movie Stills Show Jackie Chan's Character In Action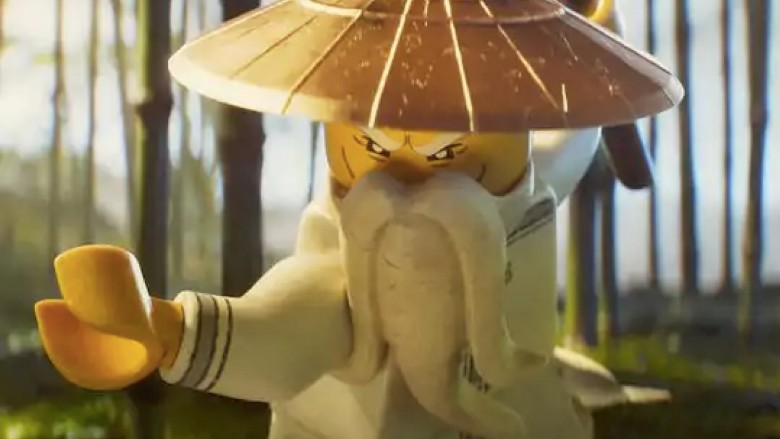 Just days ahead of the release of The Lego Batman Movie, Warner Bros. is giving fans their first look at the next piece of the expanding Lego universe.
The Lego Ninjago Movie, set to be released on Sept. 22, follows Dave Franco's Lloyd as he tries to stop his evil father Garmadon from taking over the city.
"It's about a son having to live with this father who's a threat to Lego-manity, [but] more about the son's journey of forgiving him and learning to accept him for who he is," Justin Theroux, who voices Garmadon, told USA Today.
Theroux said that his character's evil persona comes in part from the fact that Lloyd's mother Koko (voiced by Olivia Munn) left the family when Lloyd was just a baby.
"I think he's suffered a series of slights and cuts over the course of his life when people question his narcissism, so it's made him more and more evil as a result," he said.
Lloyd, a student by day and ninja by night, is backed up by a squad of fellow teenage fighters, voiced by Ant-Man's Michael Pena, Broad City's Abbi Jacobson, Silicone Valley's Kumail Nanjiani, The Office's Zach Woods, and Saturday Night Live's Fred Armisen. The group is led by Jackie Chan's Master Wu, who Franco says will have a Karate Kid-esque relationship with Lloyd.
"It sometimes takes Lloyd a little while to grasp the lessons that Master Wu is trying to instill within him," he said.
While there has been a lot of talk surrounding the upcoming Lego Batman Movie, Ninjago (one of our 2017 movie releases you won't want to miss) has been flying mostly under the radar. Still, from everything that's come out about the film thus far, fans are not going to want to miss out on this adventure.
"Ninjago is one of the most insane places in the universe," Theroux says. "So much of it makes no sense. It feels like it came out of the mind of a kid rather than out of the minds of some people sitting in a writers' room."
You can see more new images from the film below.