The Green Knight's New Character Posters Are Epic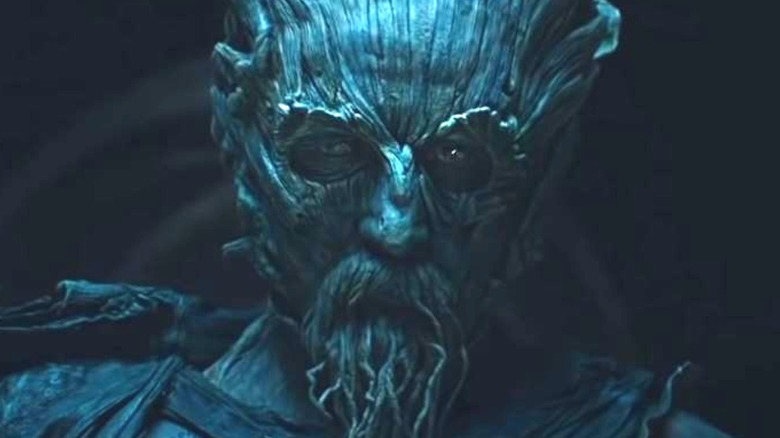 A24
There are tons of interesting upcoming movies out there that you may have forgotten about — all in various stages of progress, steadily inching their way toward the big screen. One of the most enticing films on the near-future menu is "The Green Knight," a visually magnificent take on the 14th-century poem, "Gawain and the Green Knight." Director David Lowery's movie tells the tale of Sir Gawain (Dev Patel), a young knight of King Arthur's (Sean Harris) Round Table. Gawain encounters the monstrous title character (Ralph Ineson), and effectively loses a bet that means he'll be beheaded after one year has passed.
The premise and the dark fantasy aesthetic of the movie both seem pretty interesting, and it doesn't hurt that it comes from noted independent entertainment company A24, which is notorious for unnerving gems like "Midsommar" and "The Lighthouse." Now, we've received a fresh, new look at "The Green Knight," thanks to a series of brand new character posters that are nothing short of epic.
New posters for The Green Knight reveal some very change characters
A24
The new character posters for "The Green Knight" dropped on the movie's official Twitter account and Fandango Media's Instagram account. The gorgeous posters feature several key characters against a rich, red background, complete with the movie's title and the words "One year hence" — a clear allusion to the fact that Sir Gawain has one year to live before he must face his doom at the hands of the Green Knight. 
The posters are similar in style to the previously seen one that depicts Gawain with a metallic halo crown that was seen in the movie's teaser trailer. The new posters feature the Green Knight himself, as well as Joel Edgerton's mysterious lord character, and Alicia Wikander's lady, aka Esel. The two final posters get even stranger. One of them is a blindfolded woman, the actress for which IMDb curiously lists as a hitherto entirely unknown person called Helena Browne. As for the last one, it's a seemingly ordinary fox, facing away from the camera. It remains to be seen how each of these characters will factor in the plot of the movie, but it certainly seems that "The Green Knight" is destined to be the weirdest cinematic offering of the summer.
"The Green Knight" arrives in theaters on July 30.