Here's Why Thanos Won't Be In Guardians Of The Galaxy Vol. 2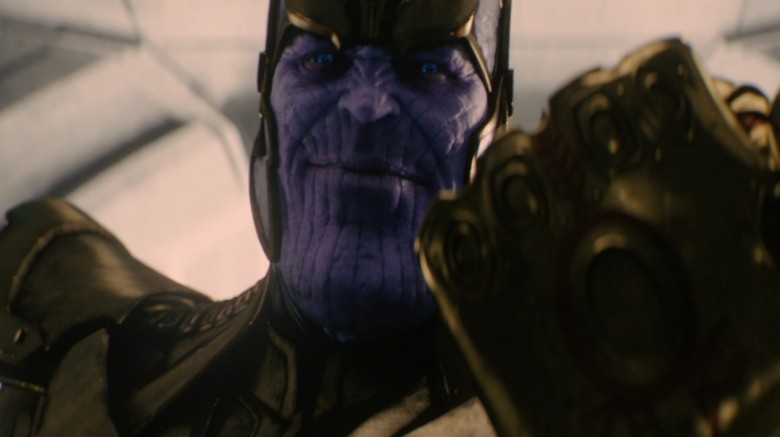 Guardians of the Galaxy Vol. 2 will pass up on an appearance from the MCU's Big Bad Thanos in order to spend more time focusing on his daughters.
Director James Gunn told Collider that his decision to leave Thanos out of the second Guardians film after his ominous introduction in the first wasn't hard to make.
"It's about two sisters," he said, referencing Zoe Saldana's Gamora and Karen Gillan's Nebula. "It's not about the sisters and their father. It's about two sisters and what were the sisters' problems with each other? And, you know, some of those things were caused by being raised by the ultimate abusive father. But it really isn't about Thanos, and frankly, I just wasn't inspired to put him in the movie. You know, I kind of go with my gut on these things and it just wasn't what I wanted to do."
Gillan previously teased that the second film would give a glimpse at the "pain" Thanos caused Nebula while delving further into her relationship with Gamora.
"I think we might even feel a tinge of sympathy towards Nebula this time, because we really start to see the emotional crack in her character," she said.
The official synopsis for the film says that it will focus on the Guardians searching for answers surrounding Peter Quill's true parentage, but the development of Gamora and Nebula's relationship is also an important plot point.
"It's not about their relationship with Thanos," said Gunn. "It's about their relationship to each other, and what is that? And that was interesting to me, and I thought that was important to our story, and that was important to our characters. What happened with them in the past— there's a lot of stuff that happened with them in the past that affects our characters presently."
While he won't be appearing in Vol. 2, Josh Brolin's Thanos still has an important role in the MCU. According to Screen Rant, Marvel president Kevin Feige teases that the character will play a huge part in the upcoming Avengers: Infinity War, in a story that Brolin has called "brilliant."
"Thanos in Infinity War is, you know, in a movie that has a lot of characters, you could almost go so far as to say he is the main character, and that's a bit of a departure from what we've done before, but that was appropriate for a movie called Infinity War," Feige said.
Guardians of the Galaxy: Vol. 2 will hit theaters on May 5, while Avengers: Infinity War premieres May 4, 2018. While we wait, watch the new Guardians Super Bowl spot and check out all of the hidden details that you may have missed in the film's first full trailer.