Dr. Stone Season 3 - What We Know So Far
Crunchyroll/Funimation
Somewhere out there, Dr. Stone may be the name of someone's podiatrist, but in the world of anime, he's one of the newest heroes to come on the scene and win over fans' hearts. Based off the manga, "Dr. Stone" takes place thousands of years in the future after a mysterious event turned almost all of humanity to stone. Then one day, a genius teenager, Senku, is resurrected. It's not long until his old friend, Taiju, does the same, and together, they work on a way to revive the rest of humanity when they're not busy fending for their lives against the likes of lions and poisonous gases.
The science may not always add up, but it doesn't have to when the plot is so engaging. There are a lot of mysteries that have been left dangling in the air over the course of the last two seasons, but fortunately, more should be revealed going into Season 3, which has officially been confirmed via a new trailer. Here's what to anticipate going into Season 3 of "Dr. Stone."
What's the release date for Dr. Stone Season 3?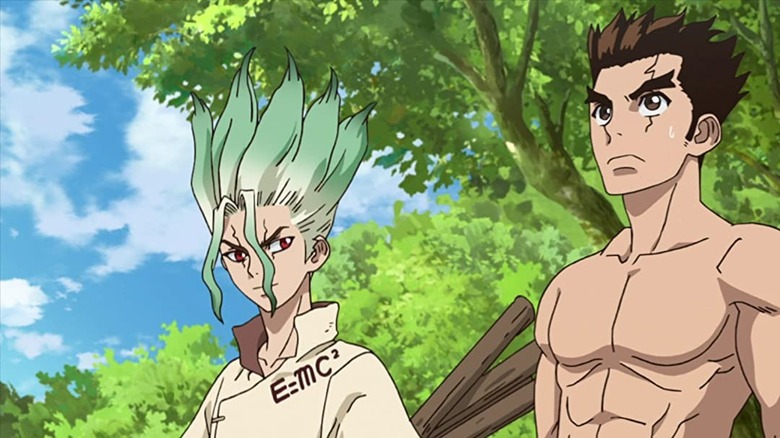 Crunchyroll/Funimation
Season 1 of "Dr. Stone" originally aired in the summer of 2019 with Season 2 coming out roughly a year and a half later in the beginning of 2021. Without an official release date yet, it would make the most sense for Season 3 to follow the same pattern and come out at some point in the spring or summer of 2022, but things could naturally change between now and then. While the "Dr. Stone" Season 3 teaser promises an epic adventure on the open sea, it's not accompanied by any indication of when those episodes will fully come to fruition. 
When new episodes do start to come out, people living stateside should be prepared to wait a little while longer before they can watch them. The episodes air originally in Japan and then premiere the English dubs on Toonami at a later date. When either release date becomes available, check back with Looper to be the first to know.
Who's in the cast for Dr. Stone Season 3?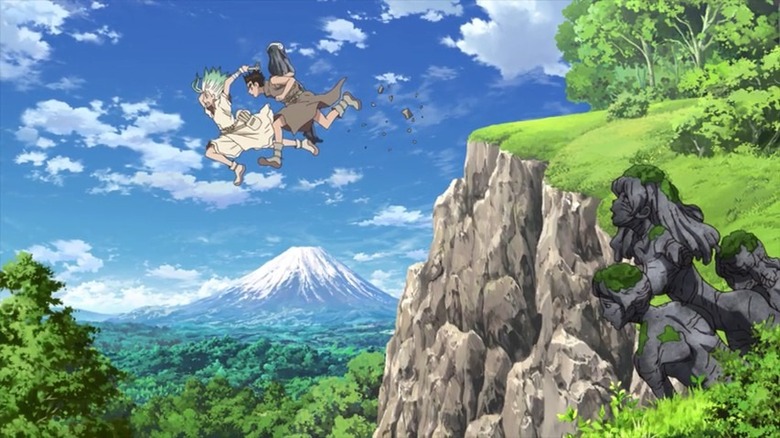 Crunchyroll/Funimation
The voice cast for both dubs of "Dr. Stone" is likely to remain largely the same going into Season 3. For the Japanese dub, that should mean Yûsuke Kobayashi ("Food Wars") and Makoto Furukawa ("One Punch Man") lending their talents to voicing Senku and Taiju, respectively. For the English dubs, Senku has been voiced by Aaron Dismuke ("Fullmetal Alchemist") while Taiju has been brought to life by Ricco Fajardo ("Sky Wizard Academy").
Other Japanese voice actors who would likely come back to voice more characters for "Dr. Stone" Season 3 include Manami Numakura, Gen Satô, and Ayumu Murase. Recurring English voice actors have included the likes of Brandon McInnis, Felecia Angelle, and Brittany Lauda. Granted, since Season 3 looks as though it will take the characters into new, uncharted territory (both literally and metaphorically), fans should expect some new faces and subsequent new voices to join in the mix. 
What's the plot for Dr. Stone Season 3?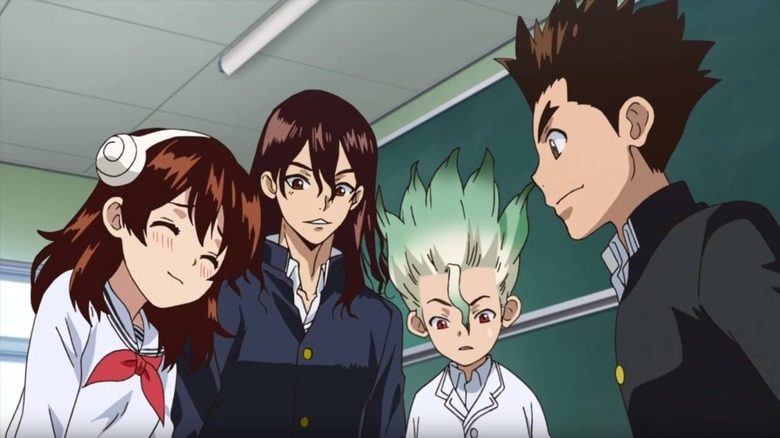 Crunchyroll/Funimation
You'd be forgiven for thinking you stumbled upon some lost episode of "One Piece" from watching the "Dr. Stone" Season 3 trailer, but rest assured, the tease was merely indicating that Senku and his comrades will go on a seafaring adventure up next. According to ComicBook.com, this indicates that the anime will follow the manga and adapt the "Age of Exploration" arc next. This is when they build the mighty ship Perseus and sail around the world, hoping to find more answers about what exactly caused humanity to turn to stone. Along the way, they end up coming up with plenty more inventions to help them get mankind back on track. 
The manga's been going on since 2017 at this point and shows no signs of slowing down any time soon. In an interview with Anime News Network, writer Riichiro Inagaki mentioned, "So as far as the end, I'm not sure and that's not necessarily about the story. We have a general idea of how the story will end itself but as we've gone along this journey, sometimes it's three steps forward, two steps back... but I definitely want to see it to the end. What I can definitely promise is that I would never stretch it out just for the sake of business." 
"Dr. Stone" may not go on forever like some other anime, but we're willing to bet Season 3 won't be the end of the line for fans.