Rogue Hostage - What We Know So Far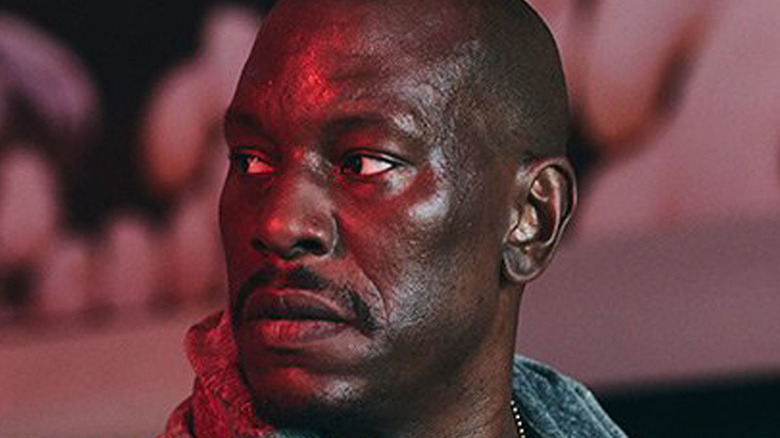 Vertical Entertainment
"Die Hard" is one of the most beloved action movies of all time, but if there's one complaint fans have, it's that there aren't enough similar films. They want more action movies about people with combat experience caught in a hostage situation, or films that show hostage situations set in unique locations.
Well, the upcoming thriller "Rogue Hostage" seeks to address both of those complaints.
According to The Hollywood Reporter, the original title for "Rogue Hostage" was "Red 48." The trade publication first announced "Rogue Hostage" on September 9, 2020, which was also around the time filming wrapped. After changing the movie's name, production company Vertical Entertainment released the film's first official trailer on May 4, 2021.
The release of "Rogue Hostage" is almost here, but it hasn't received much buzz. That's partly due to the global pandemic; like many movies due for release this year, "Rogue Hostage" couldn't be screened at film festivals.
That's unfortunate because, based on the trailer, "Rogue Hostage" should have everything "Die Hard" fans want, plus Tyrese Gibson.
What is the release date for Rogue Hostage?
According to Vertical Entertainment, "Rogue Hostage" will premiere on Friday, June 11, 2021, on demand and in select theaters. Vertical hasn't yet specified which streaming platforms "Rogue Hostage" will carry the movie.
If you're finding it difficult to wait that long for Tyrese's next movie, there are a few ways you can pass the time until you get the chance to see it. You could dig into a few of Tyrese Gibson's other films, and you may discover some hidden gems that you haven't seen yet. A few highlights include "Baby Boy," "2 Fast 2 Furious," "Fast Five," "Fast & Furious 6," "Furious 7," and "Fate of the Furious."
You might also check out some of the other "Die Hard" films, because "Rogue Hostage" is described as "'Die Hard' but in a sporting goods store." June isn't too far off, and "Rogue Hostage" will premiere just as you've exhausted your other options for hostage films.
Who's in the cast of Rogue Hostage?
Tyrese Gibson is your star, and he'll be playing Kyle Snowden, an ex-Marine struggling with PTSD and single father who now works for Child Protective Services. One normal day, he finds himself caught in a hostage situation at his stepfather's sporting goods store, along with his daughter.
The inimitable John Malkovich plays Tyrese's stepfather, US Congressman and sporting goods entrepreneur Sam Nelson. According to the synopsis, (via FirstShowing.net), the movie's villain has some kind of vendetta against Congressman Nelson, which is why he takes over the store.
Christopher Backus plays the villain, Eagan Raize, a terrorist leader. Michael Jai White plays Sparks, the Congressman's bodyguard. Rounding out the cast are Luna Lauren Velez, John D. Hickman, Fedna Jacquet, Zani Jones Mbayise, Charlie Sara, Adrian Alvarado, and Leslie Stratton. 
Behind the camera, "Rogue Hostage" is directed by Jon Keeyes, who's best known for his 2017 horror thriller "The Harrowing." It's written by Mickey Solis, and this is his first feature-length screenwriting credit. 
What is the plot of Rogue Hostage?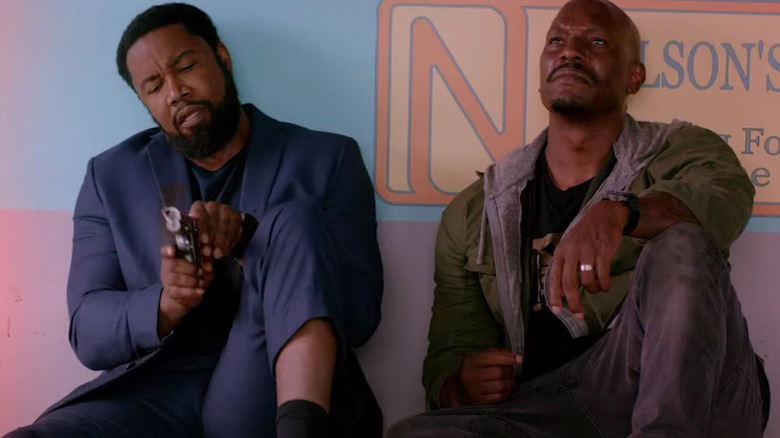 Vertical Entertainment/YouTube
"Rogue Hostage" plays like "Die Hard" set in a sporting goods store. Due to a grudge, Eagan and his terrorists take over a congressman's sporting goods store. Kyle Snowden is our John McClane. Just like John McClane, Kyle's predicament is personal because one of his family members is also one of the hostages. "Rogue Hostage" also adds the dimension of Kyle's PTSD, which could makes things even more difficult once the bullets start flying.
What makes "Rogue Hostage" unique is its sporting goods store setting. That's a perfect setting for a movie like this, because a sporting goods store is full of items that can easily cause mayhem if not used for their intended purpose. Based on the trailer, Kyle will make full use of the shop's inventory for his improvised weapons. He uses a couple camping skillets as makeshift bludgeons, and he rigs up a Molotov cocktail with a bottle and some propane. Surely, that's just the beginning of the mayhem Kyle causes with sporting goods. We can only hope he ends up using a tetherball as a weapon.