Spider-Man Fans Are Crushed Over What Would Have Been This Film's 10th Anniversary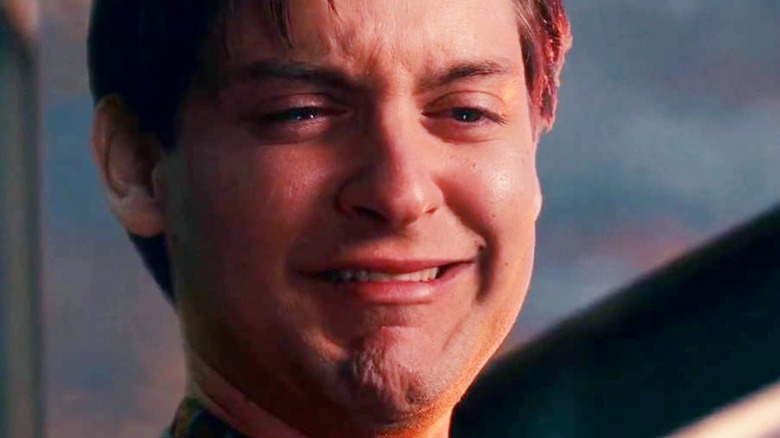 Sony Pictures Releasing
Before Tom Holland became the Spider-Man now familiar to fans of the Marvel Cinematic Universe, Andrew Garfield portrayed the iconic web-slinging hero from Queens. And before him, the role was Tobey Maguire's for a considerable amount of time. In total, only 10 years separate the final appearance of Maguire's Spider-Man and the debut of Tom Holland's take on the iconic superhero.
The curious history of live-action, big-screen adaptations of Spider-Man is currently expected to play a part in "Spider-Man: No Way Home," the third entry in the ongoing series of standalone Holland-starring "Spider-Man" films. The unveiling of the film's title seemed to hint at either a connection to Marvel's Disney+ series "WandaVision," or some other multiverse phenomenon factoring into its story. Furthermore, fans noticed that Maguire's Spider-Man stuntman Chris Daniels was included in a hashtag in an Instagram post celebrating the end of filming on "No Way Home" — suggesting that Maguire's version of Spider-Man, who could presumably exist in a parallel universe to the one in which Holland's Spidey lives, may soon become MCU canon.
Holland is currently leading the Spider-Man films to critical acclaim. Both standalone films starring Holland — subtitled "Homecoming" and "Far From Home," respectively — are Certified Fresh on Rotten Tomatoes with scores higher than 90%, indicating widespread praise from critics. Nevertheless, some fans have remained curious about what could have been had the reins of "Spider-Man" remained in the hands of Maguire and director Sam Raimi — especially on a date particularly important to Raimi's series of "Spider-Man" films.
Spider-Man 4 was supposed to be released on May 6, 2011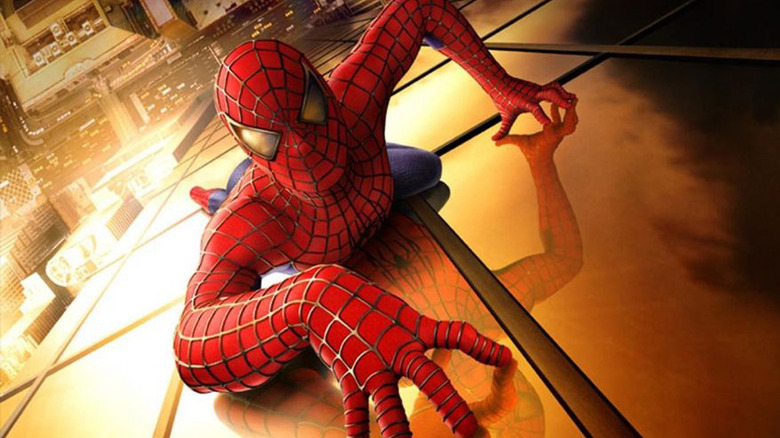 Sony Pictures Releasing
On May 6, 2021, the Fandom Twitter account shared a series of comedic images hinging on the fact that a Sam Raimi-directed "Spider-Man 4" was once supposed to be released on May 6, 2011, as confirmed by a tweet that the Sony Pictures account posted on March 12, 2009. If all had gone to plan, "Spider-Man 4" would have been released 10 years ago today.
Sam Raimi's "Spider-Man 2" remains one of the best superhero movies of all time. The fact that a "Spider-Man 4" was once in the works, then, is unsurprising. Its production even advanced past initial planning stages, casting John Malkovich as the villainous Vulture, Anne Hathaway as the antihero Black Cat, and Bruce Campbell as the trickster Mysterio (whom Jake Gyllenhaal ended up playing in "Spider-Man: Far From Home"). Unfortunately, its development was ultimately canceled due to two key factors: Raimi didn't feel prepared to meet Sony's planned May 6, 2011 release date given the difficulty he was having getting the script right, and by the time he stepped away, Sony had already set its Andrew Garfield reboot series in motion.
Fans generally responded with meme-ified sadness upon realizing that today would have been the 10th anniversary of "Spider-Man 4." Replies ranged from Scarlett Johansson's crying face from "Marriage Story" to Spider-Man himself sobbing in the shower. "The ultimate what could have been," one fan wrote. Another added, "Today marks the 10 year anniversary of Spider-Man 4 if it were to release. Such an amazing trilogy by Sam Raimi, a shame we couldn't get it."
As one fan pointed out, however, "Spider-Man" remains in good hands. Based on its current trajectory, a fourth Tom Holland "Spider-Man" film is more likely than not on its way some years from now. While that film won't quite be the same as the Maguire/Malkovich/Hathaway "Spider-Man 4," the very existence of a "Spider-Man 4," should it come to pass, will stand as testament to the strength of the hero in his current silver-screen incarnation.