The Cooking Anime Hidden Gem That You Can Binge On Netflix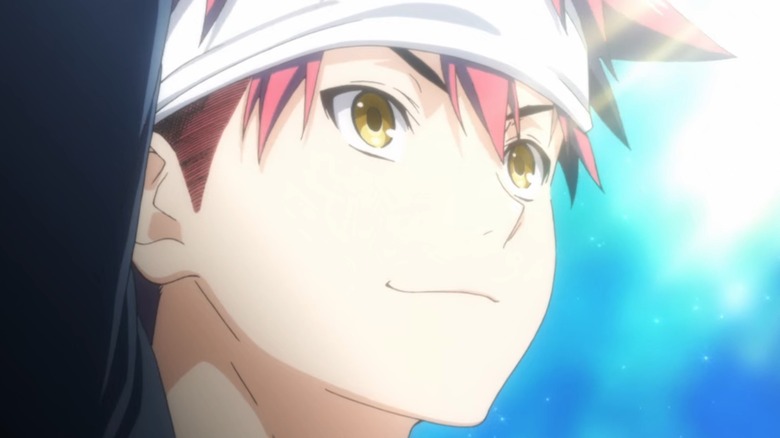 Tokyo Broadcasting System
If you've ever salivated over the tantalizing food in a Studio Ghibli film and wanted to truly torture yourself with animated food porn, look no further than the high-energy anime "Food Wars! Shokugeki no Soma." Imagine "Iron Chef" but with more nudity, set in a school, and the chefs can challenge each other over everything from cooking utensils to being expelled — that's "Food Wars!" in a nutshell!
Teenager Soma Yukihira, voiced in the series by Yoshitsugu Matsuoka, aspires to be a better chef than his father, and a top chef everywhere, so he enrolls in a high-level culinary boarding school to achieve his dreams. There, the students battle each other in dramatic cook-offs called shokugeki. While it's far from the most bizarre anime ever made, it's certainly got a bit of campy wackiness to it and an energy in its cooking that you simply can't get on Food Network.
Food Wars combines the drama of cooking competitions with the fan service of anime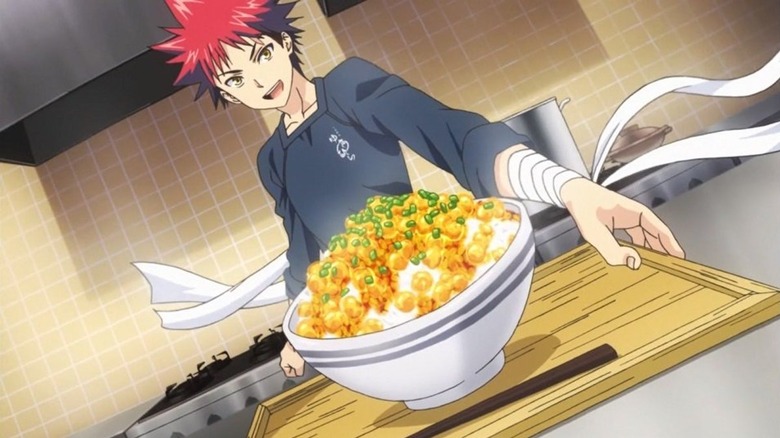 Tokyo Broadcasting System
While "Food Wars! Shokugeki no Soma" takes after a typical shōnen anime — featuring a male protagonist determined to achieve his goal no matter the challenges — it stands out as a hilarious, heartfelt entry that's over-the-top in the best way. On IMDb, user spiderpig-81224 called it "absolutely fantastic," writing, "As a regular mainstream anime viewer, I would never have thought that a cooking anime could be so satisfying. The show does a great job of displaying the cooking world through a competitive lens. The characters (main, major, and minor) are all developed wonderfully — you'll fall in love with many if not all of them!"
User christian-schenk98716 praised it, writing, "I absolutely enjoyed this anime. It has some of the funniest things that I have ever seen. You just have to watch the first three episodes to know that it is truly glorious. If you do not like it by then, just go ahead and stop." Fans also called out the music as being a particularly excellent part of the series.
Just note that "Food Wars!" takes the term "food porn" to heart, leaning heavily into sexual overtones: The second ending song encapsulates this theme perfectly with its title "Sacchan's Sexy Curry," and, judging by the sounds these characters make while eating, this may be one anime you don't want to watch with your family.
There are five seasons total, although Netflix only has the first two seasons available. So if you ever wanted a little more anime flair to your "MasterChef," check out "Food Wars! Shokugeki no Soma."