The Movie Like Practical Magic That Rom-Com Fans Need To See
Warner Bros.
Meeting at the nexus of romance, family drama, and magical realism, "Practical Magic" was more than your average love story. One of those great '90s movies that still hold up, it starred Sandra Bullock and Nicole Kidman as Sally and Gillian Owens: orphaned sisters in a long line of witches born with a curse against any man that falls in love with them. Raised in joyful chaos by their two aunts (also witches, of course), sensible Sally and freewheeling Gillian respectively resist and embrace love, with tragic consequences that require magical meddling.
Sisters who happened to be witches were having a moment when "Practical Magic" came out on October 16, 1998. The pilot of the TV series "Charmed" — about three powerful witch sisters — had aired just nine days earlier, and re-watching "Hocus Pocus" — which was released in 1993 — had become a Halloween ritual thanks to VHS tapes. 
Despite this, the Owens sisters' story suffered the same fate as the Sanderson sisters'. The movie barely made back its $60 million budget at the worldwide box office, and it was only through VHS rentals and sales that it became a cult classic. Director Griffin Dunne even half-joked to Vulture that he thought a witch he'd hired as a consultant had put a genuinely effective curse on the movie (she also sued Warner Bros.).
Today, "Practical Magic" is appreciated by its cult audience as one of those critically hated movies that are actually awesome. If that's you, and you're looking for something similar (while we all wait for "Hocus Pocus 2"), here's what to add to your must-watch list.
Chocolat is also about love, magic, and female empowerment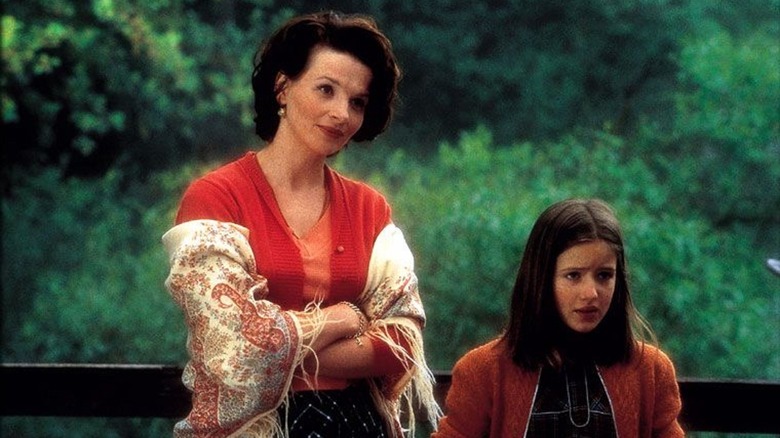 Miramax
The not-so-secret ingredients that make "Practical Magic" so mesmerizing are the compelling female characters at its center, and their not-always-rosy relationships with each other; the undercurrent of magic that ebbs and flows throughout the story; and a dash of romance that is sweet but not overpowering.
All of these can be found, in a slightly different package, in 2000's "Chocolat." Like "Practical Magic," the movie is based on a '90s book. In this case, however, the picturesque village overtaken by magical forces is the fictional Lansquenet-sous-Tannes, in France. 
In 1959, enigmatic wanderer, witch-ish, and chocolatier Vianne Rocher (Juliette Binoche) arrives in the village with her young daughter, Anouk (Victoire Thivisol), and Anouk's imaginary-ish kangaroo friend Pantoufle. Vianne opens a chocolate shop, inadvertently (or otherwise) tempting the locals to break Lent, which is Kind Of A Big Deal in the strictly Catholic village. While incurring the wrath of the local mayor, Reynaud (Alfred Molina), and the more religious villagers, Vianne's open heart and mysterious gifts endear her to others. At the same time, she begins a romance with Roux (Johnny Depp), a traveler who is also scorned and mistrusted by the villagers.
Vianne is reminiscent of an older and wiser Gillian. Her brand of magic is more subtle than that used in "Practical Magic," but no less intoxicating. The central female relationship is between a mother and daughter, rather than sisters. And unlike "Practical Magic," "Chocolat" was a critical darling, garnering a Best Picture Oscar nomination, and commercial success worldwide — making more than double "Practical Magic's" box office takings worldwide. But the charm of "Chocolat" recalls that of "Practical Magic," and anyone who enjoyed the Owens sisters will warm to Vianne just the same.