Eternals Actor Confirms Cameraman In Teaser Wasn't A Mistake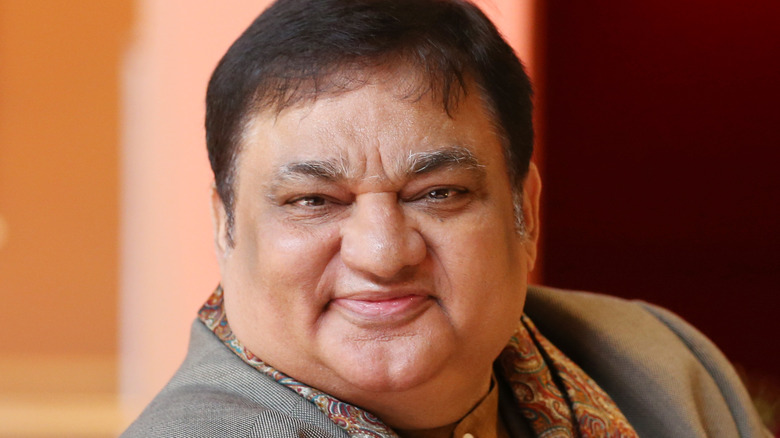 Vittorio Zunino Celotto/Getty Images
When it comes to Marvel movies and TV shows, one thing fans can count on is a whole clutch of colorful Easter eggs. The people who make Marvel properties are usually huge fans of the comics, and they pack their shows and movies with small references to the Marvel universe that are a real blast to pick out. Fans know this, and so they comb through Marvel media looking for details that others might miss.
But some details are so small and inconspicuous that they might not read as deliberate Easter eggs at all — like one detail from a recent Marvel trailer. On May 3, 2021, Marvel Studios released the official trailer for the company's Phase Four movie releases. The trailer includes premiere dates for several upcoming Marvel movies like "Black Widow," "Shang Chi and the Legend of the Ten Rings," and "Eternals."
"Eternals" will premiere on November 5, and it will take the MCU in a much different direction. The untold truth of the Eternals is that they are one of legendary creator Jack Kirby's last creations, a group of cosmic beings who have long protected Earth from evil. One of the most famous Eternals will be pretty familiar to MCU fans at this point; we're talking about Thanos — who's technically a "Deviant," a member of a group that broke away from the Eternals and opposed them.
The teaser didn't show much footage from the "Eternals" movie, but the brief clip it did show caused some confusion among fans. In the clip, newly buff star Kumail Nanjiani is seen putting on sunglasses, while a guy operates a camcorder behind him. Some fans wondered if this might be a mistake, as if one of the film's camera operators had wandered into the frame unintentionally (via ComicBook.com).
It turns out that's not the case. The cameraman is actually a well known Bollywood star, and in the aftermath of the trailer's release, he set the record straight.
No, Marvel did not include a glaring mistake in the biggest teaser of the year
The actor is longtime Bollywood star Harish Patel, who confirmed that it is indeed hims standing behind Nanjiani. "Yes, the man you saw in the teaser is me," he told Indian Express. "I can just confirm that I am doing Eternals but cannot speak about it right now. The makers haven't even announced my name, and I will wait for them to do that."
Which is honestly the only explanation that makes sense. You don't have to be a film expert to recognize that the camera Patel is holding is clearly a consumer camcorder, not a professional film camera. It's also extremely unlikely that a movie studio would release a teaser with one of its own camera operators accidentally visible in the frame in such an obvious way. Patel is standing directly behind Nanjiani and takes up almost as much space in the fame as he does. But hey, with more than six months until "Eternals" is released, there's not much else to talk about. 
Neither Patel nor Marvel have specified which character he'll be playing in "Eternals," but he'll bring considerable experience from years to the film. Many of his credits come from his native India, but he's also appeared on British TV shows like "Coronation Street," and American series like "The No. 1 Ladies' Detective Agency" and "Four Weddings and a Funeral." 
Getting cast in a likely blockbuster like "Eternals" is great news for Patel's career. Hopefully he won't have to moonlight as a cameraman any time soon.