The First Look At Marvel's Eternals Has Fans Flipping Out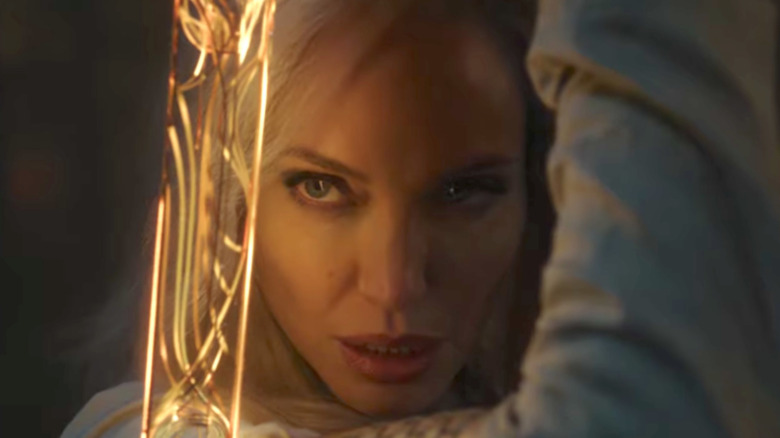 Marvel Studios/Disney
Marvel Studios dropped a surprise video on May 3 — a three-minute-long emotional ride through the MCU which includes not just its greatest hits from the past, but a few scintillating sneak peeks at what's to come in the future. 
The first half of the video features a voiceover by the late Stan Lee, and includes clips from "Avengers: Age of Ultron," "Captain Marvel," and "Guardians of the Galaxy Vol. 2," among many others. In a speech about family that would make Dominic Toretto jealous, Lee explains that we're all brothers and sisters on this planet. His speech runs over clips of Nebula (Karen Gillan) and Gamora (Zoe Saldana) joining hands, as well as Tony Stark (Robert Downey Jr,) and Peter Parker (Tom Holland) hugging.
Then, in the second half of the video, we are treated to some brand new MCU material, which includes new premiere dates, never-before-seen footage, and title reveals. It's a pretty jam-packed three minutes. One of the biggest shockers is the debut of fresh "Eternals" footage, marking the first time fans have seen anything from the upcoming film. Starting at the 2:20 mark in the new video, scenes from the Chloé Zhao film pop up, and the internet is absolutely losing its mind over these brief glimpses.
Fans are flipping out over the first frames from Eternals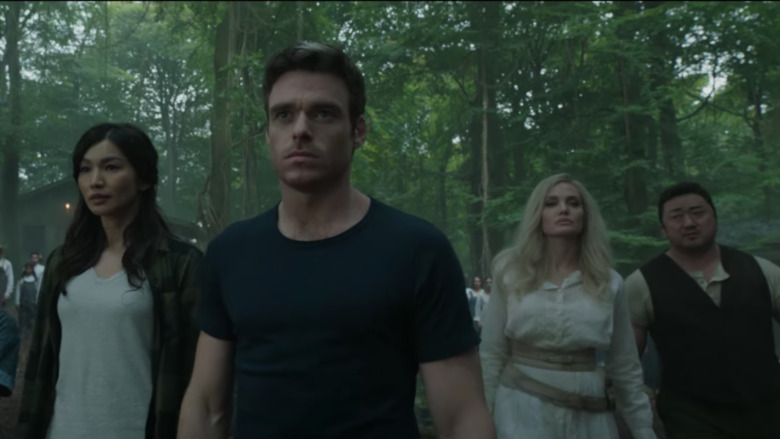 Marvel Studios/Disney
The first we see of "Eternals" in the new video, is a brief shot of Salma Hayek, who is playing Ajak, the leader of the group. Ajak sits atop a horse, and lets out a small grin, before we see some members of the celestial group standing on a cliff together, with two of them joining hands. We also get a glimpse of Angelina Jolie as Thena, wielding an impressive sword, while Kumail Nanjiani's Kingo also makes an appearance in plainclothes.
Over on Twitter, it was absolute pandemonium. "Angelina jolie as thena in marvel's eternals will make history," one excited fan tweeted to overwhelming support. 
"EVERYONE STOP MOVING I JUST WANNA SAY THAT THE ETERNALS WOMEN ARE GORGEOUS... ok thank you," @friggasdottiir added. 
"The cinematography. The cast. The director. The scale. Everything will be mind-blowing," a fan account for the movie tweeted.
Much of the hype revolved around director Chloé Zhao, who just won her first Oscar for "Nomadland." "Eternals looks like pure Chloé Zhao, and I'm very very here for it," @BenSTravis tweeted, noting the similarity between the new Marvel film and the recent Oscar-winning project.
"The sunsets of Chloé Zhao. Eternals is going to be stunning and parts were shot on 16mm! Zhao is about to show Marvel how to shoot a movie!" @ljwrtweets concurred. 
For now, there is no word on when the first trailer for "Eternals" will drop, but we do know the full movie will land in theaters on November 5.