This Was The Shortest Relationship Ever On The Office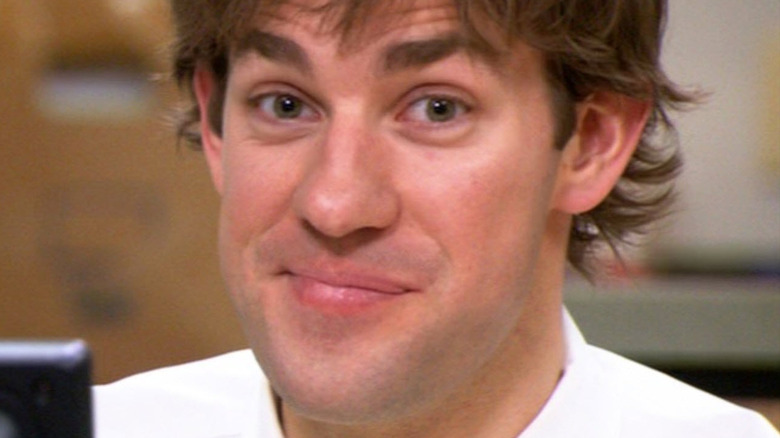 NBC
Over nine seasons, fans of "The Office" saw many relationships blossom between the employees of Dunder Mifflin, a good portion of which crashed and burned. Romances in the workplace don't always pan out, and that's especially true for the colleagues at the Scranton branch, who had a wide range of personalities. Some of these partnerships had more promise than others and even resulted in marriage; Jim (John Krasinski) and Pam (Jenna Fischer), Michael (Steve Carell) and Holly (Amy Ryan), and Dwight (Rainn Wilson) and Angela (Angela Kinsey) all tied the knot in "The Office."
On the other hand, Erin (Ellie Kemper) and Andy (Ed Helms) were a match made in heaven, but the latter's bizarre behavior in Season 9 sent that relationship to a screeching halt. And other "Office" couplings were doomed from the start — like Andy and Angela, who became engaged in Season 5, despite the relationship being entirely one-sided.
Some of these pairings lasted longer than others, spanning many seasons, while some only lasted for two. None of them, however, are the shortest relationship that took place on "The Office."
Jim and Karen had the shortest Office relationship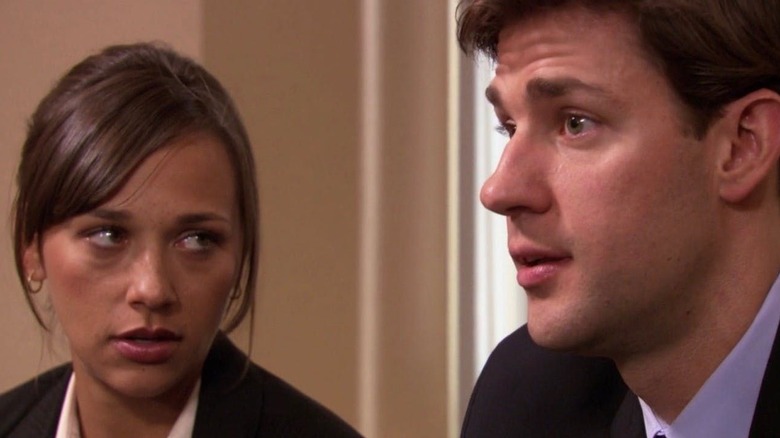 NBC
There were plenty of very short-lived relationships on "The Office," which included Jim and Katie (Amy Adams), Michael and Helene (Shannon Cochran), and Darryl (Craig Robinson) and Kelly, but they were rather minor and didn't hold much weight in the grand scheme of things. The shortest main relationship in the series was the one between Jim and Karen Filippelli (Rashida Jones), who coupled up in the Season 3 episode "The Merger." While it's hinted that the two might have begun dating just before the Stamford and Scranton branches of Dunder Mifflin merged, this episode was the first we learned of their relationship.
Jim and Karen dated through the end of Season 3, when Jim breaks up with her after they both complete (unsuccessful) interviews for a position at the corporate office. Karen always knew that Pam was Jim's true love, and he finally followed his heart at the end of Season 3 by asking her on a date. 
Many fans of the show actually liked Jim and Karen as a couple, and it's entirely possible they would have worked out if Pam was never around. They both enjoyed playing pranks and seemed to have a great time together, but Pam's looming presence made their relationship impossible. Luckily, they both get their happy ending: Jim ends up with Pam, and Karen marries and has a family with a dermatologist named Dan.
Andy and Angela had the second shortest relationship on "The Office," lasting just a few episodes longer than Jim and Pam. The ex-fiancés began dating in mid-Season 4 and broke up halfway through Season 5 when Andy finally found out about Angela's ongoing affair with Dwight.