MODOK Character Posters Will Get You In The Mood For Supervillainy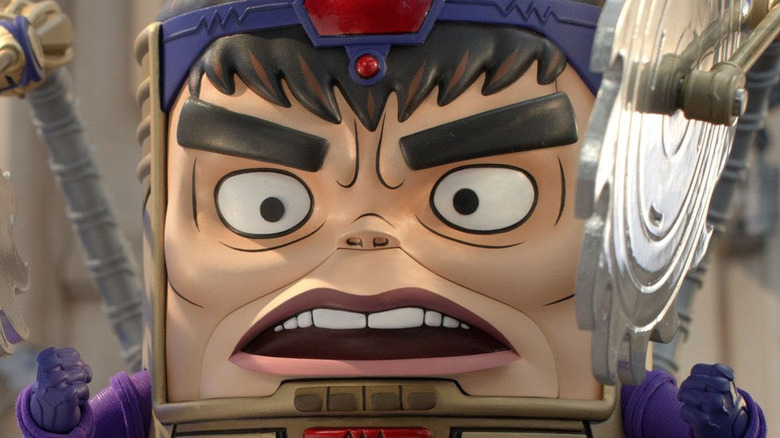 Hulu
This year is unofficially the Year of Marvel. Granted, that's mainly thanks to the COVID-19 pandemic throwing release schedules into disarray, forcing Marvel to delay many of its 2020 releases by a year. But no matter how we got here, 2021 will see the most new Marvel titles ever released in a 12-month period: four feature films in the MCU as well as six canonical TV series on Disney+ (via CNET).
That's a staggering amount of content, but it doesn't even include one of the most unique Marvel properties to come out in recent years: an upcoming Hulu series starring Marvel's least-menacing supervillain, MODOK, or "Mental Organism Designed Only for Killing." Aside from featuring a relatively obscure character from the Marvel roster, "MODOK" is different from the usual Marvel fare because it's a sitcom — and not in the way "WandaVision" was a sitcom, either.
Co-creator comedian Patton Oswalt stars as MODOK, a would-be supervillain who discovers that taking over the world is just as challenging as being a good husband and father. MODOK is already an established character from the Marvel universe — he was one of the main villains on the '90s "Iron Man" cartoon — but the show will be adding MODOK's family to the MCU, as well. On May 5, 2021, almost two weeks before its premiere, the official Twitter account for Hulu's "MODOK" shared posters introducing the MODOK's family.
For MODOK, the biggest obstacle to world domination isn't The Avengers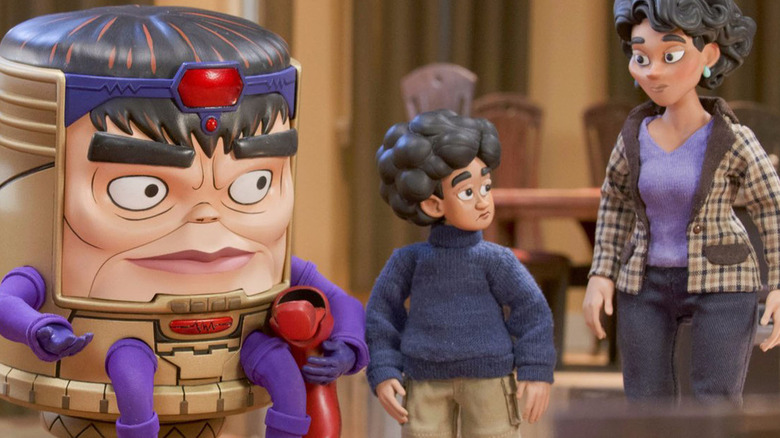 Hulu
The first poster shows MODOK himself. He's wielding several different weapons attached to his robotic body, like a buzz saw and a drill. But on the TV series, these are mostly for show.
Up next is MODOK's longtime spouse, Jodi (Aimee Garcia). In her professional life, she's a successful lifestyle influencer in the vein of Marie Kondo. Without getting into spoiler territory, let's just say theirs isn't a happy marriage. She's flanked by two employees of AIM in their distinct yellow suits, including Gary (Sam Richardson), who's always upbeat despite the loss of his arm.
Then there's Jodi and MODOK's teenage daughter Melissa (Melissa Fumero). Melissa's an accomplished figure skater and a social butterfly who can't wait to get away from her family.
Finally, there's Lou, their son (Ben Schwartz). Lou's a bit of an oddball who loves magic, but struggles to make friends. His big goal during the first season is having a kickass bar mitzvah. He's accompanied by Super Adaptoid (Jon Daly), the family's well-meaning but dim-witted personal assistant robot.
MODOK's first season will premiere on Hulu on May 21. Get ready to fall in love with Tarleton family in just a few weeks.