The First Look At House Of The Dragon Is Sending GoT Fans Into A Tailspin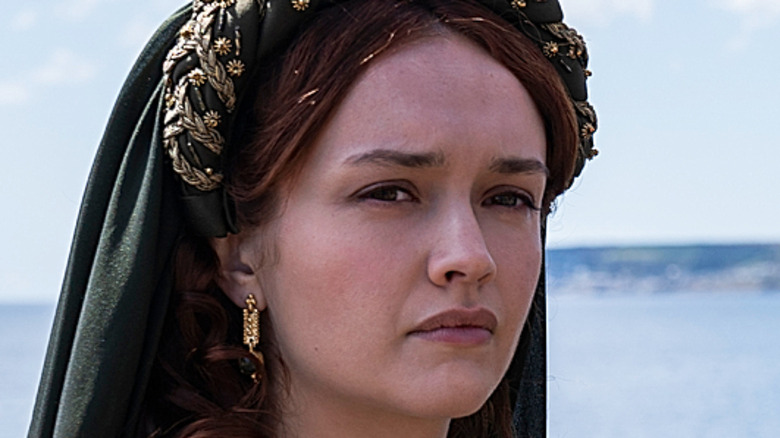 Ollie Upton/HBO
"Game of Thrones" may have ended with widespread fan disappointment, but with a prequel show in the works, lovers of the iconic fantasy series have another opportunity to immerse themselves in the world of Westeros.
On Wednesday, May 5, HBO released the first photos from the upcoming prequel series "House of the Dragon." Set 300 years before the events of "Game of Thrones," the new show tells the story of House Targaryen. Paddy Considine stars in "House of the Dragon" as Viserys I Targaryen, the current king of Westeros, while Emma D'Arcy and "The Crown" actor Matt Smith portray Viserys' first-born child Princess Rhaenyra Targaryen and brother Prince Daemon Targaryen, respectively.
We also get a first peak as Rhys Ifans as Otto Hightower, the Hand of the King; Olivia Cooke as his beautiful and calculating daughter, Alicent; and Steve Toussaint as Lord Corlys Velaryon, aka the Sea Snake, who's been described as "the most famed nautical adventurer in the history of Westeros" (via WarnerMedia).
Game of Thrones fans can't wait to watch House of the Dragon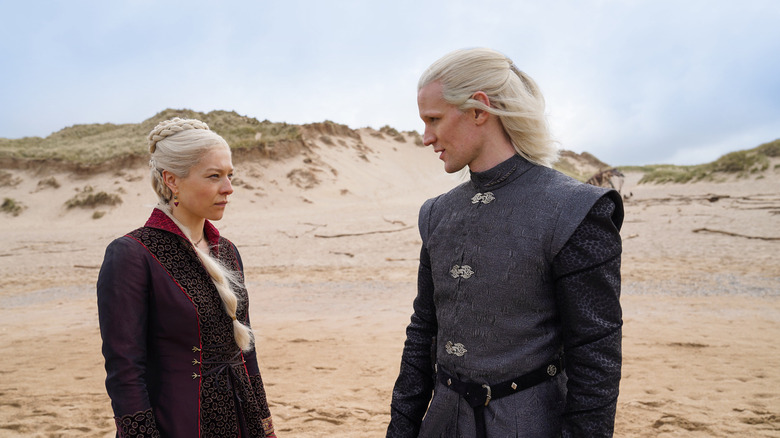 Ollie Upton/HBO
"Game of Thrones" fans have taken to Twitter to express their delight at this first look at "House of the Dragon," which began production in late April. 
User @evenmore wrote, "Olivia Cooke is going to have her Anya Taylor Joy breakout moment with House of the Dragon," alluding to the unbelievable success of Netflix's series "The Queen's Gambit." Upon seeing the stills, Twitter user @luckymc44 was so excited that they confessed their productivity levels would tank for the rest of the day: "Ok, time to buckle down and get some work done. Maybe just one more peek at Twit...OH MY GOD HOUSE OF DRAGON STILLS...RIP work getting done."  
While fans are excited about the show, many are cautiously optimistic after the disappointing ending of "Game of Thrones." User @lovecherrycoups wrote bluntly, "House of the dragon better be good i can no longer take scraps from hbo." Twitterer @peakycrows was similarly hesitant, saying, "I don't really know what to think of house of the dragon, d&d ruined every excitement that i used to have for that universe," referring to David Benioff and D.B. Weiss, the creators of "Game of Thrones." (What might be soothing to some fans is the knowledge that Benioff and Weiss aren't involved with "House of the Dragon.")
Still, some fans still have nothing but love for the universe of Westeros — like Twitter user @HeavenlyWarfare, who tweeted, "All these House of the Dragon pics coming out are making me super excited. This beautiful thing is just around the corner."
"House of the Dragon" is set to debut sometime in 2022.