The Character Everyone Forgets Tony Hale Played On The Sopranos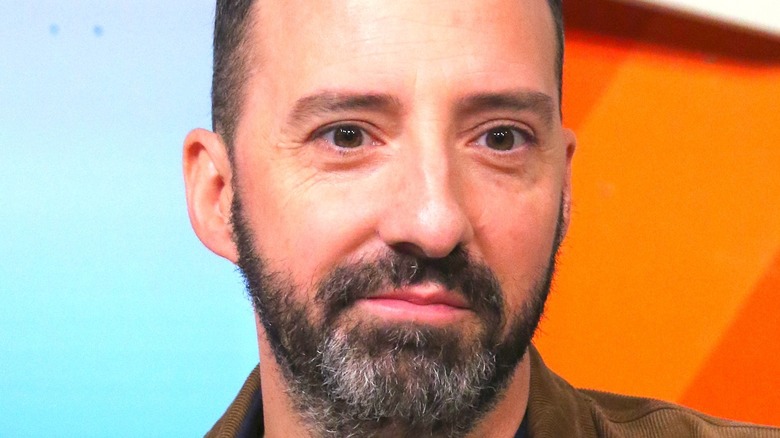 Jim Spellman / Getty Images
You might know Tony Hale as the juice-loving, affably off-center Buster Bluth from the classic sitcom "Arrested Development." Or you might recognize him as the Buy More's nefarious assistant manager Emmett Milbarge from NBC's cult hit spy comedy "Chuck." Many undoubtedly know him as the fiercely devoted "body man" to Julia Louis-Dreyfuss' President Selina Meyer on HBO's critically lauded political comedy "Veep." Wherever you know him from, there's little question Tony Hale has become one of the more notable "oh that guy" actors around over the past two decades.
If you have seen Tony Hale at work in any of the dozens of projects he's appeared in during that period, you know the two-time Emmy winner's distinct persona and crackerjack comedic timing have made him both a scene-stealer of the first order and one of Hollywood's supporting actor MVPs. Hale has, of course, largely earned raves for his impeccable comedic skills throughout his career, but he's got some pretty legit dramatic chops too. And While he doesn't always get a chance to show his serious side, he did get to showcase it briefly in one of his earliest small-screen roles. It just so happens, that role came in the immaculate third season of one of the greatest dramas in the history of television.
No, it wasn't "Dawson's Creek," though one of Hale's first screen gigs did come on the beloved WB teen drama. The series in question is none other than the near-flawless mob drama "The Sopranos," where Hale made a 3rd season appearance as a kindly caregiver.   
Tony Hale played nurse to Tony's ailing Uncle Junior on The Sopranos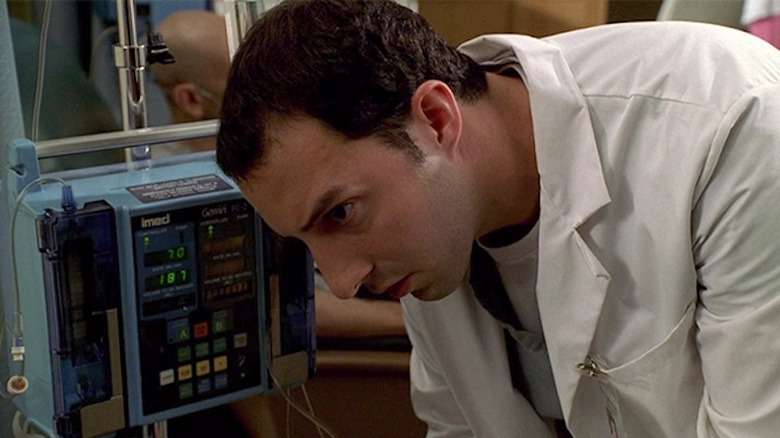 HBO
Many would argue season 3 of "The Sopranos" was easily one of the best of its six-season batch. As such, there was a lot going on in the show's third run of episodes, with Tony (James Gandolfini), Carmela (Edie Falco), Dr. Melfi (Lorraine Bracco), and the rest of "The Sopranos" players enduring all manner of dramatic highs and violent lows. But one of season 3's heavier plot lines revolved around Tony's Uncle Junior (Dominic Chianese) who, after finally being released from prison, still had to deal with the harsh reality of the stomach cancer that was rapidly killing him.
That's where Tony Hale's one-off appearance on "The Sopranos" came into play. Sadly, Hale was not cast as a stone-faced hitman sent in to put the long-suffering Uncle Junior out of his misery. Rather, he was cast as a male nurse tasked with looking after the ailing elder Soprano as he headed into surgery. Uncle Junior's cancer saga would, understandably, continue to be a point of narrative indulgence on "The Sopranos" for many episodes to follow. Unfortunately, Hale's RN Collins was not part of the ongoing storyline. Even as Hale's run on the show was very much of the one-episode-and-done order, he still made the most of his dramatic moments as the goodly male nurse. Even still, it's safe to say most viewers only recognize him on series rewatches.
As it is, Hale clearly has fond memories of his appearances on both "Dawson's Creek," and "The Sopranos," as he vividly recounted the experiences to Conan O'Brien a few years back (via YouTube). And yes, Hale tells those tales in truly hilarious fashion.