Jeffrey Dean Morgan Gives Walking Dead Fans Some Eyebrow-Raising News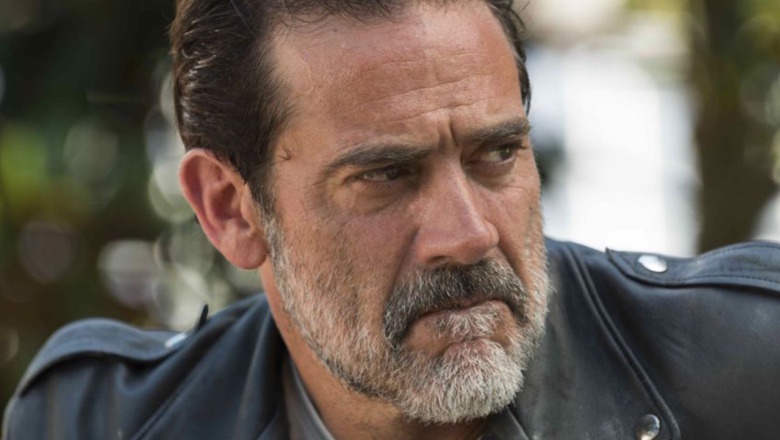 Josh Stringer/AMC
With The Walking Dead ending in 2022 after a supersized eleventh season, the creatives behind The Walking Dead universe, which has seriously expanded since its humble beginnings as a creator-owned black-and-white comic, are hard at work charting the future of the franchise. Two new AMC series have already been announced — the untitled Carol (Melissa McBride) and Daryl (Norman Reedus) spin-off and the anthology series Tales of the Walking Dead – and others are being discussed. One of those is apparently a Negan spin-off, according to Negan-portrayer Jeffrey Dean Morgan.
"It's definitely being talked about," Morgan told Conan about a potential spin-off focused on the former leader of the Saviors. "I think they're thinking of a couple different ideas. But I've definitely had conversations about possibly continuing the story of Negan. You know, we just did the 'Here's Negan' story, which is sort of the prequel of how Negan became this guy, and I shot that with my wife, which was so cool. It was awesome. We had so much fun, and I think the episode turned out really well."
The episode was the finale of the horror drama's extended season 10. It tells the story of Negan in the early days of the zombie apocalypse, and how the Negan viewers met in season 6 of The Walking Dead got his sociopathic start. In the episode, his wife Lucille (Hilarie Burton Morgan) dies, while Negan is trying to get cancer medicine for her. In his rage and grief, he makes the barbed wire-wrapped baseball bat that became his trademark weapon, and morbidly names it after her. He then goes and kills the biker gang that captured and held him when he was trying to get back to Lucille before she died.
What would a Negan spin-off look like?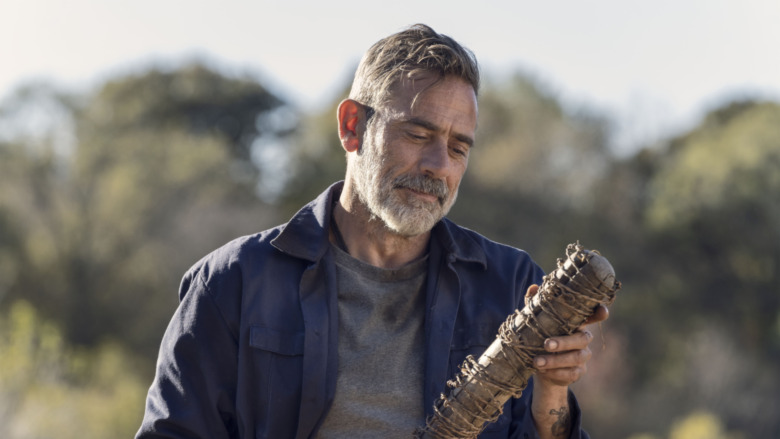 Josh Stringer/AMC
If producers decide to go the prequel route for a Negan spin-off, there's plenty more source material to draw from. The "Here's Negan" episode is a loose adaptation of a standalone Walking Dead comic one-shot of the same name by Robert Kirkman. The comic tells a longer story of the origin of the Saviors, Negan's brutal group of violent extortionists. It goes well past what's shown in the "Here's Negan" episode, with Negan meeting characters like Dwight and Sherry, who are played on The Walking Dead and Fear the Walking Dead by Austin Amelio and Christine Evangelista.
It seems unlikely that a Negan spin-off would be a straight prequel, however. The Walking Dead has spent the last couple of seasons giving Negan a proper redemption arc, work that might be undermined by a story that focuses on his time breaking bad. It seems more likely that a spin-off would be structured similarly to the "Here's Negan" episode, with present-day Negan reflecting on the choices that got him to where he is now.
To be crystal clear, a Negan spin-off is just one of many ideas being considered. "I think that, between AMC and the good folks involved with Walking Dead, they've asked if there's any interest on my end," Morgan recently said on Jimmy Kimmel Live. "But I think they've also talked to many of the characters to see who's interested in carrying on the story, and not just Negan."
So we'll see what happens. In the meantime, The Walking Dead's final season premieres August 22.