The Murder Mystery Hidden Gem You Can Catch On HBO Max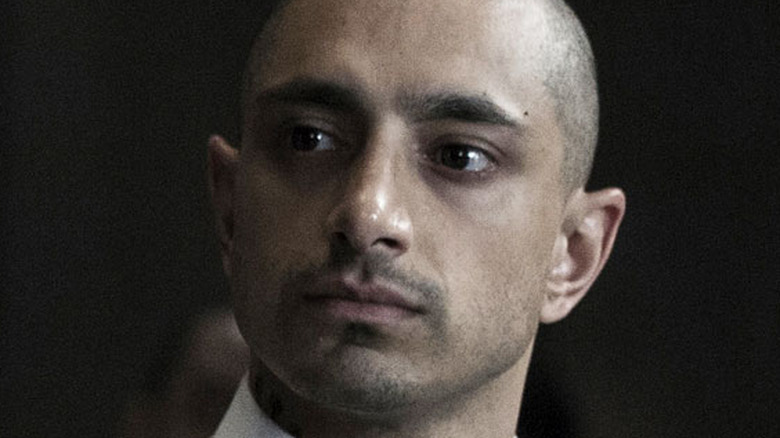 Craig Blankenhorn/HBO
Sometimes a show doesn't have to reinvent the wheel to be great. It doesn't break the rules; it just does what it does exceptionally well. One such show is "The Night Of," a crime drama limited series that aired on HBO in the summer of 2016. "The Night Of" is a straightforward murder mystery procedural that tells a story about a murder suspect and his attorney. The attorney is determined to prove his client's innocence, while the suspect loses his innocence while awaiting trial at New York City's infamous Rikers Island jail.
The limited series stars Riz Ahmed as Nasir "Naz" Khan, a Pakistani-American college student from Queens. One night, he steals his father's yellow cab to drive to a party. On a whim, he picks up a beautiful young woman named Andrea (Sofia Black-D'elia), and ends up spending a debauched, drug-fueled night with her. When he wakes up, he finds her murdered. He doesn't think he did it, but he can't be sure. He makes a series of bad decisions that make him look guilty, and gets arrested. While being processed, he meets John Stone (John Turturro), a jaded defense attorney who takes to Naz because unlike most of Stone's clients, Naz is probably innocent.
From there, there are numerous twists. Things come out about Naz, and about the victim, and new suspects emerge, all leading to a surprising and devastating ending. It's sort of like a "Law & Order" episode expanded to eight hours with some of the best acting and writing you'll ever see on television. It's a detailed character study that makes gracefully articulated points about the cruelty of the American justice system, especially for working class people of color.
The show is available to stream on HBO Max.
The Night Of is one of the best limited series of the last decade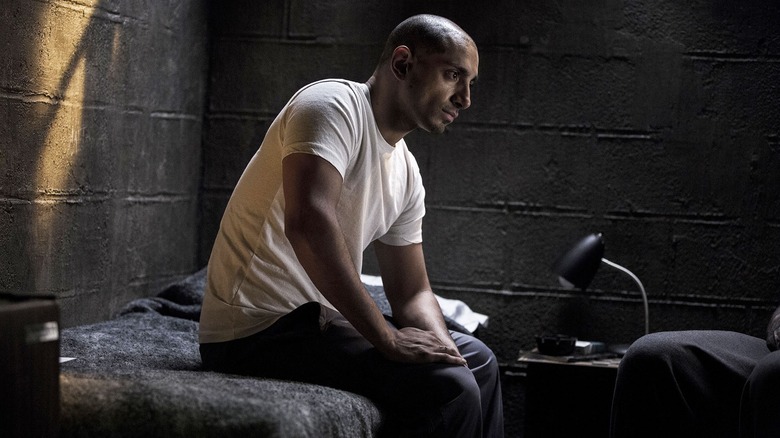 Craig Blankenhorn/HBO
"The Night Of" was a hit with critics and audiences and at the Emmys. It has a 94% "Fresh" critical score on Rotten Tomatoes and a 93% audience score. At the Emmys that year, the show was nominated for 10 awards, with Ahmed winning Outstanding Lead Actor in a Limited Series or Movie. He became the first man of Asian descent and the first Muslim to win an acting Emmy (via Telegraph). The limited series also won several technical awards for cinematography, editing, and sound, and was nominated for Outstanding Limited Series, Outstanding Lead Actor for John Turturro, and Outstanding Supporting Actor for Bill Camp and Michael K. Williams. The series was written by the acclaimed crime novelist Richard Price and Oscar-winning "Schindler's List" screenwriter Steve Zaillian, who also directed most episodes. They all received Emmy nominations for their work, as well.
The supporting cast is packed with excellent character actors like the aforementioned Camp, who plays the detective investigating Naz, and Williams, who plays a Rikers inmate who takes Naz under his wing, along with Paul Sparks, J.D. Williams, and Poorna Jagannathan.
But the heart and soul of the show are Riz Ahmed's Naz and John Turturro's John Stone. Ahmed is heartbreaking as a young man who keeps getting in deeper and deeper over his head, and Turturro gives a riveting performance as a complicated New York City attorney with horrendous eczema on his feet. James Gandolfini was originally slated to play the role, but he sadly died while the series was still in development. He received a posthumous executive producer credit on the show.
If you're looking for a truly excellent murder mystery for a quick binge, you need to watch "The Night Of" on HBO Max.