The Best Time Creed Bratton Ever Broke Character On The Office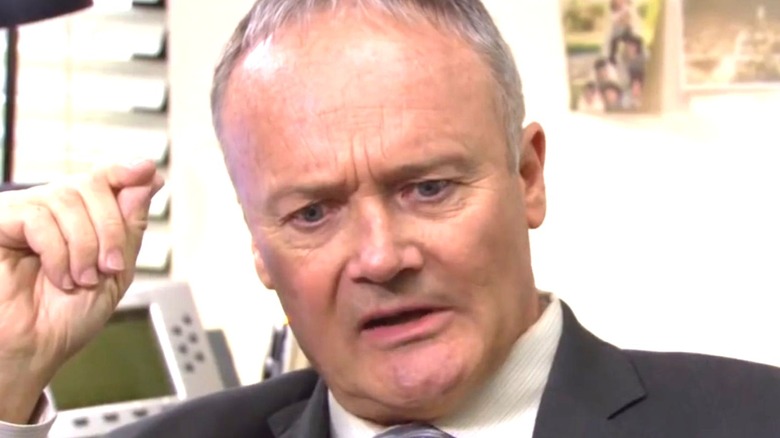 NBC
"The Office" bloopers are just as hilarious as the show itself, with many fans knowing just as much about the actors breaking character as they do episodic trivia. YouTube videos featuring gag reels of "The Office" have amassed millions of views over the years, and no character on the show is without a mess-up — or maybe 50 of them.
There are dozens upon dozens of "The Office" bloopers that include Steve Carell, John Krasinski, Rainn Wilson, and Jenna Fischer breaking character while the cameras rolled on. The cast of the hit NBC series got along swimmingly, which made filming not so easy at times since they could crack one another up with just a look. Some actors broke less often than others — especially Oscar Nunez, who played Oscar — and unfortunately aren't in the blooper reels as much as other stars.
One of these stone-faced actors was Creed Bratton, who played the character of the same name. Creed was able to keep it together during scenes better than most of his colleagues, but he wasn't without a blooper or two. One of Creed's best moments of breaking character came in Season 2 in a scene that involved almost the entire cast.
Creed Bratton hilariously broke character in Season 2's Drug Testing episode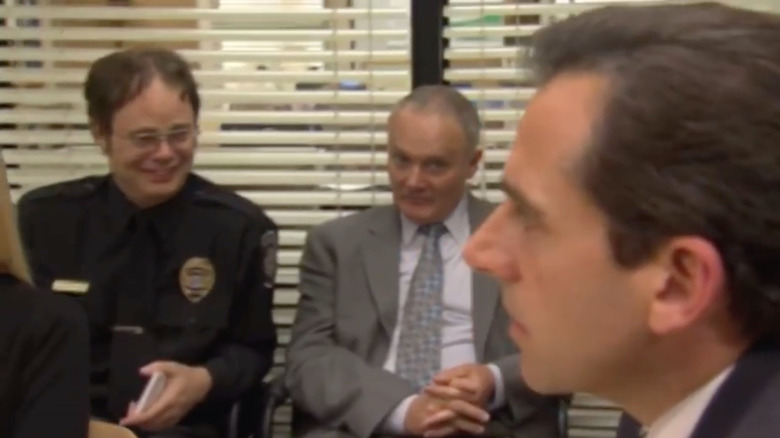 NBC
In Season 2 Episode 20 ("Drug Testing"), Dwight (Rainn Wilson) takes it upon himself to investigate every employee at Dunder Mifflin over a joint he found in the parking lot. Michael (Steve Carell) subsequently calls everyone into the conference room to address drug use, specifically how some people in the office think it's funny. Creed is sitting right next to the conference room door, with Dwight on his right, while Michael is sitting at the head of the table just next to them.
In the blooper, which can be seen on Reddit, Creed pokes fun at Michael when he says the word "carnival." Phyllis (Phyllis Smith) has already broken character before Creed does the same, but the cameras kept rolling. While the room is quiet Creed just blurts out "car-ne-vall! Car-ne-val," and the entire room bursts into laughter. As he looks at his colleagues who are laughing, Creed wonders what's so funny and asks all of them "What?" The carnival line didn't make it in the final cut of the episode, but the conference room scene is still just as funny without it.