What The Previous Spider-Man Actors Really Think Of Tom Holland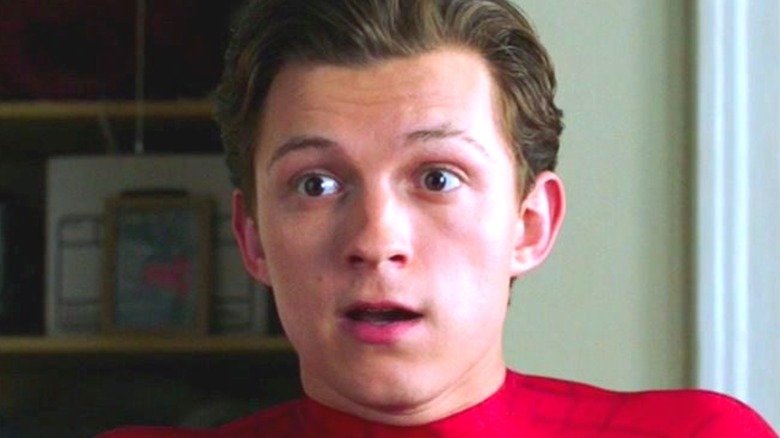 Sony Pictures/Marvel Studios
Spider-Man has been one of the most popular comic book characters of the past two decades. The hype around character surged in 2002, with the release of the first installment in Sam Raimi's "Spider-Man" trilogy. A whole new generation of fans fell in love with Peter Parker, portrayed in this series by Tobey Maguire. The film became a cultural phenomenon, bringing back Uncle Ben's iconic line, "With great power comes great responsibility," and, of course, the famous upside-down kiss. 
However, just a decade later, fans were able to see a new version of Spider-Man, with "The Amazing Spider-Man" swinging onto the big screen. This time Andrew Garfield stars as the masked hero. Though this adaptation was less celebrated than Sam Raimi's take on the character, the film still proved popular enough with audiences to warrant a sequel, which came out in 2014.
Of course, Spider-Man hype peaked to a whole new level when Marvel Studios reached a deal with Sony, who own the rights to Spider-Man and finally brought Peter Parker into the MCU. His first appearance in "Captain America: Civil War" delighted audiences, and critics and fans alike were enthralled by Tom Holland's portrayal of Spidey. But what exactly do Maguire and Garfield think of Holland's take on Spider-Man?
Andrew Garfield and Tobey Maguire approve of Tom Holland's take on Peter Parker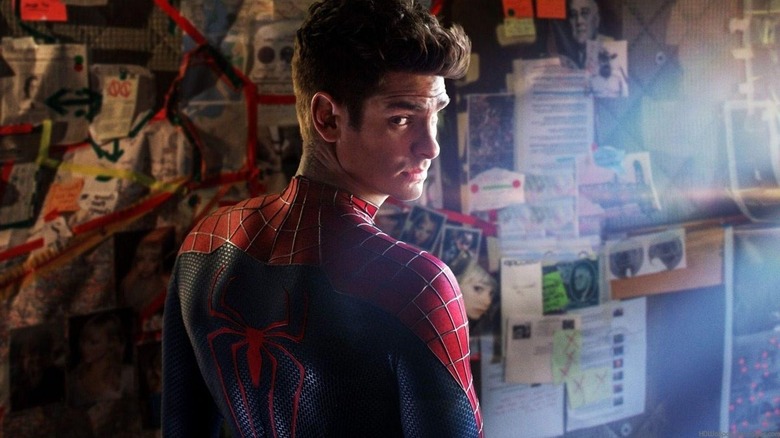 Sony Pictures
After Tom Holland's Spider-Man made his MCU debut in 2016, Tobey Maguire shared his feelings about the actor (via Movieweb). In an Instagram post, which he has since deleted, Maguire shared a fan-made video, which hilariously shows Maguire's Peter Parker watching "Captain America: Civil War." The video shows Maguire's Parker taking his Spidey suit from beneath his bed and staring "longingly" at it, writes Movieweb. Maguire added an appreciative caption to the clip saying, "Haha seriously, who made this? @tomholland2013 good job! You are great as Spider-Man. Keep it up!"
Andrew Garfield seems to feel just as warmly towards Holland. In a 2017 interview with Fandango, Garfield said of the new Spider-Man, "I am so excited Spider-Man is back in the hands of Marvel...I'm also excited for Tom Holland. I think he's a very emotional, truthful, funny, physical actor...it all really couldn't be in better hands. I'm really stoked for it."
One can only assume that Holland is undoubtedly pleased to have the blessing of the former Peter Parkers. However, this might not be the end of Maguire and Garfield's time in the Spidey suit.
Will we see Andrew Garfield and Tobey Maguire as Spider-Man again?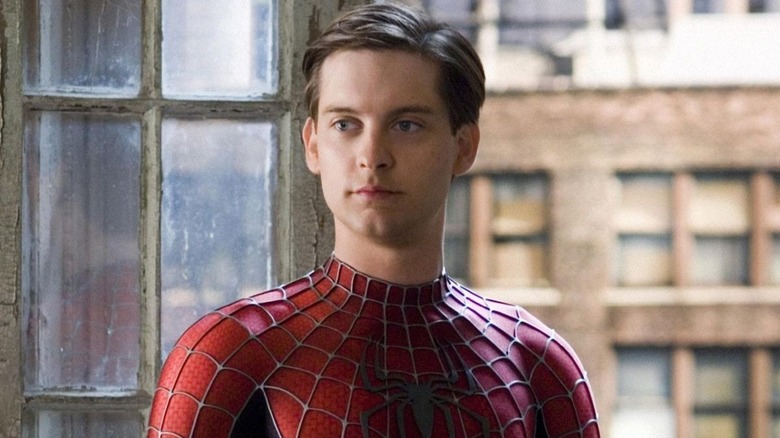 Sony Pictures
As more details surrounding "Spider-Man: No Way Home" emerge, fans have been speculating that we might see a Spiderverse situation, with Toby Maguire and Andrew Garfield's versions of Spider-Man appearing in the film in a similar fashion to what we saw in Sony's animated "Spider-Man: Into the Spiderverse." With Alfred Molina, J.K. Simmons, and Jamie Foxx reprising their roles Doctor Octopus, J. Jonah Jameson, and Electro, respectively, it's clear Marvel is committed to some multiverse action. It's also been confirmed that "No Way Home" will tie in with "Doctor Strange in the Multiverse of Madness," giving fans more hope that we'll see a character crossover. 
However, in an interview with Esquire, Tom Holland squashed the rumors of Maguire and Garfield showing up in the film, saying, "They will not be appearing in this film. Unless [Marvel Studios] have hidden the most massive piece of information from me, which I think is too big of a secret for them to keep from me. But as of yet, no. It'll be a continuation of the Spider-Man movies that we've been making." Holland may be telling the truth, but it wouldn't be the first time Marvel has kept something big from its film stars to keep plot details under wraps. 
Whether Garfield and Maguire return as Spider-Man or not, we're still happy to know that the actors have nothing but love for the new guy in the Spidey suit.