You'll Barely Recognize The Tiara Twins From Toddlers & Tiaras Now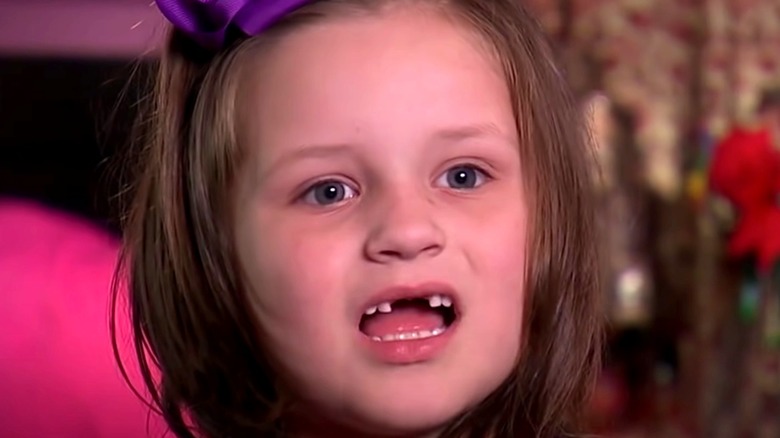 TLC
When "Toddlers & Tiaras" debuted on TLC in 2009, viewers were drawn into the contentious world of child beauty pageants. As the kids competed for the crown, certain standouts quickly emerged. Among them: Alycesaundra and Giavanna Lyerly, better known as "The Tiara Twins."
What did The Tiara Twins have that set them apart? According to HuffPost, at four years old in 2012, they had bodyguards, $8,000 dresses, and a custom tour bus big enough for the whole family, which included a mom and dad who were heavily invested in their children's success on stage (via HuffPost).
"Mommy spends lots of money and lots of time preparing for them to have the things that they need," their mother, Kelly, said on the show. "I've probably spent half a million dollars or better on pageants at this point."
But it wasn't only money and hours of practice walking, turning, and gazing at judges that made The Tiara Twins into pageant rockstars. They came onto the scene with their very own exuberant personalities, competitive attitudes, gorgeous good looks, and, of course, sweet smiles. Back then, they were household names and instantly recognizable faces.
Nearly a decade later, however, they've changed—a lot.
The Tiara Twins as teenagers
At 13, The Tiara Twins have some surprising new interests that have nothing to do with fashion and beauty. They enjoy hobbies centered on knives and crossbows, and they like to work on their family farm. Alycesaundra loves school and reading, while Giavanna enjoys piano lessons and, according to her Pageant Planet bio, hopes to one day become a lawyer, or even president of the United States.
A few more things have changed since their younger years, too. They've naturally moved beyond the childish behavior displayed on the show, and even better, they enjoy each others' company more. "Luckily, we have both grown up and she is my best friend and I her biggest supporter," Alycesaundra told People magazine.
Giavanna is still involved in the pageant world, and in 2020, she was crowned USA National Miss South Carolina Preteen. Alycesaundra has moved toward designing and for years her work has been on the runway at New York Fashion Week. Giavanna models for her.
"I love to design, and I also want to inspire other children to chase their dreams no matter how young they are," Alycesaundra told SC Now in 2019. "No matter what challenges they face, they can always chase their dream like I am following mine."
Around age seven in 2015, The Tiara Twins started "Queens for a Cause" to help children from their school after floods in their home state of South Carolina (via SC Now). Their Instagram account shows support for Bullying Prevention Month, The Salvation Army, International Care Day, and other heartwarming causes.
It appears both girls are dedicated to being good role models. As teenagers, they're beautiful inside and out.