The Terminator 3 Prop That Sold For Thousands On Pawn Stars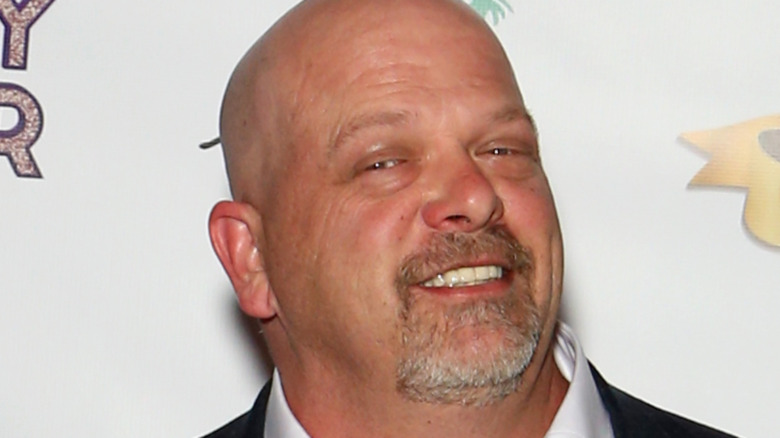 Gabe Ginsberg/Getty Images
12 years after its premiere in March 2009, History's "Pawn Stars" has proven to be one of the most durable reality TV series of the past decade. That's because it relies on two ingredients. One of them is the same that has made many reality shows successful: a colorful and relatable cast of characters that includes owner Rick Harrison, his son Corey "Big Hoss" Harrison, Corey's friend Austin "Chumlee" Russell, and Richard "The Old Man" Harrison, who passed away in 2018. 
Then, there's the real star of the show — the shop itself, The World Famous Gold & Silver Pawn Shop. The store opened in 1988 and has grown exponentially over the years, from around 70 customers a day when it opened to about 4,000 daily now. But it isn't just a Las Vegas pawn shop where people can hock their wedding ring to avoid a couple broken legs courtesy of a loan shark. As Rick told "Nevada Magazine," he fancies himself a scholar and a historian, always eager to consider an item he finds interesting. That means Gold & Silver has purchased some unusual items over the years — like the time they purchased some pieces of movie history.
Well, "movie history" might be generous, but they're still pretty cool props
On a 2019 episode from the 16th season of "Pawn Stars," Rick and Chumlee bought three items from the 2003 film "Terminator 3: Rise of the Machines." Chumlee got the tip from the prop's original owner, a memorabilia collector named Harvey, and brought Rick along to appraise it. 
The props are three partially built robotic torsos that were used as set dressing for the film's scenes set inside Cyber Research Systems, the military tech corporation that creates the A.I. Skynet that goes rogue and takes over the world. In the episode, Rick refers to them as "T-800s," but they're actually classified as "T-850s."
Harvey asks for $5500, so Rick brings in Hollywood memorabilia expert Hope M. Parrish for an appraisal. Hope recognizes the robot torsos, but since they're merely set dressing and not featured props, she appraises them at $3500 to $4000. Rick and Harvey settle on $3100 for each of the three toros, and they make the deal. "Terminator 3" might not be the most memorable of the franchise, but the film worked out pretty well for the shop during this episode.