The Real Reason Sean Stayed In The Closet In Firefly Lane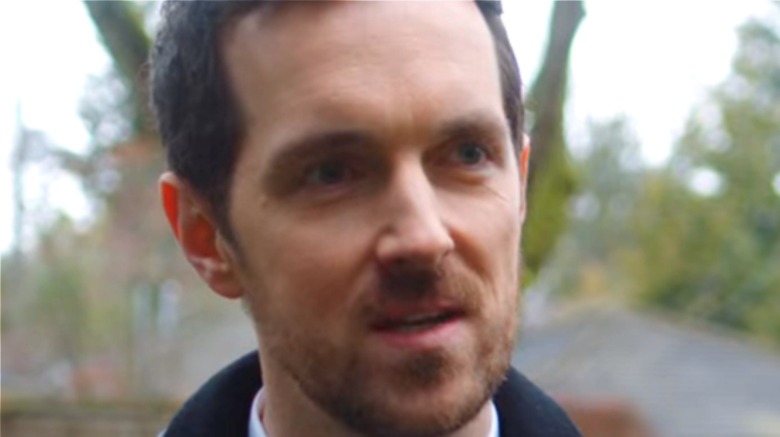 Netflix
After its debut on Netflix, "Firefly Lane" sat in the top 10 most-watched shows cue for days and still manages to find itself there on occasion. Based on Kristin Hannah's novel of the same name, the popular series starring Katherine Heigl and Sarah Chalke as lifelong friends has tackled a variety of complicated issues such as drug abuse and infidelity, and one of its supporting characters, Sean Mularkey (Jason McKinnon), happens to be a closeted gay man for most of the first season.
Throughout the series, which is told through flashbacks as far back as the '70s, Sean struggles with revealing his sexuality to his family, including his younger sister, Kate (Chalke). When his girlfriend Julia gets pregnant with his child sometime in the '80s, Sean proposes, even though he had two secret relationships with men before meeting Julia. As a teen, Tully (Heigl) learned and kept his secret when she saw Sean kissing a male friend. At his wedding, she tries to convince Sean he's not being fair to himself or Julia. He argues that he wants to start a family and then follows through with the marriage. Eventually, he comes out to Kate in 2003, and by the end of the season, he's revealed his sexuality to his wife, too. When she kicks him out, he temporarily moves in with his sister.
The main reason he stayed in the closet is his ex
Aside from being afraid of his family's reaction, Sean is also reluctant to come out of the closet because of his ex-lover, Richard, who is mentioned but never shown. The series reveals that Sean lived with Richard, who later died, and it's implied the cause was AIDS. When Tully tries to talk Sean out of marrying Julia before his wedding, he becomes upset and reminds her "a plague" is killing men like him, which is one reason why the marriage is the right choice. 
Since his marriage occurred during a period in history when the AIDS epidemic caused many gay men to either stay or go back in the closet, his fears about the disease likely encouraged Sean not to reveal his sexuality to his loved ones. In another scene from the '80s, Sean comes close to coming out to his sister, Kate, only to hesitate. The '80s were a notoriously difficult time for members of the LGBTQIA+ community, and homosexuality was viewed as immoral and deadly. 
As for what the future holds now that Sean has revealed his secret to his sister, viewers will have to wait. Netflix has yet to announce whether the show will see a second season on the streaming service.