The Accident That Mark Hamill Thought Would Ruin His Career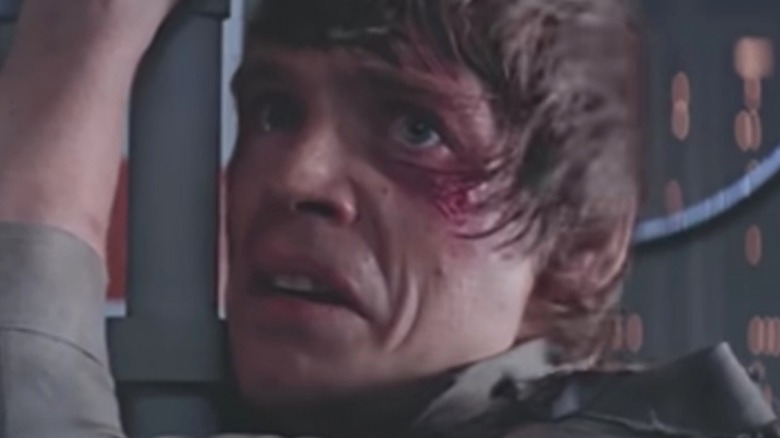 Lucasfilm/Disney
Mark Hamill wasn't just getting his feet wet when he landed the role of Luke Skywalker in 1977's "Star Wars Episode IV: A New Hope." Although he wasn't a household name, Mark Hamill was on the upward path of a television actor with steady work. At 25-years-old he had already acquired over 30 guest spots and recurring roles. His credits included "One Day at a Time," "Night Gallery," "General Hospital," "The Partridge Family," and he had starred in the original pilot for "Eight Is Enough." The endmost ran for five seasons and would have been another major leap for Mark Hamill had it not been for "Star Wars." 
When George Lucas chose him to play the savior of the galaxy, Hamill was eager to get out of his studio contract for the show. The conflict occupied his mind right before a horrific accident occurred. Although no one was at fault, Hamill was convinced the accident would ruin his career.
Mark Hamill thought a car accident would end his career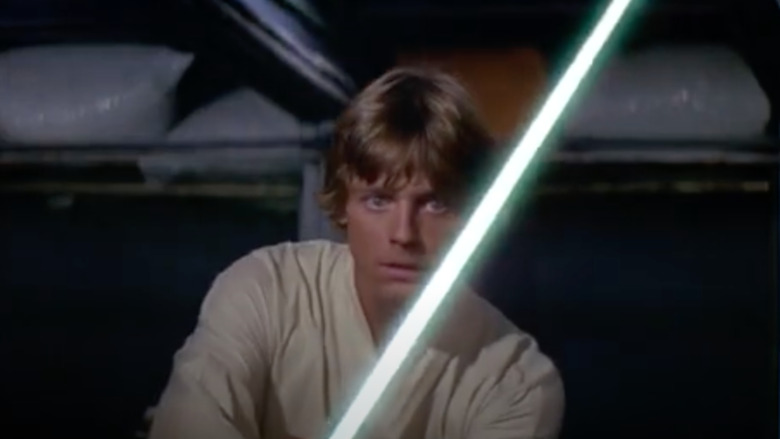 Lucasfilm/Disney
On the night of January 11, 1977, Mark was mulling the "Eight is Enough" situation over while driving in Los Angeles county. He told Gossip magazine what happened next (via Just The Best):
"What happened was that I was on the wrong freeway. I was way out in the sticks somewhere and there were no cars and no traffic, thank God. I was going about 65-70 mph ... I was speeding, going too fast ... and what happened, I think, was that I tried to negotiate an off-ramp and lost control, tumbled over, and went off the road."
Hamill told the outlet the next thing he remembers is waking up in the hospital. The actor was scheduled to shoot pick-ups for A New Hope the next day but knew that had changed when someone held a mirror up to his face. "I just felt that my career was over," he told the magazine. 
Hamill had fractured his nose and cheek. Doctors used cartilage from his ear to repair his nose but the results left some noticeable changes in his facial structure. Hamill admits it took him some time to accept it, recalling "I was feeling sorry for myself... poor me... getting hit right in the face and the whole thing." The professional in him felt he had let Lucas and the crew down but was grateful no one else had been hurt. Beyond that, he feared that his first film, which hadn't even finished filming, would be his last. 
Obviously Mark Hamill had nothing to worry about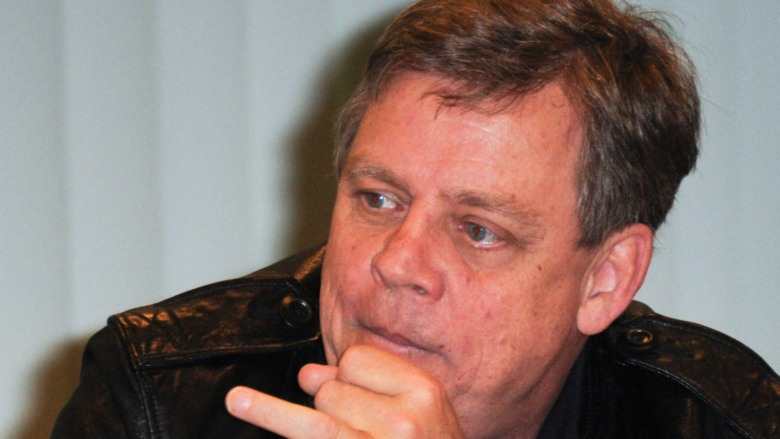 Albert L. Ortega/Getty Images
Lucas used a double to shoot what he needed for "Episode IV" while Hamill recovered, but he had no plans to recast him when the second Star Wars film went into production.
There's a prevailing theory that the Wampa scene at the beginning of "Star Wars Episode V: Empire Strikes Back" was written to explain the new scarring on Skywalker's (Hamill) face. In the Blu-Ray commentary of the film, George Lucas denies this, explaining the scene was needed in order to build suspense. In the same commentary, Carrie Fisher says the accident is exactly why the Wampa scene happened. Hamill has never addressed it. Such is the reason it remains a mere theory, but at least we got the memorable, abominable creature of the planet Hoth because of it.
Hamill's physical changes ended up not having a negative impact on his career. Shortly after his recovery, he went on to play a high school grad in "Corvette Summer," followed by the military film "The Big Red One." We all know he returned as  Luke Skywalker as well. There's another rumor that Hamill shied away from feature films after the accident, focusing more on voice acting due to the scars that remained from the accident. In reality, Hamill had already ventured into voice acting as Corey Anders in the 1973 animated show "Jeannie." In addition, after "Star Wars," Hamill didn't want to be typecast as the naive Skywalker, so he explored everything from voice acting in a Miyazaki film to playing Amadeus on Broadway in-between stints as the Jedi Master.