New Lucifer Season 5, Part 2 Photos Are Quite Revealing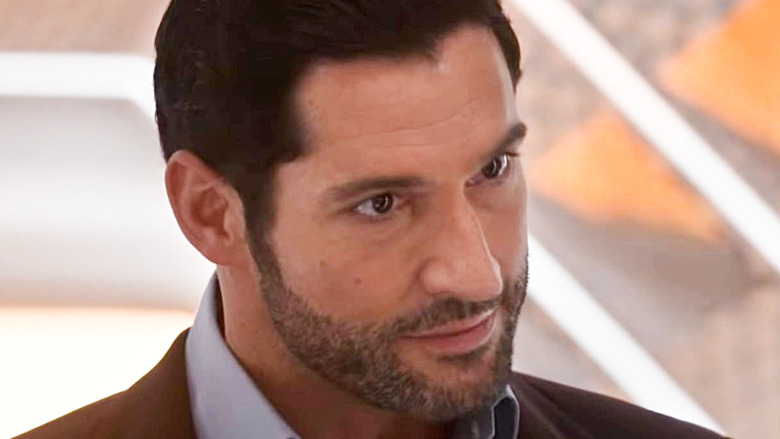 Netflix
Lucifer may have been a fallen angel, but when it comes to his TV series, he can't help but rise from the ashes. 
For three seasons, "Lucifer" maintained a decent following on Fox before it was abruptly canceled. Luckily, fans didn't have to say goodbye to their favorite supernatural consultant to the LAPD for long; Netflix quickly revived the show, giving us even more episodes to enjoy. "Lucifer" has already been renewed for a sixth season, but viewers still have to get through the second portion of Season 5, which will be released on the streaming service on May 28. 
In the meantime, Netflix is satiating fans' desires to see more of Tom Ellis in devilishly smart suits with the release of seven new photos from "Lucifer" Season 5, Part 2. "Lucifer" has always been known to keep a few surprises up its sleeve, but it would appear there's quite the range of investigations taking place in the new batch of episodes. 
Things will start heating up on Lucifer Season 5, Part 2
Season 5, Part 1 of "Lucifer" finally sees Lucifer and Chloe (Lauren German) get together after so many seasons of them playing out the whole "will they, won't they" relationship. From the look at some of the photos released by Netflix on Twitter, it looks like the romance is still going strong (at least for a little bit) as Lucifer and Chloe go in to kiss each other while they grasp what looks like a covered-up painting. 
From the other photos, we can see that there will be plenty of investigations taking place when the rest of season 5 airs. From what we can tell, it looks like a football stadium and a mini golf course are just some of the places the "Lucifer" team will be visiting. 
There's also a photo of Mazikeen (Lesley-Ann Brandt) visiting someone in the hospital — an intriguing addition to the collection presented considering the actress has already gone on the record on Twitter saying she's filmed her last scene with Ellis: "Last Mazikeen and Lucifer scene ever. So many feels."
Start writing those fan theories on Reddit, as Season 5 of "Lucifer" finally closes out on May 28 on Netflix.