Robert Downey Jr.'s Sweet Tooth Finally Gets A Netflix Teaser Trailer
You likely know Robert Downey Jr. for his performances as some of the most iconic characters in film within the past few decades, like Sherlock Holmes and Marvel's Iron Man. You may not have known, however, that he and his wife, Susan Downey, own a film production company called Team Downey. The company has produced a number of movies and TV shows (some featuring the actor, some not), including 2014's "The Judge," 2020's "Dolittle," and the ongoing HBO series "Perry Mason."
Now, the power couple — alongside with DC Entertainment and Warner Bros. Television — are producing a new Netflix show. Adapted from Jeff Lemire's DC comic series of the same name, "Sweet Tooth" stars child actor Christian Convery as Gus, who goes by the nickname "Sweet Tooth." Gus is a hybrid between a deer and a human boy, navigating a world in which the emergence of hybrid animals and humans coincided with "the Great Crumble," a cataclysmic event that throws the world into chaos. Because of this, many believe the hybrids to be the cause of the global virus, and hunt them down in hopes that eradicating them will eradicate the virus as well.
Sweet Tooth isn't your typical superhero story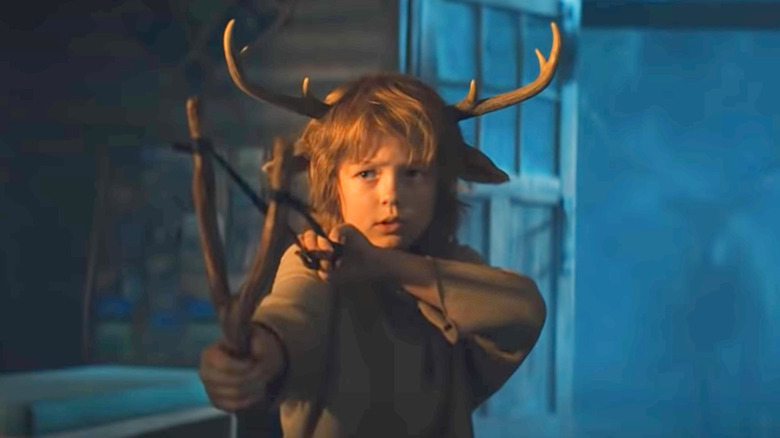 Netflix
Despite being under the DC label, "Sweet Tooth" was originally released under DC's "Vertigo" imprint, which the company often uses for comic series that don't fit its typical fare of superpowers and beating up baddies. Despite working with fantasy and post-apocalyptic elements, "Sweet Tooth" is very much its own story centered around an innocent boy in a cruel and unforgiving world — so don't get your hopes up about any cape-wearing supers making any cameos here!
The teaser trailer, narrated by James Brolin, sets up the universe of "Sweet Tooth," before focusing on its titular character and the friends and foes he meets along his journey — including his father (Will Forte), his traveling companion Tommy Jepperd (Nonso Anozie), and others.
Originally announced back in 2018 as an original series for Hulu, "Sweet Tooth" moved to Netflix in 2020, and wrapped filming in December of that year after some delays from the real-life virus we know and hate. You won't have to wait long to watch it, as all eight episodes of "Sweet Tooth" will arrive on Netflix on June 4.