Marvel Producer Reveals Whether We'll See Julia Louis-Dreyfus In The MCU Again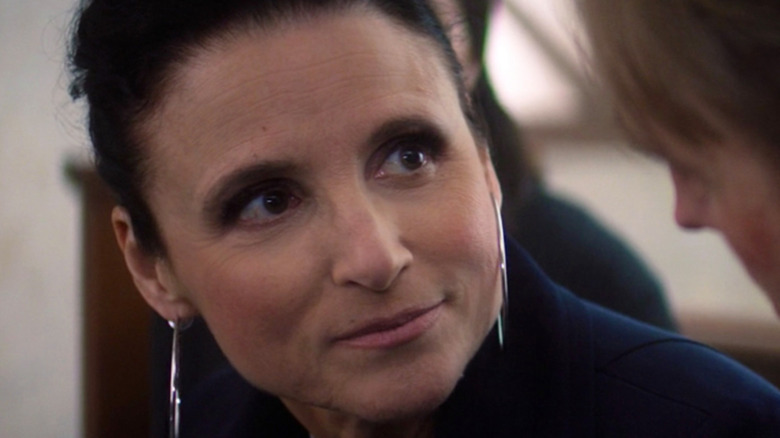 Disney+/Marvel Studios
After the first episode of "The Falcon and the Winter Soldier," rumors began circulating that a massive cameo was coming in Episode 5 ("Truth"), and it would blow people's minds. Some were saying it was going to be an MCU character from the past that we hadn't seen in a while, and others believed this cameo was going to be from a brand new character not yet seen in the universe. It turned out to be the latter, as Julia Louis-Dreyfus strutted into a courtroom with knee-high boots and a trench coat that would make Olivia Pope jealous.
We soon found out Louis-Dreyfus was playing Valentina Allegra de Fontaine, a character with a rich history in Marvel comics. Valentina is the former lover of Nick Fury and a triple agent who has worked for HYDRA, SHEILD, and the Leviathan, and where her loyalties lied were a mystery. It appears as if Valentina is recruiting U.S. Agent John Walker (Wyatt Russell) for some sort of mystery mission or group, and after appearing in the season finale ("One World, One People") as well, it looked like we might see Louis-Dreyfus in the MCU future. Marvel Studios executive producer Nate Moore is confirming that's the case.
Julia Louis-Dreyfus wants in on the MCU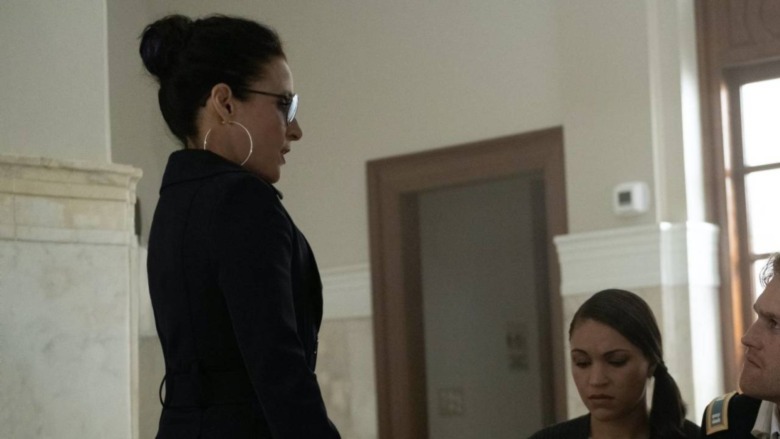 Disney+/Marvel Studios
When catching up with Entertainment Weekly, Nate Moore noted that Julia Louis-Dreyfus didn't sign on to "The Falcon and the Winter Soldier" with the intention of being a one-and-done. "She certainly didn't come to us and say, 'I'll be in one show once,'" Moore remembered. "She was like, 'I want to be a part of the Marvel Cinematic Universe.' And we said, 'Great! Let's get you in and let's figure out how to use you.' And the truth is, I think you will see her in the future. Definitely."
"She's so talented and you can do so much with her. And she's game for it," Moore continued. The producer was also asked if Louis-Dreyfus was cast with the intention of her appearing more than once, to which he confirmed "one hundred percent."
For now, where we might see Valentina Allegra de Fontaine in the future is a mystery. Her ties with Nick Fury in the comics could see the pair meeting on screen, and Fury is set to appear in the upcoming Disney+ series, "Secret Invasion." No matter where Louis-Dreyfus shows up in the future, we can't wait to see what her mystery character has up her sleeve.