Anthony Mackie's Latest Trolling Of Tom Holland Will Crack You Up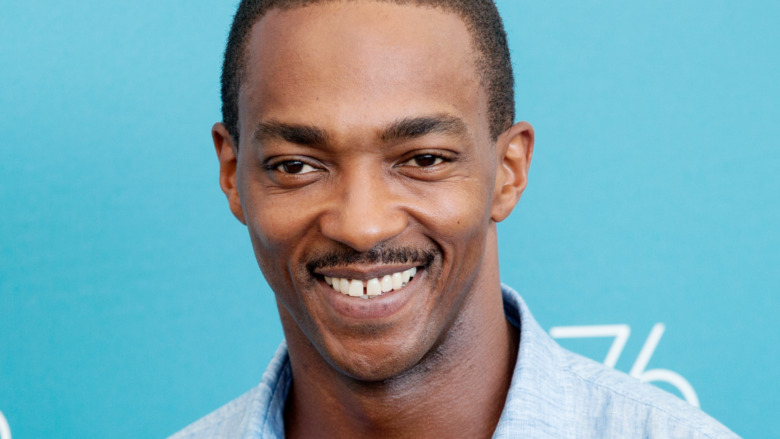 Shutterstock
Marvel stars Anthony Mackie and Tom Holland have a long-standing feud. After first appearing together in 2016's "Captain America: Civil War," the actors behind Sam Wilson and Peter Parker, respectively, have been amusing fans with their light-hearted jabs and banter, frequently seen on Marvel Cinematic Universe press tours.
It all started when Holland mimicked the "cut the check" catchphrase Mackie would habitually drop after nailing a scene, causing the crew to laugh — but not Mackie, per ABC News.  He's since called Holland a diva, and frequently quips about Holland's status as the youngest Avenger. During a Comic-Con interview in 2018, Mackie said he had never seen Holland's movie "Spider-Man: Homecoming," to which Holland replied, "I haven't seen the Falcon one — oh no, wait, there isn't one! I'm sorry," causing uproar in the audience.
While we're unsure if we'll ever see Spider-Man and the newly-minted Captain America onscreen together again, the two actors have kept their friendly feud alive. And now, Mackie is back with the latest shot fired. 
Anthony Mackie's hilarious Instagram jab against Tom Holland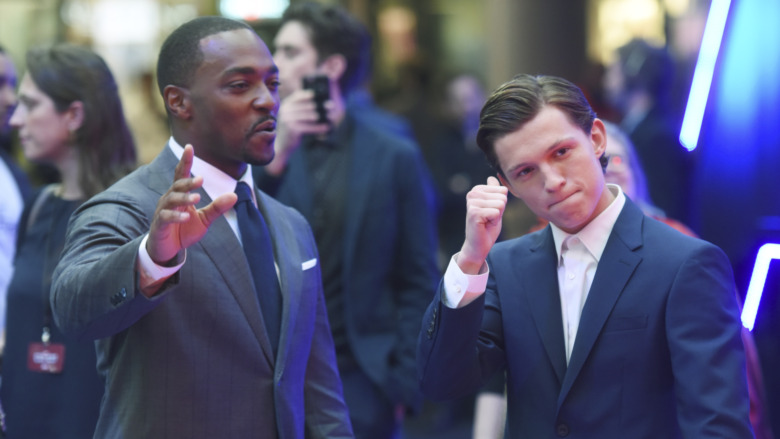 Dave J Hogan/Getty Images
In an Instagram post, Anthony Mackie shared a hilarious set video of himself sneakily and slowly moving across the screen, dangling from wires in his new Captain America costume, with the caption "Pulling up to @tomholland2013 house like... #CapFishandChips #Spideybuddy." Holland has yet to respond, but we're sure the actor will have something to say soon.
Holland and Mackie, though, have reassured fans that their feud is all in jest. "Mackie and I are really good friends," Tom Holland said in an interview for "Spiderman: Far From Home." "I would argue that Mackie and I are maybe the, like he's maybe who I'm closest to in the Avengers when everyone is on set."
Mackie has similarly confirmed the good will between the two. In a Wired interview, when asked if he likes Holland, he said "You know what? I actually do. Tom Holland is my friend. That's why I make fun of him. I love the kid. He's a great, great kid. He's the best Spider-Man we've had — but he's an arrogant little s****. And I stress: little."
MCU fans are constantly entertained by the stars' antics, and we're sure they know it — and will continue to deliver even more hilarious digs.